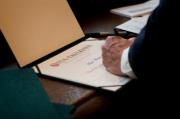 It's not too late to buy tickets for the 2012 PEN/Faulkner Award for Fiction Ceremony! The program honors this year's finalists Russell Banks, Don DeLillo, Anita Desai, and Steven Millhauser, as well as winner Julie Otsuka.
The evening features readings by the winner and finalists, followed by a reception.
The PEN/Faulkner Award for Fiction is a national prize that honors outstanding works of fiction by American writers each year. Three judges, chosen annually by the directors of the PEN/Faulkner Foundation, select five books from among the more than 300 submitted works, making this the largest peer-juried award in the country. This celebration features readings by each of the finalists and winner, with presentations by this year's judges Marita Golden, Maureen Howard, and Steve Yarbrough.
Saturday, May 5th at 7 p.m.
Folger Elizabethan Theatre
Tickets: $125 (buy)