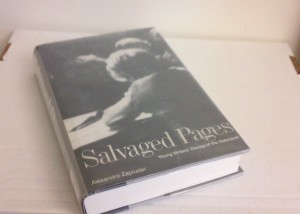 Filipa Calado accompanied writer and editor Alexandra Zapruder to Ballou Senior High School to discuss her book Salvaged Pages. Calado was a Curriculum Project Intern this past spring, and previously wrote about her visit with Leslie Pietrzyk for the WinS Blog.
Alexandra Zapruder came to Ballou High School to talk about Salvaged Pages, a collection of diaries she gathered and edited that were written by young victims of the Holocaust. The diarists, aged 12 to 22, encompassed many different experiences of the Holocaust. Some were refugees, in hiding, passing as non-Jews, or prisoners in ghettos. Nearly all perished, leaving only their diaries as evidence to the world.
From the start of the visit, the students made clear their interest in Ms. Zapruder's life as a researcher and editor. Their questions were mostly about her work, the publishing process, and her future plans. Ms. Zapruder explained the immense project she undertook with Salvaged Pages, on which she labored for ten years. Then there was a question from one financially-minded student about the compensation an author can expect from book sales.
This question led to another more poignant one about the value of Ms. Zapruder's work with Salvaged Pages. A student asked her, Was the work worth it? Ms. Zapruder's response began by referencing one of the diarists, Elsa Binder.
Elsa Binder's diary is notable for its proximity to death. In a collection of fourteen diaries whose oppression, horror, and subjection to the nameless atrocities of the Holocaust increase steadily with the page number, Elsa's diary is placed fourth to last. Writing from Poland, Elsa recounted the cruel and brutal conditions at the hands of the Gestapo. She writes the names of the Jews who were rounded up and purged, all the while questioning her literary efforts much like the students of Ballou, "Well, this whole scribbling doesn't make any sense. It is a fact we are not going to survive. The world will know about everything without my wise notes."
Ms. Zapruder explained that, at the time of her writing, Elsa could never have conceived of Washington D.C. She could not have conceived of Ballou High School, much less of the students in that particular English class. In fact, that Elsa's diary even exists today is a miracle. The actual diary was discarded near the execution site where Elsa and her family almost certainly were murdered. Elsa probably dropped it purposefully on the march to her death. Amazingly, it was found in a ditch before the elements destroyed it.
Despite these odds, Ms. Zapruder said, Elsa Binder's legacy comes to us, here in this classroom at Ballou High School. To call this transference a miracle is an understatement. Ms. Zapruder explained that the only reason we know about Elsa is because she chose to write it down. Elsa felt a futility in her efforts, but she still wrote her story, and we can read it today.
The simplicity of Ms. Zapruder's statement awed the students into momentary silence. It more than answered the original question. It provided an inspiring notion from a discouraging situation. The students in the classroom were left to ponder the power of a basic truth—that when you write, somebody will read it.