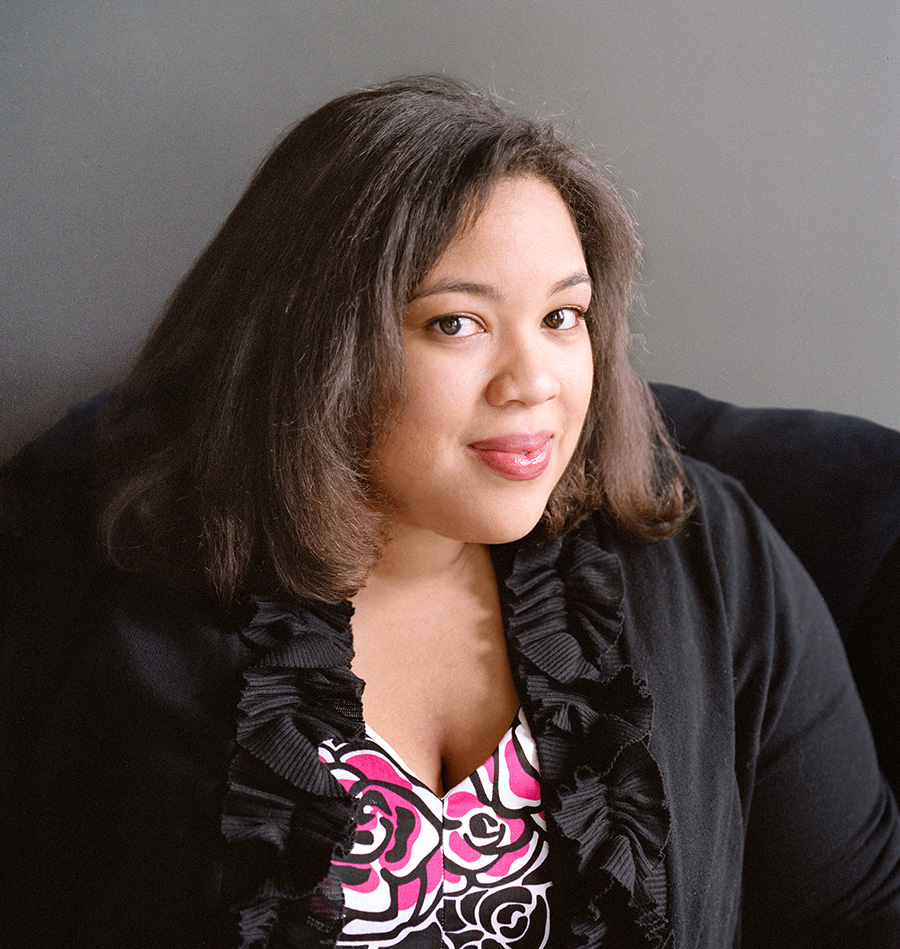 We here at The PEN/Faulkner Foundation's Writers in Schools program have been fortunate to work with an incredibly talented pool of authors over the years. They've generously given their time and energy to the WinS program, and have worked to enrich the classroom environment and the lives of instructors and students alike. We've long observed the lasting impression that authors can make on students, and we're constantly impressed and moved by the conversations and exchange that happens during WinS visits.
It's sometimes easy to forget, though, that WinS programming often benefits the author as well. That said, here at the WinS blog, we'll be posting regular short interviews with our authors in which we ask them about their experience heading into public and public charter high school classrooms. Why do they participate in WinS? What keep them coming back? What do they get from a visit to a school?
First up is Danielle Evans, author of the short-story collection Before You Suffocate Your Own Fool Self, which was a co-winner of the 2011 PEN American Robert W. Bingham Prize for a first book, a National Book Foundation 5 under 35 selection for 2011, the winner of the 2011 Paterson Prize for Fiction and the 2011 Hurston-Wright award for fiction, and an honorable mention for the 2011  PEN/Hemingway award. Evans teaches African American Literature and Creative Writing at American University and has participated in a number of WinS visits. 
PEN/Faulkner: In general, have you found your visits with PEN/Faulkner's Writers in Schools program productive or particularly interesting? 
Danielle Evans: Absolutely. There's something really refreshing about talking to younger readers, because they don't have as many ideas about what they're "supposed" to ask, and so sometimes you get really interesting or surprising questions and interpretations. It's nice sometimes to break out of constantly talking to people who imagine themselves to have a set of shared assumptions about literature, and remember what it was like to be a kid and come to the books you loved with a sort of wonder and exhilaration.   
PF: What's been the most memorable thing about any of your visits to a WinS partner school? 
DE: Well, there was a very sweet young woman at one school who had read my book as a memoir, and was trying to as politely as possible ask personal questions about how all of these crazy things I had allegedly done had felt at the time.  And although there was a bit of nervous laughter when I realized what she was asking, her question allowed us to have a really interesting conversation about the way we get from life to fiction—how a feeling might become a story with a plot very far from whatever circumstances initially caused the writer to feel that way, the way in which fiction writers are always inventing and changing realities, but even in imaginary worlds, often end up closer to themselves than they intended to.
PF:  When you set out to write stories and, subsequently, when they were collected and published, did you anticipate the book being read by high school and college students? Had you anticipated ever presenting work to those types of audiences?
DE: I don't know that I specifically thought about that audience, but I'm sure I didn't assume that young adults wouldn't read my work. I wrote a book that I think I would have been really excited to read as a college student, so I've been really happy to see students responding well to the work. I think high school and college are such formative years for a reader or writer that it's really important to feel drawn into a literary community or conversation in order to keep reading and writing as an adult, and I'm really happy to hear from some students that my book has been a part of pulling them into that conversation.
PF: What were your impressions during your recent visit to Trinity Washington University?
DE: It was wonderful! The students were incredibly well-prepared and very respectful, and the professor had spent a lot of time talking about the work and specifically talking about genre and structure, so I got a lot of really great questions. And, it's always nice to feel enthusiastically welcomed—I even got a lovely thank you card from the classes mailed to my office after the visit.
PF: What do you think high school students get from interacting with authors? What do authors take away?
DE: I hope they get a sense that writing is neither magic nor science— a sense that there's work involved, that authors come to their projects with specific ideas and intentions, so that they can give themselves permission to be thoughtful analysts and critics, but that there are also parts of any writing project that defy step-by-step explanation, so that students can also give themselves permission to get lost in a beautiful piece of writing and resist the "make it confess," method of reading and analysis. I also think it's useful for them to see that writers are (relatively) normal people. In addition to the previously discussed refreshing sense of having a conversation that feels unrehearsed and genuine, I get the same thing I get out of being a professor—I get firsthand proof that for all of the cultural assertions about the death of the book and/or literature, books still matter, and there are still students out there having totally transformative experiences because they are reading.