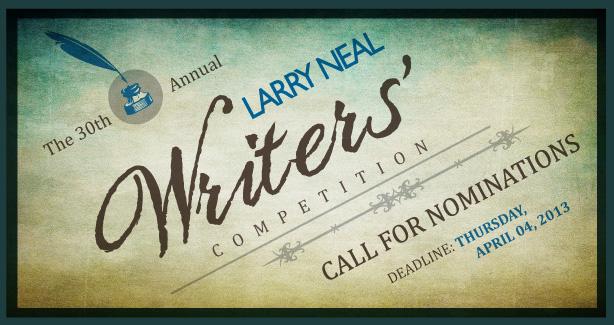 This year, the PEN/Faulkner Foundation is once again working with the District of Columbia Commission on the Arts & Humanities to get the word out about the annual Larry Neal Writers' Competition. The Larry Neal awards commemorate the artistic legacy and vision of cultural understanding of Larry Neal—a renowned author, academic and former Executive Director of the DCCAH.
The competition recognizes the artistic excellence of emerging and established DC writers with monetary awards for submissions in poetry, essays, dramatic writing and short story. Adult, teen and youth writers residing in the District of Columbia receive awards for their artistic excellence. Adult winners are eligible for awards of $1,500 and teen and youth winners are eligible for awards of $500. The winners will be announced at the Larry Neal Writers' Awards Ceremony on the afternoon of Saturday, May 4, 2013, presented in partnership with the PEN/Faulkner Foundation.
More information about the competition—including information about how to apply—can be found at the DCCAH website. The deadline for this year's competition is April 4, 2013 at  6 p.m. 
Good luck!