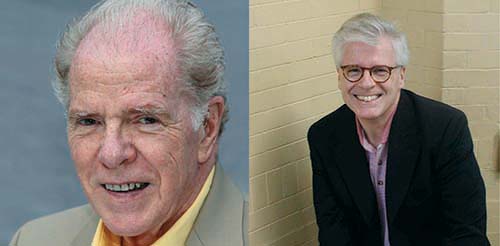 Episode 14 of the podcast features a reading with William Kennedy and Thomas Mallon that we called Power, Corruption, and Lies: A modern lens on the politics of our past. The reading was held at the Folger Shakespeare Library on Monday, February 25th, 2013, and the reading and discussion was moderated by Washington Post Publisher Katharine Weymouth.
William Kennedy was born and raised in Albany, New York, a setting that he again brings to life in his most recent novel Changó's Beads and Two-Tone Shoes. He won the Pulitzer Prize for Ironweed, an installment of his famous Albany Cycle.
Thomas Mallon is the author of eight novels and seven works of nonfiction. He was recently elected as a new member of the American Academy of Arts and Sciences. His novel Watergate was released in 2012, and was named a finalist for the 2013 PEN/Faulkner Award for Fiction.
Moderator Katharine Weymouth is chief executive officer of Washington Post Media, a unit of The Washington Post Company that includes The Washington Post, Express and El Tiempo Latino, and is publisher of The Washington Post. She lives in Washington, DC with her three children.
This episode begins with introductory remarks by PEN/Faulkner's Executive Director, Emma Snyder, and with author introductions by Weymouth.
Thanks to our friends and colleagues at the Folger Shakespeare Library for making this reading series and this podcast possible. Thanks also to Amazon.com, whose support helps PEN/Faulkner produce the podcast, and to Benedict Kupstas for composing the music used in this episode.
 Subscribe to the Podcast in iTunes.
Podcast: Play in new window | Download (Duration: 1:19:30 — 91.0MB)