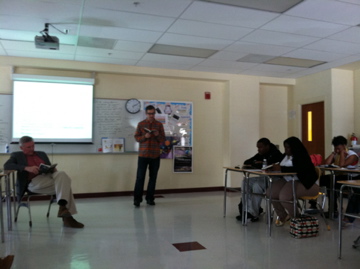 I took my first creative writing class as a sophomore in college. Each week, the dozen students enrolled in the course would gather in a basement-level classroom to talk about what we'd read for class, what we'd been writing, and to engage in what was for most of us in the room a new endeavor: workshopping our own stories and poems. 
I had just turned 20, and while I'd long understood that I wanted to write, I'd never taken a creative writing course, and I had no idea what to expect. All I'd known before registering was that the course would be taught by one of the university's MFA students and that—by reputation—workshops could go one of two ways: they could either be totally inspiring and productive, or they could be so awful that you never wanted to write again. Having gone on to teach several such workshops myself, that dichotomy is clearly nonsense, but I remember being afraid to attend that first meeting of the class because I feared the biting judgement of my peers and, potentially, of the instructor.  
Had anyone told me then that I'd meet my wife in that class, I wouldn't have believed it. Had anyone told me that the instructor, Rob Roensch, would go on to write one of the most beautiful short story collections I've read in years, I might have found that more plausible than meeting my spouse, but I certainly wouldn't have guessed—way back in September of 2001—that that I'd be taking Roensch on a Writers in Schools visit to Paul Laurence Dunbar High School in Baltimore.
Two weeks ago, though, that's precisely what I did.
Dunbar instructor Dan Kelly had each of his classes read and study Roensch's debut collection The Wild Flowers of Baltimore, and during the final week of April, Roensch and I visited all five classes where students asked Roensch about his life as a writer and instructor. They asked him about his family and his inspirations. They asked about the neighborhoods depicted in the book—many of which the students knew well. They asked about the Scott Prize from Salt Publishers and they asked him about being recently long-listed for the Frank O'Connor International Short Story Award. They asked why the characters in his book are constantly in search of something: love or their daughters or their wives or friendships that have faded. They asked whether details from Roensch's personal life ever find their way into his fiction. They asked if he wrote anything else: poetry (he did once, when he was younger, though he claims it was all terrible), non-fiction or essays (here and there, but not really) or a novel (he's working on one right now, in fact). They asked why he started writing. They asked how they could do so themselves. One student, shortly after the Q&A with students had ended, took Roensch aside for a moment and recited a poem that he'd written and memorized. 
Through all of this, what became clear was this: not only is the book not dead, the short form's not dead either—not even close.
In fact, between visits with Jean McGarry and Rob Roensch this semester, the story feels as vital in my life as perhaps it ever has. Despite what sometimes feels like a constant wave of cynicism and doubt about the state of public education, about youth culture, about aliteracy, it is still true in 2013 that a young reader can pick up a book and be excited and moved and transformed by it. It is still true that a student reader can talk to a passionate writer and teacher and have their ideas heard and responded to. They can feel that a writer has written the story for them and them alone, and—given the opportunity—they will ask questions of that author until the bell rings. Some will wait around after class for the opportunity to say and to hear more. Some will recite a few lines of their own work for the author to hear. Others will ask the author to sign their copy of the book, and then, tired but excited, they'll leave for the afternoon, elevated by the opportunity to connect.  
 
— Nate Brown