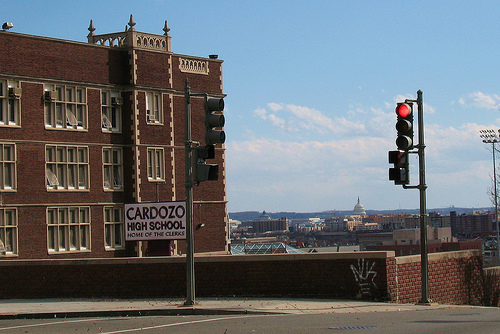 From time to time, we run into people who are familiar with our Writers in Schools program, but are curious about one particular corner of the programming that we run: the Teen Parent Book Club.
The Teen Parent Book Club started at Cardozo High School as a partnership with New Heights, an initiative aimed at supporting pregnant and parenting students who are attending D.C. public schools. The program meets bi-weekly to discuss work by local authors and children's authors. After members of the book club have read and discussed the work, the authors of those works also visit the classroom to discuss books, the importance of reading, and their experiences as a writer.
New Heights currently runs programming in fifteen D.C. public high schools, and our programming has expanded along with it! Though we're not yet at all fifteen sites, we coordinated six book clubs at five partner schools this school year. Past and present partner schools include Anacostia High School, Ballou STAY, Cardozo Senior High School, Columbia Heights Education Campus, Dunbar High School, and Wilson Senior High School. We're even planning to continue the book club through summer school for the first time this year!
A typical Teen Parent Book Club meeting is usually 45 minutes to an hour in length. The Book Club falls during lunchtime workshops administered by New Heights, and is only one of the many opportunities students have for lunchtime learning (other New Heights workshops include sessions on financial literacy, parenting, and college and career readiness). Over sandwiches and chips, students and a PEN/Faulkner staff member read a short selection from a book, and then engage in a discussion of the work. There are at least four sessions dedicated to each book, so that students have read and discussed the work thoroughly before the author comes in to meet with the book club.
Several times each year, local children's authors attend meetings of the Teen Parent Book Clubs at each school to share their work. The visiting author leads students through an animated reading of their work, and each student gets a book to take home and share with their child. Particular emphasis is placed on the developmental importance of reading to and with children. The hope is that ongoing engagement with literature and authors will encourage student-parents to read with their children, and to begin building a library for their families.
When I came aboard at PEN/Faulkner in the Fall of 2011, my main responsibility was the oversight of the Teen Parent Book Club program and its expansion. It's been incredibly exciting and rewarding to watch the program grow over the past few years, and to engage with the students who always manage to keep me on my toes. The program's success and expansion would not be possible without our the amazing site directors at each school, interns who facilitate discussion at some of our sites, and the authors who come in to share their work. I'm already looking forward to next year and the other exciting things that this partnership will bring!
— Ariel Martino
Photo Credit:  http://www.flickr.com/photos/mr_t_in_dc/