Two years ago, the PEN/Faulkner Foundation set out to bring our acclaimed reading series events to a broader public via the creation of the PEN/Faulkner Podcast.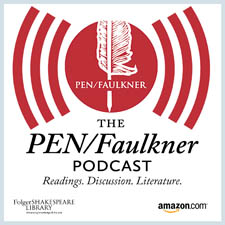 As we celebrate our 2-year anniversary, we're proud to say that we've produced 20 episodes featuring some of the best and most exciting writing by Edith Pearlman, Don DeLillo, Terry McMillan, William Kennedy, Benjamin Percy, Myla Goldberg, Julie Otsuka, Karen Russell, Lauren Groff, Chad Harbach, Dagoberto Gilb, and so many more. In addition to events held in conjunction with our longtime partners at The Folger Shakespeare Theatre, we've also recorded events held as part of the PEN/Faulkner / Hill Center Literary Reading Series, which has included DC writers like Alan Cheuse, Susan Richards Shreve, Lisa Page, and Nicole Idar, among others.
As the Podcast heads into its third year, we'll pick up the pace slightly, publishing one episode every month, including some readings from our deep archive of events featuring some of America's finest authors. Upcoming episodes will include events from the first-ever District of Literature celebration (which was jointly hosted by PEN/Faulkner, the Library of Congress, and The Folger Shakespeare Library earlier this fall), and from our 2013-2014 Reading Series.
You can stream the podcast form PEN/Faulkner's Podcast Page or subscribe to the Podcast in iTunes.
Happy Listening!