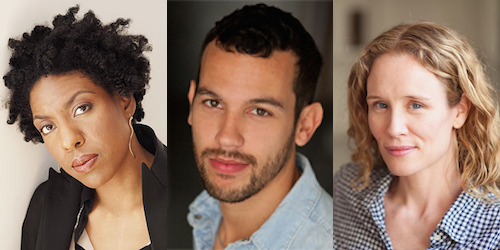 Episode 27 features our Feb. 24th, 2014 reading "Survival Instincts: First-time Novelists on the Ties That Bind" featuring first-time novelists Ayana Mathis and Justin Torres. They were joined onstage at the Folger Shakespeare Library by fellow first-time novelist Elliott Holt, who moderated discussion between Mathis and Torres. 
Ayana Mathis is a graduate of the Iowa Writers' Workshop and is a recipient of the Michener-Copernicus Fellowship. The Twelve Tribes of Hattie, her first novel and a New York Times Bestseller, was chosen by Oprah Winfrey as the second selection for Oprah's Book Club 2.0. She lives and writes in Brooklyn, NY.
Justin Torres is a graduate of the Iowa Writers' Workshop, a recent Wallace Stegner Fellow at Stanford, and a recent fellow at the Radcliffe Institute for Advanced Study at Harvard. His work has appeared in the New Yorker, Harper's, Granta, Tin House, and Glimmer Train. Among many other things, he has worked as a farmhand, a dog walker, a creative writing teacher, and a bookseller. He lives in Brooklyn, NY. 
Moderator Elliott Holt's short fiction and essays have appeared in the New York Times, Guernica, The Millions, the 2011 Pushcart Prize anthology, and elsewhere. Her first novel, You Are One of Them, was published in 2013 and was a New York Times Book Review Editors' Choice and a finalist for the National Book Critics Circle's John Leonard Award for a first book.
Podcast: Play in new window | Download (Duration: 59:40 — 68.3MB)