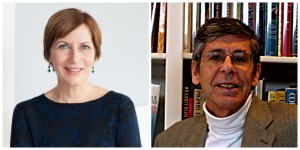 Episode 38 of the PEN/Faulkner podcast features writer and NPR book critic Maureen Corrigan discussing her second book, So We Read On: How the Great Gatsby Came to Be and Why It Endures, with F. Scott Fitzgerald scholar Jackson Bryer.
Maureen Corrigan is a critic-in-residence at Georgetown University and the book critic for NPR's Fresh Air. An award-winning scholar, she has judged multiple prizes, including the 2012 Pulitzer Prize. Her first book, the literary memoir Leave Me Alone, I'm Reading! was published in 2005.
Jackson Bryer is a Professor Emeritus at the University of Maryland, where he studied and taught American and modern literature. He has written and edited many books and articles about The Great Gatsby. Dr. Bryer is a PEN/Faulkner Foundation board member.
Podcast: Play in new window | Download (Duration: 1:10:39 — 64.7MB)
Subscribe to the podcast in iTunes.
Thank you to Benedict Kupstas and Field Guides for donating the music used in this episode. Listen here to Field Guides' album Boo, Forever.