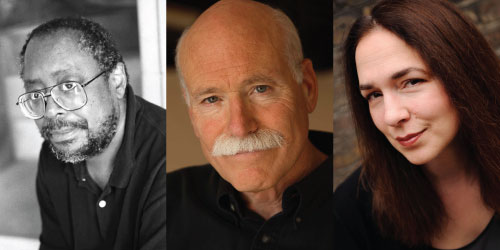 In Episode 40 of the PEN/Faulkner podcast, we bring you a celebration of what would have been American master Bernard Malamud's 100th year. The PEN/Faulkner Foundation and the Malamud Family hosted previous recipients of the PEN/Malamud Award for Excellence in the Art of the Short Story in a celebratory evening of readings in Malamud's honor. Participating authors included Edward P. Jones, Lorrie Moore, and Tobias Wolff.
Edward P. Jones is the author of the story collections Lost in the City and All Aunt Hagar's Children and the novel The Known World. Among other honors, he has received the Pulitzer Prize for fiction, the National Book Critics Circle award, and a MacArthur Fellowship. He lives in Washington, D.C.
Lorrie Moore is a novelist and story writer whose works include Birds of America, A Gate at the Stairs, and Bark. Among her honors and awards are a Guggenheim Fellowship, a Lannan Foundation fellowship, and the Rea Award. She teaches creative writing at Vanderbilt University in Nashville, Tennessee.
Tobias Wolff is the author of the story collections Back in the World and The Night in Question and of the novel Old School, among other works. He has received the Rea Award, the Los Angeles Times Book Prize, and the PEN/Faulkner Award. He lives in Northern California and teaches at Stanford University.
Podcast: Play in new window | Download (Duration: 1:25:42 — 78.5MB)
Subscribe to the podcast in iTunes.
Thank you to Benedict Kupstas and Field Guides for donating the music used in this episode. Listen here to Field Guides' album Boo, Forever.