Submissions for the 2016 PEN/Faulkner Award have now closed.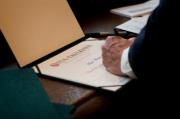 This year's judges, Abby Frucht, Molly McCloskey, and Sergio Troncoso, are busy reading the novels, novellas, and collections of short stories in order to choose next year's winner and finalists.
The award was founded by members of the international writers' organization PEN and is now governed by an independent foundation board. The budget for the award and its administration is funded by gifts and grants. We are always grateful for support of the award and of other PEN/Faulkner programs.
The winning writer and four finalists are honored at a ceremony held in Washington at the Folger Shakespeare Library in May. To browse a list of past winners and finalists, click here. To read the award announcement letter, click here.
If you have any questions regarding the PEN/Faulkner Award for Fiction, please send them to awards@penfaulkner.org.