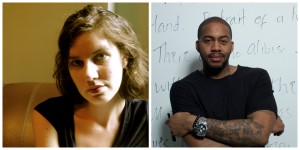 I Feel Your Pain: An Evening with Mitchell S. Jackson and Leslie Jamison
Moderated by PEN/Faulkner Board President Richard McCann
Mitchell S. Jackson's novel The Residue Years, the winner of the Ernest Gaines Award for Literary Excellence, is based on his own coming-of-age, in a Portland, Oregon, neighborhood harrowed by the crack cocaine epidemic. Leslie Jamison's widely-lauded essay collection The Empathy Exams starts with her own memories of working as a model patient for medical students and goes on to explore how we perceive other people's pain. Both writers investigate the extremes of experience – their own and others' – in dazzling fiction and essays.
Thank you to Benedict Kupstas and Field Guides for donating the music used in this episode. Listen
here
to Field Guides' album 
Boo, Forever
.