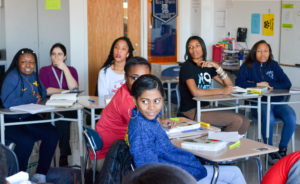 PEN/Faulkner is hiring faculty for our Summer 2019 Youth Writers Camp!
The PEN/Faulkner Youth Writers Camp is an 8-day intensive creative writing academy for high schools students entering 9th-12th grade and recent graduates. Under the guidance of writing faculty, youth writers participate in a variety of writing activities, workshops, field trips, electives, and craft discussions in a supportive atmosphere that values risk taking as an important part of the writing process. Participants also receive one-on-one personalized feedback from instructors.
We are looking for two types of applicants: current MFA/PhD in Writing students or recent MFA/PhD in Writing graduates who matriculated within the past two years AND non-traditional writers of fiction, prose, and poetry.
Recognizing the institutional and systemic barriers to receiving an advanced degree in the arts, PEN/Faulkner strives to receive applications and to hire from both traditional pathways into a writing career (i.e. the MFA) and non-traditional pathways. We also believe that by providing instructors from a variety of backgrounds and pathways into the field, youth writers will recognize that there is more than one way to pursue a career in the arts.
To view the complete job description, including application instructions, read here.
The application deadline is March 15, 2019.