We have loved hearing about all the books that changed your lives! Thank you for sharing your stories with us. They have been a timely reminder of how books can empower us and bring us closer together. Below, we've compiled all the books that have made a collective impact on the PEN/Faulkner community. We hope this list sparks some joy for you, like it did for us when we celebrated each book.
Interested in supporting our mission of inspiring the next generation of readers and writers? Donate now to our #GivingTuesday campaign, or make a general donation to support our organization's efforts here.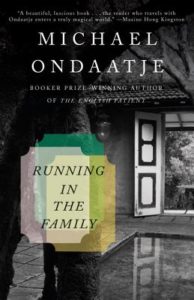 Running in the Family by Michael Ondaatje
"Reading this book always evokes a deep sense of longing for me to better understand where I come from and has actually inspired me to interview my own family members over the last few years about who they are."
In the late 1970s Ondaatje returned to his native island of Sri Lanka. As he records his journey through the drug-like heat and intoxicating fragrances of that "pendant off the ear of India," Ondaatje simultaneously retraces the baroque mythology of his Dutch-Ceylonese family. An inspired travel narrative and family memoir by an exceptional writer.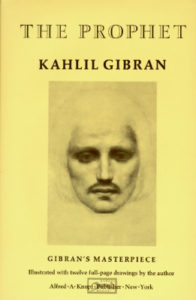 The Prophet by Kahlil Gibran
"A gift from my great grandmother, the book's poetic and spiritual notes on life helped guide my grandmother through the joys and sorrows of living, a gift she wanted to pass down to me."
The Prophet is a collection of poetic essays that are philosophical, spiritual, and, above all, inspirational. Gibran's musings are divided into twenty-eight chapters covering such sprawling topics as love, marriage, children, giving, eating and drinking, work, joy and sorrow, housing, clothes, buying and selling, crime and punishment, laws, freedom, reason and passion, pain, self-knowledge, teaching, friendship, talking, time, good and evil, prayer, pleasure, beauty, religion, and death.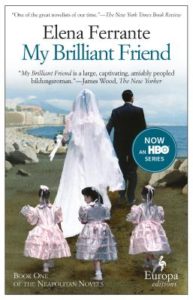 My Brilliant Friend by Elena Ferrante
"This book is a shared favorite of mine and my mother's and it'll always be special to me as it's something we can both love, together."
Beginning in the 1950s in a poor but vibrant neighborhood on the outskirts of Naples, Elena Ferrante's four-volume story spans almost sixty years, as its main characters, the fiery and unforgettable Lila and the bookish narrator, Elena, become women, wives, mothers, and leaders, all the while maintaining a complex and at times conflicted friendship. This first novel in the series follows Lila and Elena from their fateful meeting as ten-year-olds through their school years and adolescence.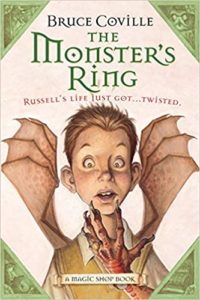 The Monster's Ring by Bruce Coville
"At 11 years old, the idea that a building filled with magical items would appear if I could only get lost excited me. I tried very hard for months to get lost, but was cursed with an excellent memory of the roads in my town."
Russell is sure that the ring he gets at Mr. Elives' shop is just a silly magic trick, but he follows the instructions and twists the ring twice anyway–and becomes a monster!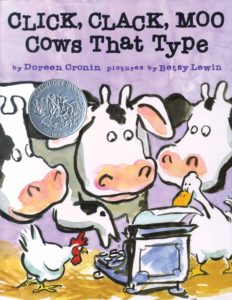 Click, Clack, Moo, Cows That Type by Doreen Cronin and Betsy Lewin
"After we read the book, my pre-k students demanded the end of naptime and mounted a strike of their own… My students are in high school and college now. I hope they remember Farmer Brown's cows and their own classroom demands for change, and that they're out in the world making good trouble."
It was the typewriter heard 'round the world. When Farmer Brown's cows began leaving him notes, that's when his troubles started–and the animals' fun commenced!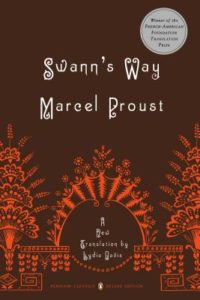 Swann's Way by Marcel Proust
"It took me a year, off and on, to read the whole book. I can't wait to retire so I can do it all over again."
Swann's Way is one of the preeminent novels of childhood: a sensitive boy's impressions of his family and neighbors, all brought dazzlingly back to life years later by the taste of a madeleine. It also enfolds the short novel Swann in Love, an incomparable study of sexual jealousy that becomes a crucial part of the vast, unfolding structure of In Search of Lost Time. The first volume of the work that established Proust as one of the finest voices of the modern age–satirical, skeptical, confiding, and endlessly varied in his response to the human condition–Swann's Way also stands on its own as a perfect rendering of a life in art, of the past recreated through memory.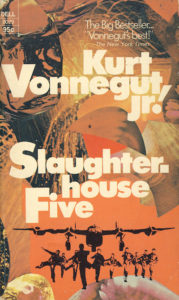 Slaughterhouse-Five by Kurt Vonnegut
"I first read [this] when I was an angst-ridden teenager feeling like nothing in the world made any sense. Vonnegut gave voice to my anxieties and broadened my understanding of how to be a human in the 20th century."
Billy Pilgrim is the son of an American barber. He serves as a chaplain's assistant in World War II, is captured by the Germans, and he survives the largest massacre in European history the fire bombing of Dresden. After the war Billy makes a great deal of money as an optometrist, and on his wedding night he is kidnapped by a flying saucer from the planet Tralfamadore. So begins a modern classic by a master storyteller.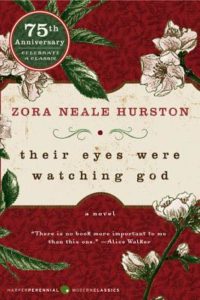 Their Eyes Were Watching God by Zora Neale Hurston
"This is the first book that I read that elicited such intense emotions that I couldn't bear to end the book. The story of love and loss, coupled with the underlying message of environmental stewardship, made me fall in love with this book."
Their Eyes Were Watching God, a luminous and haunting novel about Janie Crawford, a Southern black woman in the 1930s whose journey from a free-spirited girl to a woman of independence and substance, continues to inspire the next generation of students.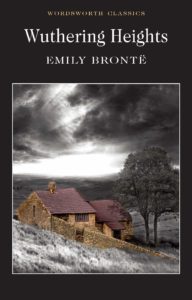 Wuthering Heights by Emily Brontë
"Every time I come back to it, I discover new things about the story, its characters, and its social commentaries. I could spend hours talking about the book's narrative style, the themes of class and race, or the constructions of femininity and womanhood that Brontë explores – but her greatest triumph is writing this masterpiece with such immense passion and emotion that the reader can't help but feel immersed in every single page."
Lockwood, the new tenant of Thrushcross Grange, situated on the bleak Yorkshire moors, is forced to seek shelter one night at Wuthering Heights, the home of his landlord. There he discovers the history of the tempestuous events that took place years before. What unfolds is the tale of the intense love between the gypsy foundling Heathcliff and Catherine Earnshaw. Catherine, forced to choose between passionate, tortured Heathcliff and gentle, well-bred Edgar Linton, surrendered to the expectations of her class. As Heathcliff's bitterness and vengeance at his betrayal is visited upon the next generation, their innocent heirs must struggle to escape the legacy of the past.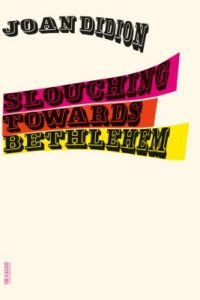 Slouching Towards Bethlehem by Joan Didion
"One deeply sentimental essay, On Going Home, still makes me cry each time I read it; it speaks to me as a nomad, as someone who until recently had no permanent sense of home."
The first nonfiction work by one of the most distinctive prose stylists of our era, Joan Didion's Slouching Towards Bethlehem remains, decades after its first publication, the essential portrait of America–particularly California–in the sixties. It focuses on such subjects as John Wayne and Howard Hughes, growing up a girl in California, ruminating on the nature of good and evil in a Death Valley motel room, and, especially, the essence of San Francisco's Haight-Ashbury, the heart of the counterculture.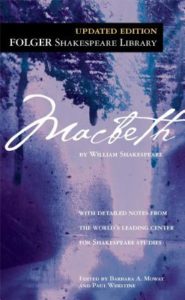 Macbeth by William Shakespeare
"In addition to being the most metal-ass shit ever, it has expanded my understanding of the possibilities of the language."
In 1603, James VI of Scotland ascended the English throne, becoming James I of England. London was alive with an interest in all things Scottish, and Shakespeare turned to Scottish history for material. He found a spectacle of violence and stories of traitors advised by witches and wizards, echoing James's belief in a connection between treason and witchcraft.
In depicting a man who murders to become king, Macbeth teases us with huge questions. Is Macbeth tempted by fate, or by his or his wife's ambition? Why does their success turn to ashes?
Like other plays, Macbeth speaks to each generation. Its story was once seen as that of a hero who commits an evil act and pays an enormous price. Recently, it has been applied to nations that overreach themselves and to modern alienation. The line is blurred between Macbeth's evil and his opponents' good, and there are new attitudes toward both witchcraft and gender.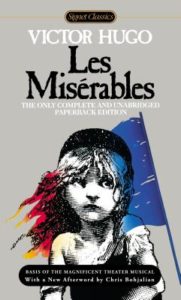 Les Misérables by Victor Hugo
"It inspired me to study French, become fluent, live abroad, and meet extraordinary and culturally diverse people."
Introducing one of the most famous characters in literature, Jean Valjean–the noble peasant imprisoned for stealing a loaf of bread–Les Misérables ranks among the greatest novels of all time. In it, Victor Hugo takes readers deep into the Parisian underworld, immerses them in a battle between good and evil, and carries them to the barricades during the uprising of 1832 with a breathtaking realism that is unsurpassed in modern prose.
Within his dramatic story are themes that capture the intellect and the emotions: crime and punishment, the relentless persecution of Valjean by Inspector Javert, the desperation of the prostitute Fantine, the amorality of the rogue Thénardier, and the universal desire to escape the prisons of our own minds. Les Misérables gave Victor Hugo a canvas upon which he portrayed his criticism of the French political and judicial systems, but the portrait that resulted is larger than life, epic in scope–an extravagant spectacle that dazzles the senses even as it touches the heart.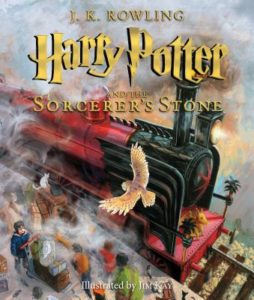 Harry Potter by J.K. Rowling
"Because, well, magic." (Note: if you'd prefer to refrain from supporting J.K. Rowling, please buy used books!)
Harry Potter has never been the star of a Quidditch team, scoring points while riding a broom far above the ground. He knows no spells, has never helped to hatch a dragon, and has never worn a cloak of invisibility.
All he knows is a miserable life with the Dursleys, his horrible aunt and uncle, and their abominable son, Dudley — a great big swollen spoiled bully. Harry's room is a tiny closet at the foot of the stairs, and he hasn't had a birthday party in eleven years.
But all that is about to change when a mysterious letter arrives by owl messenger: a letter with an invitation to an incredible place that Harry — and anyone who reads about him — will find unforgettable.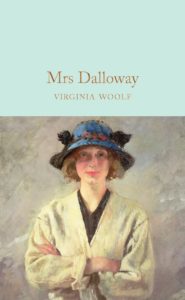 Mrs. Dalloway by Virginia Woolf
"My love for literature and writing began with this book in high school."
Mrs Dalloway describes a day in 1923 in the life of an upper-class Londoner, Clarissa Dalloway, as she prepares for a party she is hosting. In lyrical language, Virginia Woolf describes Clarissa, her memories, day-dreams, regrets and fears, to masterfully entwine the past, present and future in what is regarded as one of the great novels of the twentieth century. "The novel's opening pages are probably the most ecstatic representation of running errands in the Western canon." (Evan Kindley). The novel is essentially plotless; using the springboard of the mundane preparations for a society party, it travels backwards and forwards through time, drawing the reader into the consciousness of the characters.
Mrs. Dalloway, perhaps Virginia Woolf's most popular work, and perhaps semiautobiographical, is a book worth reading and rereading.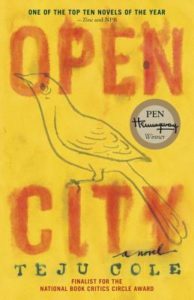 Open City by Teju Cole
A haunting novel about identity, dislocation, and history, Teju Cole's Open City is a profound work by an important new author who has much to say about our country and our world.
Along the streets of Manhattan, a young Nigerian doctor named Julius wanders, reflecting on his relationships, his recent breakup with his girlfriend, his present, his past. He encounters people from different cultures and classes who will provide insight on his journey–which takes him to Brussels, to the Nigeria of his youth, and into the most unrecognizable facets of his own soul.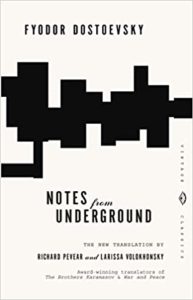 Notes from Underground by Fyodor Dostoevsky
Published in 1864, Notes from Underground is considered the author's first masterpiece – the book in which he "became" Dostoevsky – and is seen as the source of all his later works. Richard Pevear and Larissa Volokhonsky, whose acclaimed translations of The Brothers Karamazov and Crime and Punishment have become the standard versions in English, now give us a superb new rendering of this early classic. Presented as the fictional apology and confession of the underground man – formerly a minor official of mid-nineteenth-century Russia, whom Dostoevsky leaves nameless, as one critic wrote, "because 'I' is all of us" – the novel is divided into two parts: the first, a half-desperate, half-mocking political critique; the second, a powerful, at times absurdly comical account of the man's breakaway from society and descent "underground." The book's extraordinary style – brilliantly violating literary conventions in ways never before attempted – shocked its first readers and still shocks many Russians today.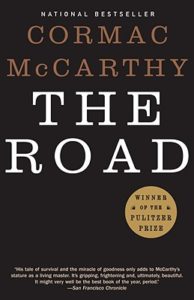 The Road by Cormac McCarthy
A father and his son walk alone through burned America. Nothing moves in the ravaged landscape save the ash on the wind. It is cold enough to crack stones, and when the snow falls it is gray. The sky is dark. Their destination is the coast, although they don't know what, if anything, awaits them there. They have nothing; just a pistol to defend themselves against the lawless bands that stalk the road, the clothes they are wearing, a cart of scavenged food–and each other.
The Road is the profoundly moving story of a journey. It boldly imagines a future in which no hope remains, but in which the father and his son, "each the other's world entire," are sustained by love. Awesome in the totality of its vision, it is an unflinching meditation on the worst and the best that we are capable of: ultimate destructiveness, desperate tenacity, and the tenderness that keeps two people alive in the face of total devastation.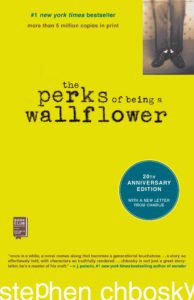 The Perks of Being a Wallflower by Stephen Chbosky
The critically acclaimed debut novel from Stephen Chbosky, Perks follows observant "wallflower" Charlie as he charts a course through the strange world between adolescence and adulthood. First dates, family drama, and new friends. Sex, drugs, and The Rocky Horror Picture Show. Devastating loss, young love, and life on the fringes. Caught between trying to live his life and trying to run from it, Charlie must learn to navigate those wild and poignant roller-coaster days known as growing up.
A years-long #1 New York Times bestseller, an American Library Association Best Book for Young Adults and Best Book for Reluctant Readers, and with millions of copies in print, this novel for teen readers (or "wallflowers" of more-advanced age) will make you laugh, cry, and perhaps feel nostalgic for those moments when you, too, tiptoed onto the dance floor of life.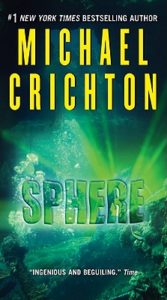 Sphere by Michael Crichton
A classic thriller from #1 New York Times bestselling author Michael Crichton, Sphere is a bravura demonstration of what he does better than anyone: riveting storytelling that combines frighteningly plausible, cutting edge science and technology with pulse-pounding action and serious chills. The gripping story of a group of American scientists sent to the ocean floor to investigate an alien ship, only to confront a terrifying discovery that defies imagination, Sphere is Crichton prime–truly masterful fiction from the ingenious mind that brought us Prey, State of Fear, and Jurassic Park.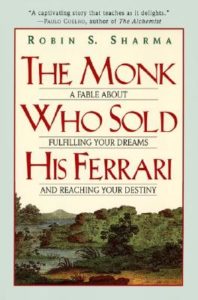 The Monk Who Sold His Ferrari by Robin Sharma
The Monk Who Sold His Ferrari: A Fable About Fulfilling Your Dreams and Reaching Your Destiny by motivational speaker and author Robin Sharma is an inspiring tale that provides a step-by-step approach to living with greater courage, balance, abundance and joy. The Monk Who Sold His Ferrari tells the extraordinary story of Julian Mantle, a lawyer forced to confront the spiritual crisis of his out-of-balance life, and the subsequent wisdom that he gains on a life-changing odyssey that enables him to create a life of passion, purpose and peace.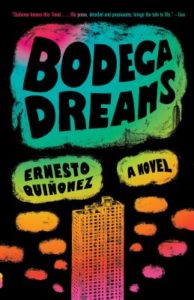 Bodega Dreams by Ernesto Quiñonez
In a stunning narrative combining the gritty rhythms of Junot Diaz with the noir genius of Walter Mosley, Bodega Dreams pulls us into Spanish Harlem, where the word is out: Willie Bodega is king. Need college tuition for your daughter? Start-up funds for your fruit stand? Bodega can help. He gives everyone a leg up, in exchange only for loyalty–and a steady income from the drugs he pushes.
Lyrical, inspired, and darkly funny, this powerful debut novel brilliantly evokes the trial of Chino, a smart, promising young man to whom Bodega turns for a favor. Chino is drawn to Bodega's street-smart idealism, but soon finds himself over his head, navigating an underworld of switchblade tempers, turncoat morality, and murder.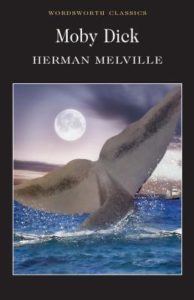 Moby Dick by Herman Melville
"Moby-Dick was the first novel I felt rather than just read… There are stunning chapters – about whales and whale blubber, about details of sailing and masts – where Melville is writing for the pure joy of what he knows and loves and the joy of the act of writing – commercialism and publishability be damned. This was a beacon to me. Giving permission to read, enjoy, learn, marvel or be bored and skip ahead."
'Command the murderous chalices!…Drink ye harpooners! drink and swear, ye men that man the deathful whaleboat's bow – Death to Moby Dick!'. So Captain Ahab binds his crew to fulfil his obsession – the destruction of the great white whale. Under his lordly but maniacal command the Pequod's commercial mission is perverted to one of vengeance. To Ahab, the monster that destroyed his body is not a creature, but the symbol of 'some unknown but still reasoning thing'. Uncowed by natural disasters, ill omens, even death, Ahab urges his ship towards 'the undeliverable, nameless perils of the whale'.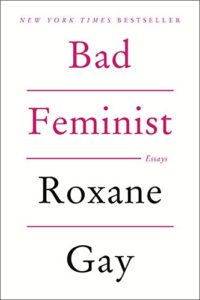 Bad Feminist by Roxane Gay
"It felt like Roxane was speaking directly to me when she wrote: "I embrace the label of bad feminist because I am human. I am messy. I'm not trying to say I have all the answers. I am not trying to say I'm right. I am just trying–trying to support what I believe in, trying to do some good in this world, trying to make some noise with my writing while also being myself…""
A collection of essays spanning politics, criticism, and feminism from one of the most-watched young cultural observers of her generation, Roxane Gay.
In these funny and insightful essays, Roxane Gay takes us through the journey of her evolution as a woman (Sweet Valley High) of color (The Help) while also taking readers on a ride through culture of the last few years (Girls, Django in Chains) and commenting on the state of feminism today (abortion, Chris Brown). The portrait that emerges is not only one of an incredibly insightful woman continually growing to understand herself and our society, but also one of our culture.