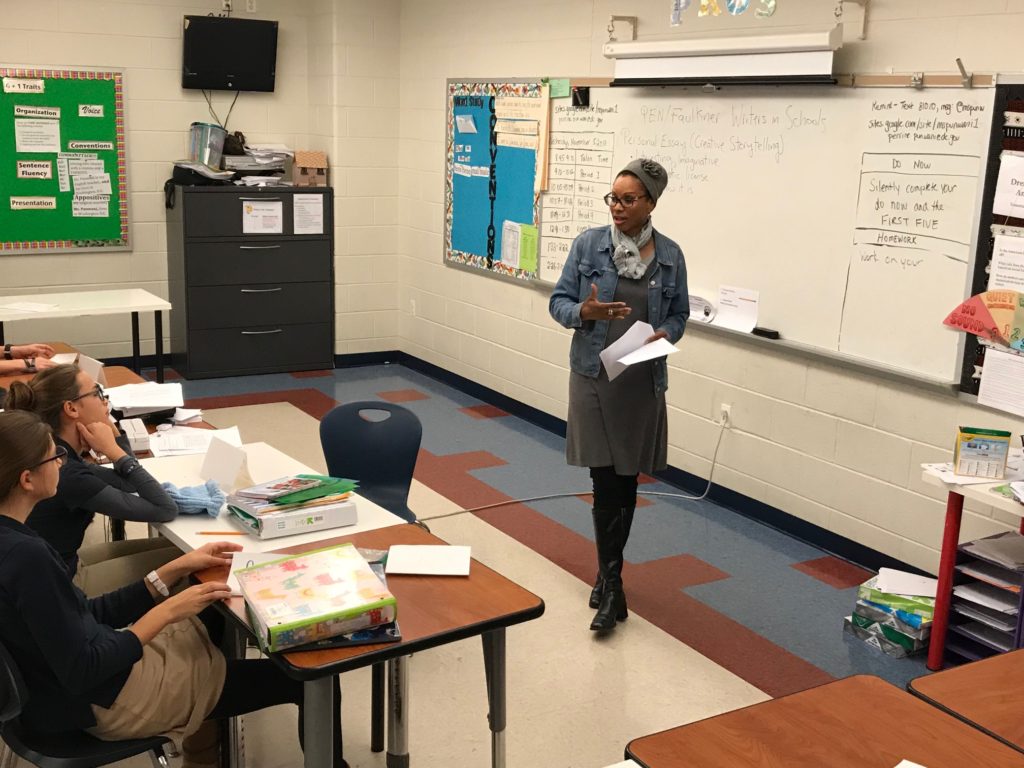 Join our Creative Writing Faculty (Prose & Poetry) at the PEN/Faulkner Youth Writers Camp!
About the Camp:
The PEN/Faulkner Youth Writers Camp is an 8-day intensive creative writing academy for high schools students entering 9th-12th grade and recent graduates. Under the guidance of writing faculty, youth writers participate in a variety of writing activities, workshops, field trips, electives, and craft discussions in a supportive atmosphere that values risk taking as an important part of the writing process. Participants also receive one-on-one personalized feedback from instructors.
Who Should Apply:
We are looking for two types of applicants: current MFA/PhD in Writing students or recent MFA/PhD in Writing graduates who matriculated within the past two years AND non-traditional writers of fiction, prose, and poetry.
Recognizing the institutional and systemic barriers to receiving an advanced degree in the arts, PEN/Faulkner strives to receive applications and to hire from both traditional pathways into a writing career (i.e. the MFA) and non-traditional pathways. We also believe that by providing instructors from a variety of backgrounds and pathways into the field, youth writers will recognize that there is more than one way to pursue a career in the arts.
We value individuals of diverse talents, backgrounds, and experiences. If hired, candidates should be prepared to work collaboratively in a close-knit team environment under the direction of the Camp Director and Assistant Director; to provide a safe, inclusive, welcoming atmosphere for all youth participants, faculty instructors, PEN/Faulkner staff, and guest writers; and to encourage and model to youth writers creative risk taking throughout the creative process in a non-competitive environment.
Terms of Employment:
This is a part-time temporary contract positions with no benefits. Pay is $12.50/hour. The dates of the contract are 6/20/2019 – 7/3/2019.
Housing, Travel, and Meals:
There is a $50 travel stipend. Travel for camp field trips is provided by PEN/Faulkner. Instructors are provided with lunch on camp days. We do not provide housing for instructors.
Major Responsibilities:
Lead writing workshops in either prose (fiction and personal essay) and poetry for high school students (rising 9th-12th graders and 2019 high school graduates).

Lead or co-lead writing classes/electives focusing on elements of craft and revision/editing.

Lead and participate in large group writing and creative activities.

Conduct one-on-one writing conferences with students and provide written comment on their work.

Serve as a point of support for participants' concerns, questions, and needs, whether writing-related or otherwise.

Supervise both large and small groups of students and be prepared to provide conflict resolution and to manage sticky situations.

Chaperone the camp's writing-related field trips around Washington, DC.

Assist with organizing and hosting the culmination student reading.

Attend daily camp faculty meetings.

Assisting with program data collection and evaluation.

Adhere to Writers in Schools policies of supporting positive youth development, embracing creative risk taking and failure, and developing an inclusive community.

Be able to work with students from diverse backgrounds, including low-income students, non-native English speakers, students of color, and LGBTQ students.

Adhere to a strict privacy policy regarding student self-disclosures, unless it requires Mandated Reporting.

Other duties as assigned and within the scope of the position.
Qualifications:
For MFA/PhD in Writing candidates:
Be enrolled in good standing in a degree granting institution, OR have matriculated within the past two years (May 2017 or later).



For non-traditional candidates:
Have completed a 4-year college degree, in any field, and demonstrate through application materials ability to teach creative writing courses.
For all candidates:
Prior teaching experience with high school or middle school students required.

Experience teaching in multiple genres or within an arts-based curriculum is strongly preferred.

The ability and drive to work independently and as part of a team.

High level of proficiency with the GSuite platform (Gmail, GDocs, etc.).

A willingness to pitch in on all assignments.

A willingness to take risks, accept feedback, and grow.

Comfort with traveling around Washington, DC for programming field trips. This may include

travel by Metro train, Metro bus, walking, or rideshare.
Application Process:
Submit a current resume and cover letter to applications@penfaulkner.org. Please put "Creative Writing Faculty" in the subject line. In your cover letter, please note your preferred genre (prose or poetry); your prior experience working with young people; and 3-5 ideas for either writing/creative activities (individual or collaborative) to help participants generate work and/or ideas for elective offerings you would co-teach. Ideas can be in bullet point format and do not have to be more than four sentences in length.
Required documents for application are:
Current resume with contact information
Cover letter (see above for what to include)
The application deadline is March 15, 2019.
---
Next Steps:
Interviews will begin during AWP 2019 in Portland, OR. Candidates who are invited to interview and who will be in Portland during AWP will be given in-person interview slots during the conference. All other candidates will be interviewed remotely via video conference (Skype or Google Hangouts) between April 8-16.
All candidates will be informed of their final status no later than April 20.
---
Regarding EEOC Disclosures:
This form is completely anonymous. Your name and email address are not attached to the form in any way, and your responses are kept private from the hiring manager during the hiring process.
About Writers in Schools (WinS):
Writers in Schools (WinS) is PEN/Faulkner's K-12 literary arts education and community outreach programming. Celebrating 30 years in 2019, WinS brings contemporary literature and living writers into under-resourced DC public schools, public charter schools, community organizations, and the DC Jail; donates books to low-income readers; administers an annual Youth Essay Contest; hosts in-class personal essay writing workshop residencies with professional writers; provides bilingual Spanish/English books and programming; and offers summer youth programming. We believe that through literature and writing students develop self-confidence and imagination; come to see reading as both an act and an identity; view writing as self-expression and self-narrative; experience the personalization of literary expression; and develop a sense of global citizenship and community.
About PEN/Faulkner:
The PEN/Faulkner Foundation administers the PEN/Faulkner Award for Fiction, one of the top three literary prizes in the US, given annually to the best book of the year by a living American writer, and the PEN/Malamud Award for Excellent in the Short Story, given annually to recognize established and emerging writers for their contributions to the short fiction form. Founded 40 years ago, we have expanded our mission and outreach to include our robust seasons of Literary Conversations, our engaging author dialogues and readings open to the public, and our Writers in Schools education programming, which brings authors into classrooms for intimate conversations with students and book donations to low-income youth.