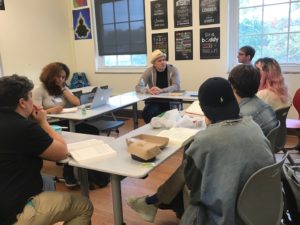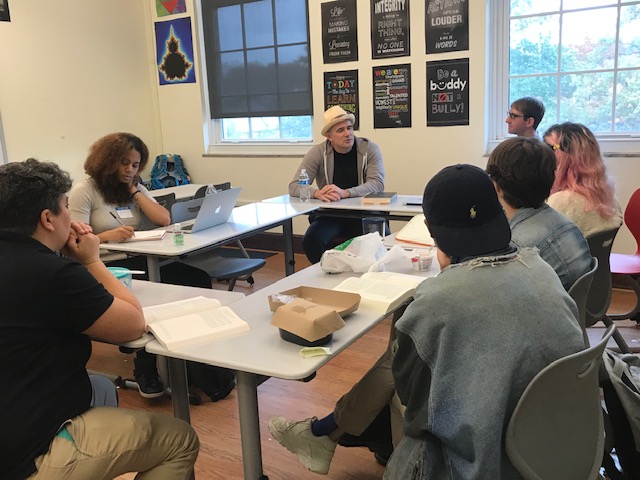 Writers in Schools (WinS) connects DC school students in grades 3-12 and non-traditional learning communities (adult education centers, jails) to contemporary living writers, ideas, and books. We do this by bringing writers into schools for conversations, with the option of a short writing activity, followed by a book signing and group photo. We prioritize working with low-income schools.
Our Nuestras Voces program specifically seeks Latinx/Hispanic writers, especially those with verbal fluency in Spanish as well as texts written in Spanish.
For many students, meeting a writer is a powerful experience. Educators indicate that having visiting writers in their classrooms creates a culture of literacy in their schools, engages students more readily with reading and the larger curriculum, and opens them to new ideas and stories about the world at large.
We're always looking for writers willing to engage with youth: whether about their book, the writing and publishing process, or about the larger themes and ideas in their work.
HOW DO WRITERS GET INVOLVED?
Send a copy of your book (either a finished copy or ARC/galley is fine) to:
PEN/Faulkner Foundation

Attn: Lacey N. Dunham

6218 Georgia Avenue NW

Unit #1062

Washington, DC 20011
We have three deadlines for consideration:
Our fall list: books received by April 1; writers notified of our decision by June 15

Our winter list: books received by August 1; writers notified of our decision by October 1

Our spring list: books received by October 1; notification by January 3
COVID-19 Update: Our offices are currently operating remotely. Books are being received, but we are unable to review them at this time. We will provide an update as soon as we have more information. 

WHAT TYPES OF BOOKS DO WE ACCEPT?
We accept any genre — fiction, graphic novels, YA, essays, memoir, general nonfiction, poetry, middle grade and chapter books, and illustrated picture books, to name a few. We are most interested in books that are developmentally appropriate for students at different grade levels and themes that resonate with our students and educators. Recent themes that have been popular include: books about Black identity in contemporary America; current social issues such as police brutality, gun violence, immigration, and LGBTQ+ issues.
We will not consider books where the content is not inclusive and respectful of all identities and people. We do not accept books that fall under any -isms i.e. sexism, racism, homophobia, transphobia, and ableism, to name a few.  
We will consider, on a limited and case-by-case basis, individual writers who have not yet published a full-length collection but have publications in highly respected and reputable journals.
Other considerations:
Books should be readily available to order through an established publisher or bookseller, preferably at a discounted rate.

Preference for paperback.

Preference for books published within the last 5-7 years.

We cannot do visits for out of print books.
WHAT DO WE LOOK FOR IN OUR PARTNER WRITERS?
Writers should be interested in engaging in warm and genuine conversation with diverse groups of young people, some of whom are reluctant readers or who might be reading below grade level. We're especially interested in writers who are comfortable with middle school students and writers willing to travel to under-resourced schools in impoverished neighborhoods. Writers should be flexible, as schools are dynamic environments. Being able to take curve balls is important, as visits can go in many different directions, from the number of students attending, to their overall preparedness, to unexpected fire drills.
While we aim for intimate conversations, writers should be comfortable speaking with groups of students that range from 5 students to 30 students. (We handle groups larger than 30 students on a case-by-case basis.)
Writers do not need to lead a writing prompt, but some writers (and students!) find something short and compelling to be especially interesting. During Q&A, students often ask personal questions about what it's like to be a writer and personal questions about the author or the book.
Finally, writers are expected to interact with and respond to students in a respectful manner, with a recognition that they are curious and intelligent human beings regardless of their age or demographic.
WHAT DOES A TYPICAL VISIT LOOK LIKE?
Every visit is different because every school and group of students are different! However, most visits involve some of the following:

The author discusses his/her/their book or body of work.

In case of students' unfamiliarity with book, the author should be prepared to discuss being a writer, the process of writing, publishing, and anything else that students might ask about!

Some writers lead the students through a quick writing activity. This is not required.

There is always a trained

PEN/Faulkner author ambassador with writers on all school visits available to facilitate the conversation, as needed, and to assist with the group signing and photo.

Not all schools have ready access to technology, so writers should be prepared to discuss their work without the backup of a visual Powerpoint presentation.
PAYMENT
We provide a small honorarium for the writer's time. Since we prioritize working with low-income schools who do not pay for our programming, we are currently unable to pay for travel or accommodation for non-local writers. Please know that we are actively working on grant funding to provide this service in the future.
Writers passing through the region on book tour or for other opportunities are encouraged to get in touch.