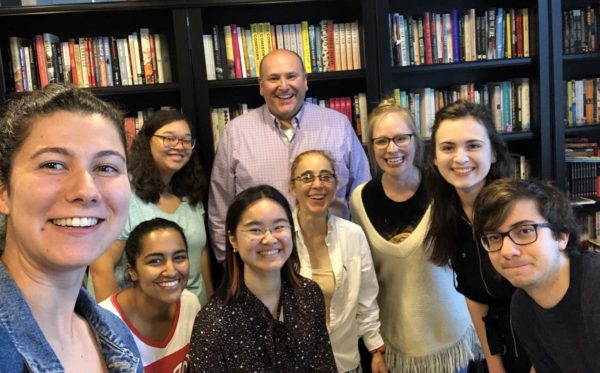 Why Intern with PEN/Faulkner?
Have you dreamed of working in publishing or the literary arts but aren't certain you want to move to NYC? Do you consider yourself a "book nerd" but don't know what to do with that English or writing degree? Are you an education major who isn't certain the path of being a classroom teacher is the right fit for you? Consider interning for us!
What is the PEN/Faulkner Internship Experience Like?
Internships at PEN/Faulkner offer an introduction to literary nonprofits, from education outreach and community engagement to public programming to social media and fundraising to the operations and the data-driven evaluation aspects of what we do. Interns assist with a variety of tasks and programs, including Awards administration, logistics of author scheduling and travel, attending Writers in Schools visits and Literary Conversations events, as well as research, writing support for under-resourced students, development, and marketing and social media assignments.
We are a small, dynamic staff who work together to provide interns with the opportunity to collaborate on projects as well as work individually to meet their internship goals. Each internship cohort is provided with training opportunities in topics such as networking, resume writing, interviewing skills, and using social media in a professional setting, among others.
Interns are busy with tasks and assignments calibrated to help them learn. From the first day of the internship until the last, PEN/Faulkner interns are given hands-on responsibilities and meaningful assignments to help them grow professionally and to prepare them for a career in the arts, arts administration, nonprofit educational programming, or publishing. Interns play a vital role in supporting our daily operations and in helping us plan for success for the future.
Who Should Apply
Any undergraduate or graduate student, or recent graduate, should consider applying. We do not accept high school students. We value individuals of diverse talents, backgrounds, and experiences. Candidates who are native Spanish speakers or with native-level fluency in Spanish are encouraged to apply.
Who We Want
We welcome candidates from a variety of degree fields: English, Creative Writing, Communications, Education, Public Relations, Humanities–the list goes on! We're more interested in what your skills and prior experiences offer to our team and how we can best help you grow than in the courses you've taken. We are especially looking for smart, creative folks who are willing to roll up their sleeves (literally!) and work hard regardless of whether the task involves research, book shipments to judges, writing workshop feedback to students, data entry for evaluation purposes, or capturing the perfect moment in an Instagramable GIF.
What you're reading matters less to us than knowing that you're an invested reader who loves stories, storytelling, books, and who believes in the power of narratives. We love candidates who show that their knowledge of writers isn't limited to dead white men. If hired, candidates should be prepared to work collaboratively in a close-knit team environment as well as to thrive individually on assignments with minimal supervision once training has been provided.
Travel Stipend
All interns receive a travel stipend that is prorated based on the number of hours they work and the number of internship weeks in their cohort. While the travel stipend does not always cover the full cost of traveling to/from the internship, we see it as an important steps towards making our internships more equitable.
Additionally, interns who must travel to/from schools for Writers in Schools visits have their transportation covered by the organization.
When We Hire
PEN/Faulkner does not have any open positions at this time.
---
Interns and staff participate in pumpkin carving together.
---
Compensation
PEN/Faulkner provides a travel stipend for interns. Our internships are unpaid. Academic credit can be provided.
Housing Options for Internships
Washington Intern Student Housing (WISH) locations house interns only, are furnished, in the historic District and Metro accessible. Receptions, outings and professional development events are free to all residents. Visit www.InternsDC.com or email Interns@InternsDC.com for more info!
PEN/Faulkner does not provide internship housing or a housing stipend.