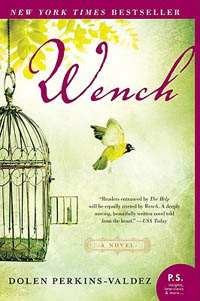 It's Ariel, back with another update from the Teen Parent Book Club! Last Thursday PEN/Faulkner Deputy Director Emma Snyder and I went to Cardozo Senior High School for a book club meeting. I could tell right away that students were a little anxious about the discussion. During the previous session, we read some poetry by Nikki Giovanni that challenged the students in rich, interesting ways, but this week we were doing something different: talking about a novel.
During our first meeting we talked about the kind of books we liked to read. Some favorite adjectives included romantic, suspenseful, and dramatic. I set out to find a novel that is all of things and decided on Wench by Dolen Perkins-Valdez, a work of historical fiction set in pre-Civil War America that imagines the relationship between four slave women and their masters that keep them as mistresses.
We jumped into our discussion of Wench with an article that Perkins-Valdez wrote for a literary blog about what influenced her to write the novel. The article sparked a lot of great discussion about the history of slavery, which accounts of slavery are recorded and remembered and how we can re-imagine history as readers and as writers.
A the end of the article, Perkins-Valdez quotes poet W.B. Yeats: "O love is the crooked thing. There is nobody wise enough To find out all that is in it."  That seemingly simple phrase sent our discussion in a dozen different directions.  Can we ever really be in love?  Can we understand love from the outside looking in? Can we even understand our own love?  These questions were heightened by the fact that the relationship between Perkins-Valdez's main character, a slave woman named Lizzie, and her master is so complicated and doesn't seem to answer any of these questions. Instead, we're just going to have to read the novel and see how everything plays out.
Something tells me that no matter what happens to Lizzie and her friends, our lively discussion will continue.  When it comes to love, everyone has an opinion and a story to share. And it can provide a great opportunity to sneak some poetry into the conversation! More soon!
The Teen Parent Book Club is a partnership between the PEN/Faulkner Foundation, the New Heights Teen Parents Center and DC Public Schools.  The group meets bi-weekly to discuss books by local, contemporary authors. Read about our meetings with the New Heights Teen Center at Anacostia here.