In 2020, on the occasion of its 40th anniversary, the PEN/Faulkner Foundation created a new literary distinction: the PEN/Faulkner Literary Champion. This commendation is presented in recognition of devoted literary advocacy and a commitment to inspiring new generations of readers and writers. The distinction is presented annually in May as part of the PEN/Faulkner Award Celebration.
OUR 2022 PEN/FAULKNER LITERARY CHAMPION
Oprah Winfrey
Oprah Winfrey is a global media leader, producer, actress and a dedicated philanthropist. She has created an unparalleled connection with people around the world, making her one of the most respected and admired figures today. For over 25 years, Oprah's Book Club has featured emerging and acclaimed voices in the literary world with over 90 selections to a worldwide community of readers.
OUR 2021 PEN/FAULKNER LITERARY CHAMPION
LeVar Burton
LeVar Burton is an actor, director, educator, and cofounder of the award-winning Skybrary app; former host and executive producer of PBS's Reading Rainbow, and a lifelong children's literacy advocate. He hosts his own podcast, LeVar Burton Reads, sharing the best short fiction and handpicked by the best voice in podcasting. LeVar also has a new YouTube series, This Is My Story, which highlights racism in America. During the COVID-19 lockdown, TwitterLive hosted livestream short story readings presented by LeVar to millions of his fans and avid readers. LeVar starred as Kunta Kinte in the acclaimed mini-series Roots. LeVar also starred as Lt. Commander Geordi LaForge in the Star Trek: The Next Generation television series and in feature films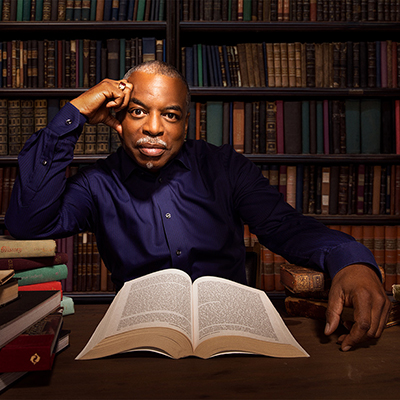 Your Support Matters
Your support makes our programs possible. Please consider a contribution. Thank you.
GIVE ONLINE
Make a secure, tax-deductible gift online
GIVE by Mail
PEN/Faulkner Foundation
6218 Georgia Avenue NW
Unit #1062
Washington, DC 20011
GIVE by Text
Text
PENFAULKNER
to 44321