Summer Program Update by Gretchen Barkhuff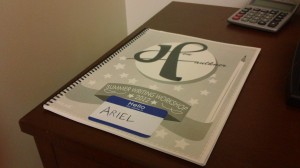 The summer program is off to an amazing start. We have a wonderful group of high school students that were ready to jump right in on the first day. As a warm up activity we did a writing relay race outside. Two teams raced against each other to see who could write, line-by-line, team member-by-team member, two pages of a story the fastest. The resulting stories were creative, zany, and at times poetic. Everyone agreed it was a great speed writing activity and a fun way to get to know each other.
During the writing workshop we discussed writing about place. As an in-class writing assignment we had the students write pieces starting with the line "My D.C. is the kind of place where…" They surprised us with beautiful and insightful writing that revealed how they each perceive the city in which they live. Since they wrote such evocative pieces in a matter of minutes we at the office are looking forward to what they can create in a week. Who knows, maybe we have some future award winning authors in our mix?
Next week the author W. Ralph Eubanks will visit the workshop to discuss his writing with the students. Check back next week to see photos of his visit.