Summer Program Update by Gretchen Barkhuff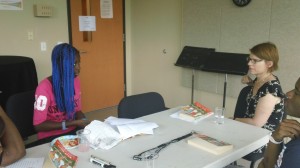 Maud Casey, author of The Shape of Things to Come, joined us on August 7th for the last day of our summer 2012 writing workshop. The workshop topic for our final week was revision, and Casey came with many clever tips and lessons for the students. She informed students that although revision can be daunting, it should not be solely about focusing on what you did wrong. She advised them to read their own work, listening for "places where there is energy, heat, and freshness—places where you surprise even yourself." This, she said, are the places where your own unique voice emerges.  Casey helped the students with this process as they read excerpts from their work out loud. When the students asked about Casey's own editing decisions, she told them a hilarious story about how the original title for her novel was "Nostalgia for the Mud" but the editors decided that mud was too close to her name and that she had to change it.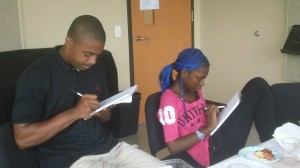 Casey also came with a fun writing activity called "Surprise!" The students took a character from a writing piece that they had been working on and had that character do something she or he would not normally do. Casey explained that writers often get so caught up in developing a character's dominant trait that they fail to create nuanced, fleshed-out characters. The writing activity allowed the students to have fun with their characters, putting them into new situations. The students loved the creative exercise, even staying late to finish it, and their characters definitely grew by the end of the activity.
We are all going to miss seeing the group of talented students on a regular basis. Casey commented on how the students had formed a strong bond over the summer and that they were wonderful readers of each other's work. She suggested that they stay in touch and continue to share their writing with one another. Casey is quite right. After all, where else would you find peers who will tell you that "your work is so gothic it would make Edgar Allen Poe cringe?"