Novelist Marita Golden visited National Collegiate Preparatory Public Charter School in southeast D.C. last week to discuss her novel, After, as well as her other work and her writing career. After follows Carson Blake, a veteran police officer from a troubled family who, on a routine traffic stop, ends up shooting and killing a young man when he mistakes a cell phone for a concealed weapon. The students had a ton of questions, of course, and during the discussion I learned two things: one expected, the other totally unexpected.
First, Ms. Golden discussed the extensive research she did before writing the book. She called the public relations bureau for the Prince George's County Police and asked if she could speak with someone who would know something about what happens when an officer discharges his weapon. They put her in touch with a number of police officers who had discharged their weapons on duty, some who had killed their targets, others who hadn't. She also spoke with police therapists, who the officers are required to see after any type of violent incident. She went to morning roll calls, on ride-alongs, learned all of the slang, spent months researching what it was like to be a police officer before ever sitting down to write the novel.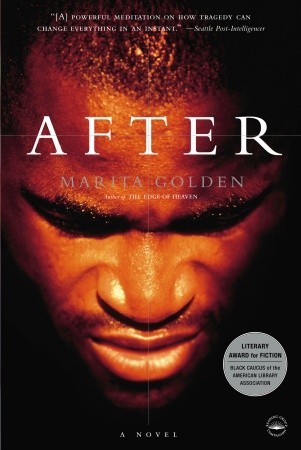 This was what I expected, and Golden's research has clearly paid off. From the outset of the novel, the reader inhabits Carson's world. We follow him as he goes to work, moves through his family life, and, eventually, recovers from the trauma of a violent incident. And, all the while, we are absorbing his mannerisms and beliefs—things that stem directly from Ms. Golden's research, and things that a veteran of the Prince George's County would likely do and know.  
The unexpected revelation of the visit was this: when she conceived of After, Ms. Golden hadn't planned to tell the story from the point of view of a police officer. Growing up in D.C.'s Columbia Heights neighborhood and coming of age during the civil rights movement, she's always had a complicated (and admittedly negative) view of police officers. At the beginning of the writing process, she'd been interested in the aftermath of the shooting from the perspective of the victim's family. It was her months of research, and the extraordinary men and women that she met while "on the job," that gradually shed new light on what it is to be a police officer. And the resulting novel depicts a man who is not just a police officer, but a human, struggling with guilt and striving towards redemption.
— Ariel Martino