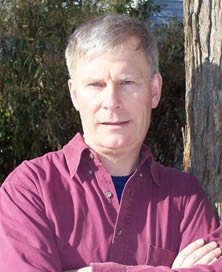 James Grady is the author of over a dozen novels, including Six Days of the Condor, later adapted for a film starring Robert Redford. But his high profile novels weren't up for discussion last week as he gathered with a group of students at Trinity College in northeast D.C. Instead, the students had read the collection DC Noir and were primed to discuss Mr. Grady's contribution, a story called "The Bottom Line" set on Capitol Hill. Questions followed about Mr. Grady's work, writing, and noir as a genre. Here are some discussion highlights.
On developing his craft over the course of his career:
"Early in my career, my work was more plot driven. I wrote my first novel when I was twenty-three, and I didn't know enough about people. I knew how to get from point A to point B to point C, how to do basic plotting, but I didn't know how to make my characters into real, believable, living, breathing humans.
"Over the course of my career I've published probably millions of sentences. I know how to write a good sentence. Now I'm working on the paragraph, on how to write a great paragraph. One thing I know about writing: I'm always going to be getting better."
Advice for aspiring writers:
"Get out of your head. Nobody wants to read about your life, they want to read about their lives. You have to go out there and see how other people live."
"Let yourself be comfortable with what you want to say. You're better than you think you are."
On a writer who influenced him:
"The greatest author of my generation is Bruce Springsteen. Nobody thinks of him as an author, but he is probably the greatest social realist of all time…. He just does it in song."
On what he would've been if he hadn't become a writer:
"I would've been a cop…. I don't see them as law enforcement, I see them as community empowerment—the good ones, anyway."