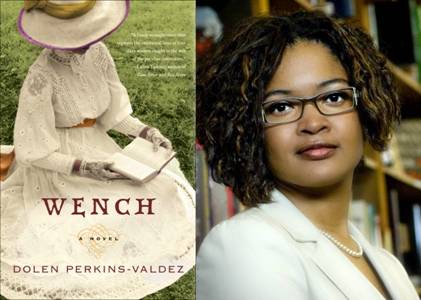 Last week's visit to Anacostia High School with author Dolen Perkins-Valdez provided students the opportunity to engage the author on a number of issues—including class, race, love, and history—that are central to Perkins-Valdez's novel Wench. It also provided the author the opportunity to talk about the importance of finding your passion and of knowing your history. Here are just a few of Perkins-Valdez's thoughts form that visit. 
On the historical information in the novel Wench:
"It was actually my interest in Black history that led to my interest in broader American history and world history, really […] Now, when I'm teaching my daughter history, I try to teach her from a place of love, a place of understanding, not from a place of shame or anger or blame."
"There are a lot of stories that need to be told […] Reading history gives you access to some of those stories and places that could be forgotten or overlooked."
"It [Wench] is not exactly straight historical fiction, but I'd say it's inspired by history. That's how I think about it."
On becoming an author:
"I wanted to become a writer because I love to read. I've always loved to read. I think that's how a lot of writers start out."
"That's the wonderful thing about doing what you love. To me, writing doesn't feel like 'work.' It's really important to find something that you love, whatever it may be." 
On her next project:
"Well, the new book is done, and now I'm in the waiting period. There are a lot of things that have to get worked out before a book can be published, a lot of decisions to be made that don't always involve the writer. There's a lot of waiting when you're a writer!"
Dont forget: you can see Dolen Perkins-Valdez read alongside Julie Otsuka and Geraldine Brooks this Thursday, March 27th at 7:30 p.m. at the Folger Shakespeare Theatre in a reading sponsored by PEN/Faulkner and moderated by author Hanna Rosin. For more information, click here.