Join Us in Celebrating
The 2013 PEN/Faulkner Award for Fiction Honorees
At the 33rd Annual PEN/Faulkner Award for Fiction
Ceremony & Dinner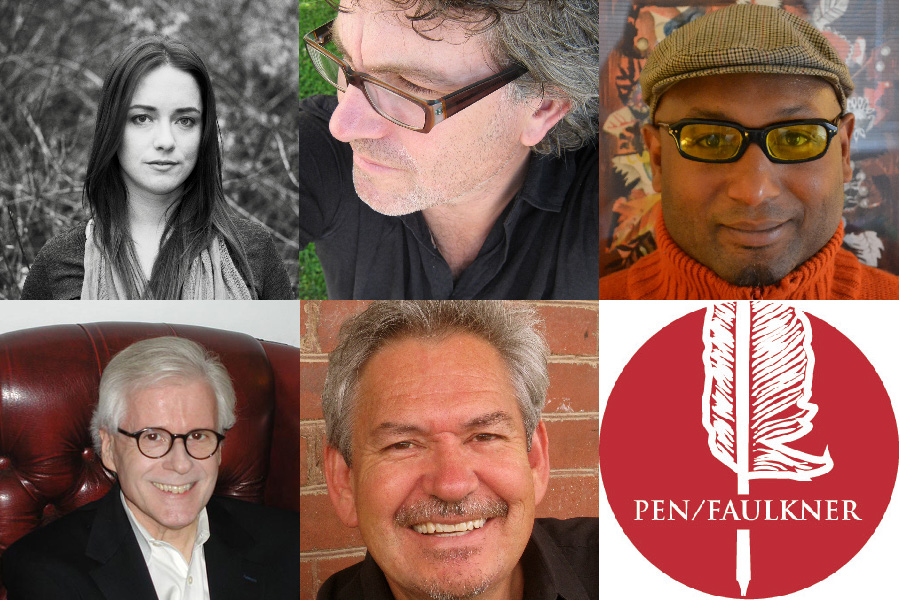 33rd PEN/Faulkner Award for Fiction Ceremony & Dinner
Honoring Authors:
Amelia Gray  |  Laird Hunt  |  T. Geronimo Johnson  |  Thomas Mallon
& Benjamin Alire Sáenz
Saturday, May 4, 2013 at 7 p.m.
Folger Shakespeare Theatre
201 East Capitol Street SE  |  Washington, DC 20003
Tickets: Purchase Online
or call (202) 544-7077
The annual PEN/Faulkner Award Ceremony and Dinner is open to the public, and tickets are now available through the box office of the Folger Shakespeare Library. This annual celebration features the conferral of the awards, readings by this year's finalists and winner, an open bar, and a buffet dinner held in the beautiful reading room of the Folger.
Join us as finalists Amelia Gray, Laird Hunt*, T. Geronimo Johnson, Thomas Mallon and 2013 PEN/Faulkner Award winner Benjamin Alire Sáenz take the stage for an evening of readings and celebration. They will be joined by 2013 PEN/Faulkner Judges Nelly Rosario, and A.J. Verdelle, as well as NPR journalist Jacki Lyden, our 2013 Master of Ceremonies. 
Tickets are $125 each, and are now on sale through the box office of the Folger Shakespeare Theatre. So join us, won't you? 
For tickets: click here. 

About the Authors: 
Amelia Gray grew up in Tucson, Arizona. She is the author of two previous books, both acclaimed by critics, AM/PM (2009), and Museum of the Weird (2010), which was awarded the Ronald Sukenick/American Book Review Innovative Fiction Prize. She lives in Los Angeles. Threats is her first novel.
Laird Hunt is the author of five novels: The Impossibly, Indiana, Indiana, The Exquisite, Ray of the Star and Kind One, all from Coffee House Press.  He is published in France by Actes Sud, and has novels either published or forthcoming in Japan, Italy, Spain, and Turkey. Currently on faculty in the University of Denver's Creative Writing Program, where he edits the Denver Quarterly, he and his wife, the poet Eleni  Sikelianos, live in Boulder, Colorado, with their daughter, Eva Grace.
T. Geronimo Johnson was born in New Orleans. His fiction and poetry has appeared in Best New American Voices, Indiana Review, LA Review, and Illuminations, among others. A graduate of the Iowa Writers' Workshop and a former Stegner Fellow at Stanford, Johnson teaches writing at University of California–Berkeley. Hold It 'Til It Hurts is his first book.
Thomas Mallon is the author of eight novels, including Henry and Clara, Dewey Defeats Truman, and Fellow Travelers, and seven works of nonfiction. He is a frequent contributor to The New Yorker and The New York Times Book Review, among other publications. He lives in Washington, D.C.
2013 PEN/Faulkner Award Winner Benjamin Alire Sáenz is an artist, poet, novelist and a writer of children's books. He has been awarded a Wallace Stegner Fellowhip in poetry, a Lannan Poetry Fellowship, an American Book Award, and has been a finalist for the Los Angeles Times Book Prize. Among other works, he is the author of Carry Me Like Water, In Perfect Light, Sammy and Juliana in Hollywood, Names On a Map, and Flowers for the Broken. He lives in El Paso, Texas.
About the 2013 Judges:
Walter Kirn is a novelist, critic, and essayist whose works include novels Thumbsucker, Up in the Air, Mission to America, and The Unbinding. He is also the author of the story collection My Hard Bargain and of Lost in the Meritocracy: TheUndereducation of an Overachiever, a nonfiction work that was a New York Times Notable Book of 2009. His reviews and essays have appeared in The New York Times Magazine, Vogue, Esquire, and elsewhere. He teaches at the University of Montana. 
Nelly Rosario is the author of Song of the Water Saints, which won a 2002 PEN/Open Book Award. Her work has appeared in various publications, including Review, Callaloo, The New York Times, and el diario/La Prensa, where she is a regular columnist. She teaches in the MFA Program at Texas State University and will be a 2013-2014 Visiting Scholar in Comparative Media Studies/Writing at MIT.
A.J. Verdelle publishes fiction and creative nonfiction. Her fiction won prizes from the American Academy of Arts & Letters & Harvard University, and garnered finalist awards from PEN/Faulkner, IMPAC Dublin, & the Los Angeles Times. Toni Morrison called Verdelle's first novel, The Good Negress, "truly extraordinary." Verdelle teaches in the MFA Program at Lesley University. Her current novel, forthcoming from Random House/Spiegel & Grau, unburies the black cowboy on the western frontier. A daughter and descendant of Washington DC freemen, Verdelle awaits a vote in Congress.
Seating Is Limited, so Get Your Tickets Today
Photos: (Clockwise from upper-left): Amelia Gray, Laird Hunt, T. Geronimo Johnson, PEN/Faulkner Logo, Benjamin Alire Sáenz, and Thomas Mallon. Author photo credits: Amelia Gray (Matt Chamberlain); T. Geronimo Johnson (Elizabeth Cowan); Thomas Mallon (William Bodenschatz)
*Author Laird Hunt will not be in attendance, though an excerpt of his novel will be read from the stage by his sister, Lorna Hunt.