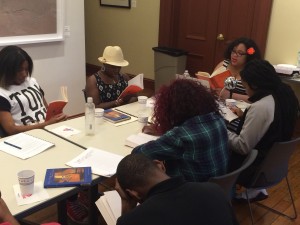 On July 15th, the PEN/Faulkner Summer Supper and Book club played host to Danielle Evans, author of the critically acclaimed 2010 debut, Before You Suffocate Your Own Fool Self, a collection of eight stories.
Evans, whose writing has been described by The New York Times as "whip smart" and "fiercely independent," was the third writer to visit the book club after appearances by novelists Susan Richards Shreve and Elliott Holt.
A co-winner of the 2011 PEN American Robert W. Bingham Prize for a first book, a National Book Foundation 5 under 35 selection for 2011, the winner of the 2011 Paterson Prize for Fiction and the 2011 Hurston-Wright award for fiction, and an honorable mention for the 2011 PEN/Hemingway award, Evans's stories have also appeared in The Best American Short Stories 2008 and 2010.
After reading a passage from the story "Wherever You Go, There You Are," the author opened the floor for questions and a discussion.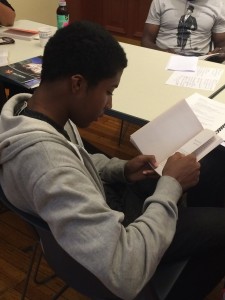 The club members—most of whom were drawn to the stories "Snakes," "Virgins," and "King of a Vast Empire," three stories that explore abandonment, accidents, family tensions and puzzles—wondered if the title of "Snakes" was merely symbolic; did it have to do with the characters in the story? Was the title a reference to the Burmese snake the grandmother used to talk Tara out of ever going outside again? Were Tara's parent's the snakes for leaving their daughter behind even though they knew how the grandmother was? Were Allison's parents the snakes for giving up on her?
Evans explained that the title "Snakes" was meant to be symbolic, while noting, "You should come into a story with a question, which should be answered by the time the story is done, but with enough left to leave the reader with something more."
Responding to a question about Liddie's moral compass in the story "King of a Vast Empire," Evans reminded the book club that: "As a writer, it is not for me to resolve moral issues."
It was an energetic visit, which is characteristic of encounters between Evans and students. Sadly, it was her last visit to a D.C. classroom as a D.C.-based author. She's accepted a professorship at the University of Wisconsin-Madison, where she'll teach in their MFA program. Our loss is Wisconsin's gain!
— Kangsen Feka Wakai
Writers in Schools Intern