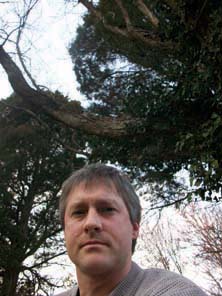 When D.C. Conspiracy founding member Matt Dembicki walked into the last session of this year's PEN/Faulkner's Summer Supper and Book Club, he was carrying a massive portfolio of current projects—including sheets detailing his creative process, a stack of Magic Bullet (the bi-annual comic tabloid published by D.C. Conspiracy) and copies of his other works.
The focus of this session was his 2012 anthology District Comics: An Unconventional History of Washington, DC, which highlights "some of DC's lesser known moments, with stops along the way for a duel, a drink in the Senate speakeasy, a shoe-shine, and much more."
Before the writer's arrival, the Supper and Book Club members, had taken turns reading "Banned in DC" from the anthology, a story about DC punk band Bad Brains that Dembicki wrote and Tom Williams illustrated.
The Summer Supper and Book club members wanted to know how and when Dembicki developed his style; which was his favorite story in the anthology; how long  DC Comics: An Unconventional History of Washington DC took to produce; and which were his favorite cartoons?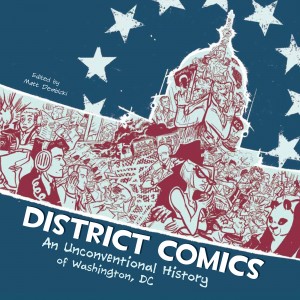 After telling them about his background, creative process, and influences, Dembicki stressed that, "whether you are a musician, writer or artist, you listen to these people and have these influences but you eventually develop your own style," which is what he said he did.
Growing up in a Polish immigrant home in a predominantly Polish speaking community, Dembicki pointed out that English was not his first language, and Marvel Comic books (gifts from his mother) became his portal into the English speaking world. Not only were the comics teaching him English, but with every lesson and revelation, his self-confidence also grew.
An award-winning graphic novelist, Dembicki has created a niche for himself in the graphic world by telling stories that reflect his ideals. The writer said he owed his affinity for nature to having grown up on the New England coast in an era when Jaws was released and a fascination with sharks was part of the collective culture.
In a review of the widely read and acclaimed Mr. Big: A Tale of Pond Life (co-written with his wife Carol Dembicki), Publishers Weekly wrote, "Filled with naturalistic detail, Matt Dembicki's artwork switches perspective fluidly, moving above and below the water to stay close to the action," which seems to hold true in much of his work.
Dembicki ended the evening by reminding book club members that the line between literary fiction and comic art and graphic novels is often very thin: "Comics are really just another way to tell stories."
This is the last dispatch for this year's PEN/Faulkner Summer Supper and Book Club. Thanks for following along with us this summer, and look for the Summer Supper & Book Club Podcast, which we'll publish in a few weeks!
Kangsen Feka Wakai
Writers in School Intern