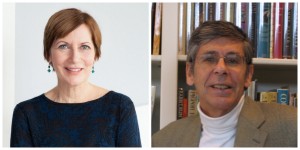 Hill Center & PEN/Faulkner Present:
Maureen Corrigan in conversation with Jackson Bryer
Tuesday, Nov. 11th at 7 p.m.
Free (Please register for your free tickets here)
The next installment of the Hill Center & PEN/Faulkner Literary Reading Series features writer and NPR book critic Maureen Corrigan discussing her new book, So We Read On, with F. Scott Fitzgerald scholar and PEN/Faulkner board member Jackson Bryer.
If you love Gatsby, or want to understand why it deserves such adulation, So We Read On is a gorgeous treat." – Steven Moore, Washington Post
Maureen Corrigan discusses her new book, So We Read On, in conversation with scholar Jackson Bryer. Corrigan and Bryer are both great lovers of The Great Gatsby, and in So We Read On Corrigan explores how F. Scott Fitzgerald's novel became an American classic—perhaps even a Great American Novel. Their talk will discuss why we still read The Great Gatsby nearly a hundred years after its publication, and address its commentaries on the national themes of race, class, and gender.
Maureen Corrigan is a critic-in-residence at Georgetown University and the book critic for NPR's Fresh Air. An award-winning scholar, she has judged multiple prizes, including the 2012 Pulitzer Prize. Her first book, the literary memoir Leave Me Alone, I'm Reading! was published in 2005.
Jackson Bryer is a Professor Emeritus at the University of Maryland, where he studied and taught American and modern literature. He has written and edited many books and articles about The Great Gatsby. Dr. Bryer is a PEN/Faulkner Foundation board member.
A book signing will follow, and copies of So We Read On will be for sale. Seating is on a first come, first served basis. Those who have registered for the event must be in their seats 15 minutes prior to the start time to guarantee their spot. At that time, remaining seats will be released to those who are on the wait list. Once the guests on the wait list have been seated, any walk-ins will be shown their seats.
 Book Description: So We Read On
Conceived nearly a century ago by a man who died believing himself a failure, it's now a revered classic and a rite of passage in the reading lives of millions. But how well do we really know The Great Gatsby? As Maureen Corrigan, Gatsby lover extraordinaire, points out, while Fitzgerald's masterpiece may be one of the most popular novels in America, many of us first read it when we were too young to fully comprehend its power.
Offering a fresh perspective on what makes Gatsby great -and utterly unusual- So We Read On takes us into archives, high school classrooms, and even out onto the Long Island Sound to explore the novel's hidden depths, a journey whose revelations include Gatsby's surprising debt to hard-boiled crime fiction, its rocky path to recognition as a "classic," and its profound commentaries on the national themes of race, class, and gender.
With rigor, wit, and infectious enthusiasm, Corrigan inspires us to re-experience the greatness of Gatsby and cuts to the heart of why we are, as a culture, "borne back ceaselessly" into its thrall. Along the way, she spins a new and fascinating story of her own.