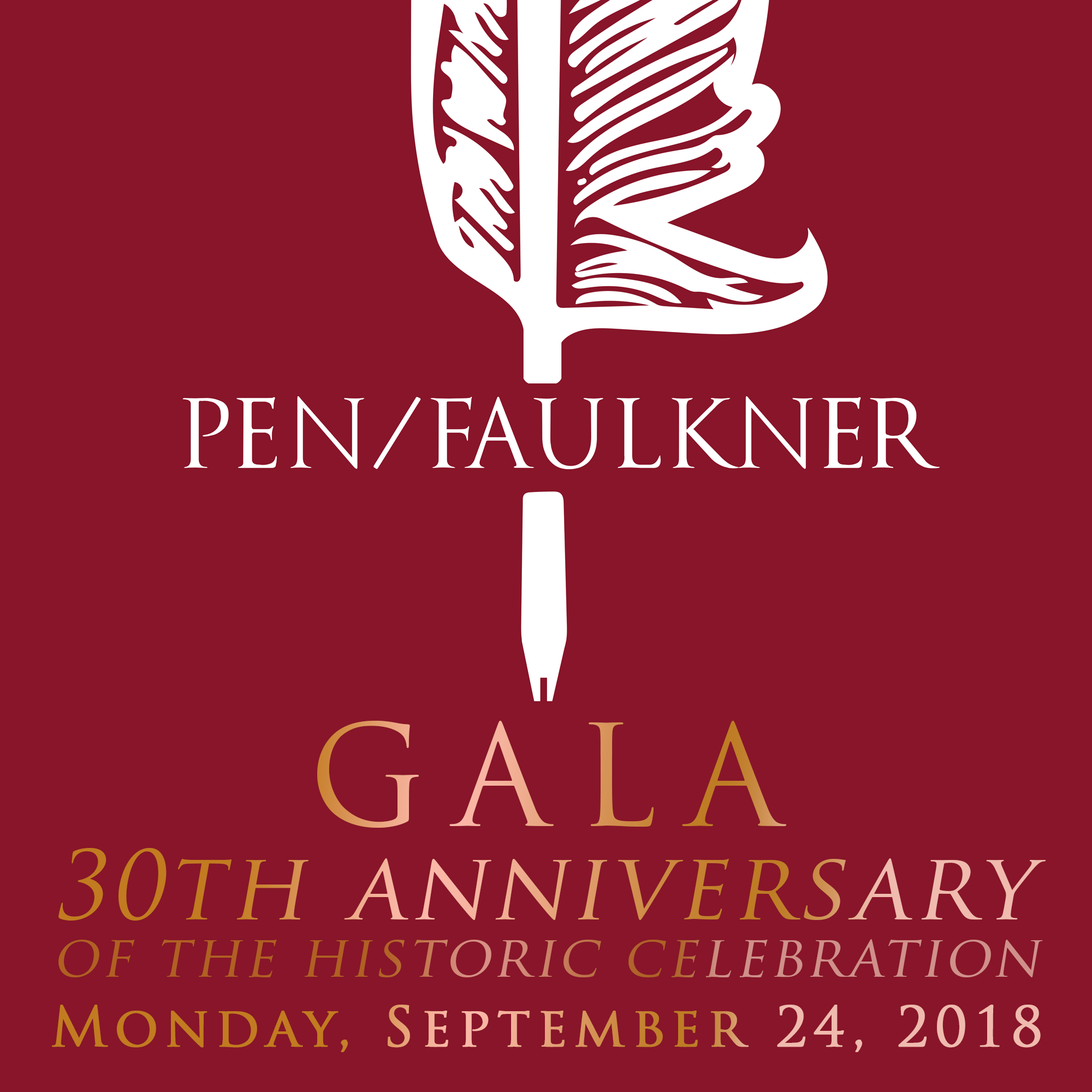 Tickets and Sponsorships Now Available!
We cordially invite you to attend the PEN/Faulkner Gala on Monday, September 24, 2018. This year marks the 30th anniversary of this special event, a unique evening in Washington, DC, that celebrates important voices in contemporary literature and supports arts education right here at home in our city's schools. Those who attend will have the opportunity to experience performances of original work written especially for this occasion, preceded by a cocktail hour in the elegant Great Hall and followed by a formal seated dinner in the Reading Rooms of the Folger Shakespeare Library.
In keeping with the historic significance of this anniversary, we are featuring ten writers who are all former finalists and winners of the PEN/Faulkner Award for Fiction and the PEN/Malamud Award. These acclaimed authors will be joined on stage by two DC students, the winners of our citywide essay contest that is an annual part of our Writers in Schools programming. This year all who take the stage will speak in their own words on the theme of "Magic," a theme full of exciting possibility, inviting us to look beyond the realities of day-to-day life, or seek out the extraordinary moments that can be found hidden within the everyday.
The writers who will be joining us this year are David Bradley, Sarah Shun-lien Bynum, Kate Christensen, Michael Cunningham, Karen Joy Fowler, James Hannaham, Lorraine López, ZZ Packer, Joan Silber, and Tobias Wolff.
Every year, PEN/Faulkner furthers its mission of bringing literature to life for diverse communities by honoring American writers of contemporary fiction with its annual awards, including the largest peer-juried award for fiction in the United States; by bringing writers from around the nation and the world to venues across DC to engage in publicly accessible readings and conversations on current issues; and by sponsoring the Writers in Schools program, which donates books and arranges author visits to DC's public and charter school classrooms as part of our commitment to developing the next generation of readers and writers.
The Gala is our major annual fundraiser, and proceeds from the evening support the vital work we do all year long. Your support means everything in continuing the successful impact of our public and educational programming. Sponsorship and ticketing information can be found on the following page.
Please join us at 6:30 pm on September 24 at the Folger Shakespeare Library for what promises to be a magical and historical evening in support and celebration of the extraordinary power of words!

Please visit bit.ly/PFGALA2018 to purchase tickets or sponsor the Gala online, or contact us by email at rsvp@penfaulkner.org or by phone at 202.898.9063 to make reservations and donations. Donation checks can be mailed to:
PEN/Faulkner Gala
641 S Street, NW
3rd Floor
Washington, DC 20001
The PEN/Faulkner Foundation is a registered 501(c)3 nonprofit. Donations are tax deductible to the extent allowed by law.
PEN/Faulkner Anniversary Gala Sponsorship Levels

Premier Partner – $100,000
($97,790 tax-deductible)


Up to 6 seats in premier placement (or a table and up to 10 seats) at the Gala

Featured prominently on all Gala materials

Featured prominently in the Gala printed program

Four complimentary tickets to six 2018/2019 Literary Conversation events

Featured prominently on 2018/2019 Literary Conversation series printed programs

Invitation to four Founding Friends private luncheons with authors

Featured prominently on Founding Friends printed programs

Featured prominently on the PEN/Faulkner website and donor listings for a full year

Gold Sponsor – $75,000
($72,890 tax-deductible)


Up to 4 seats in premier placement (or a table and up to 10 seats) at the Gala

Featured on Gala promotional materials

Featured in the printed program at the Gala

Four complimentary tickets to five 2018/2019 Literary Conversation events

Featured on 2018/2019 Literary Conversation series programs

Invitation to two Founding Friends private luncheons with authors

Featured on Founding Friends printed programs

Featured on the PEN/Faulkner website and donor listings for a full year

Silver Sponsor – $50,000
($48,140 tax-deductible)


Up to 4 seats in premier placement (or a table and up to 10 seats) at the Gala

Featured on Gala promotional materials

Featured in the printed program at the Gala

Two complimentary tickets to five 2018/2019 Literary Conversation events

Featured on 2018/2019 Literary Conversation series programs

Invitation to two Founding Friends private luncheons with authors

Featured on the PEN/Faulkner website and donor listings for a full year

Bronze Sponsor – $35,000
($33,290 tax-deductible)


Up to 2 seats in premier placement (or a table and up to 10 seats) at the Gala

Featured on Gala promotional materials

Featured in the printed program at the Gala

Two complimentary tickets to two 2018/2019 Literary Conversation events

Featured on 2018/2019 Literary Conversation series programs

Featured on the PEN/Faulkner website and donor listings for a full year

Faulkner Fellow – $25,000
($23,340 tax-deductible)


Up to 2 seats in premier placement (or a table and up to 10 seats) at the Gala

Recognition on Gala promotional materials

Recognition in the printed program at the Gala

Two complimentary tickets to one 2018/2019 Literary Conversation event

Recognition on the PEN/Faulkner website and donor listings for a full year

Literary Lion – $10,000
($8,390 tax-deductible)


A table of up to 8 tickets and seated with an author*, or a table of up to 10 tickets to the Gala

Recognition on Gala promotional materials

Recognition in the printed program at the Gala

Recognition on the PEN/Faulkner website and donor listings for a full year

Benefactor – $5,000
($3,390 tax-deductible)


A table of up to 8 tickets and seated with an author*, or a table of up to 10 tickets to the Gala

Recognition on Gala promotional materials

Recognition in the printed program at the Gala

Recognition on the PEN/Faulkner website and donor listings for a full year

Patron – $2,500
($1,695 tax-deductible)


Up to 5 tickets to the Gala

Recognition on Gala promotional materials

Recognition in the printed program at the Gala

Muse – $1,000
($840 tax-deductible)


1 ticket to the Gala

Recognition in the printed program at the Gala

Friend – $600
($440 tax-deductible)


1 ticket to the Gala (or 2 tickets for $1000)