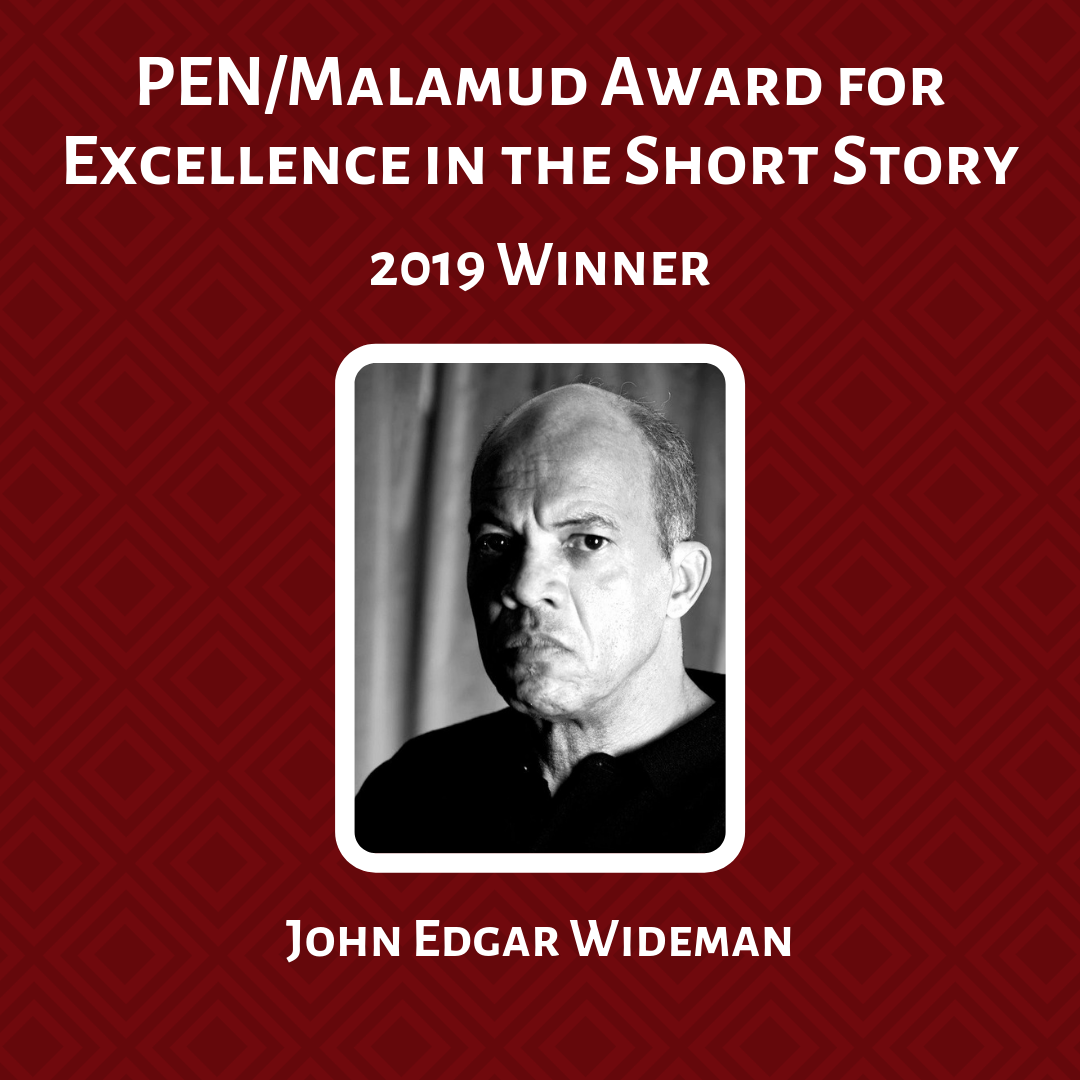 WASHINGTON, DC—John Edgar Wideman has been selected as the winner of the 2019 PEN/Malamud Award for Excellence in the Short Story. Given since 1988 in honor of the late Bernard Malamud, the award recognizes a body of work that demonstrates excellence in the art of short fiction.
"John Edgar Wideman's short stories render an internal and external world as vivid and intricate as Faulkner's, as emotionally painful as Baldwin's, and as unique as his own streets and stoops of Homewood," wrote the PEN/Malamud Award selection committee. "Through complex, lyrical language, Wideman creates intimate portraits of the characters in his sprawling family, in his classrooms, in prison, and elsewhere, characters whose conflicts mirror the larger world as it struggles with history and identity. Wideman challenges readers to consider what defines, separates, and unites us."
Wideman's books include American Histories, Writing to Save a Life, Philadelphia Fire, Brothers and Keepers, Fatheralong, Hoop Dreams, and Sent for You Yesterday. He is a MacArthur Fellow, has won the PEN/Faulkner Award twice, and has twice been a finalist for the National Book Critics Circle Award and National Book Award. He divides his time between New York and France.
"I am very excited," said Wideman. "I feel honored, lucky, and grateful to join such a distinguished group of writers."
Previous winners include Sherman Alexie, John Barth, Richard Bausch, Anne Beattie, Saul Bellow, T. Coraghessan Boyle, Frederick Busch, Peter Ho Davies, Junot Diaz, Andre Dubus, Stuart Dybek, Deborah Eisenberg, Nathan Englander, Richard Ford, Nell Freudenberger, George Garrett, Amina Gautier, Barry Hannah, Adam Haslett, Amy Hempel, Edward P. Jones, Jhumpa Lahiri, Nam Le, Ursula K. Le Guin, Alistair MacLeod, William Maxwell, Maile Meloy, Lorrie Moore, Alice Munro, Joyce Carol Oates, Cynthia Ozick, Edith Pearlman, James Salter, George Saunders, Joan Silber, Elizabeth Spencer, Peter Taylor, John Updike, Eudora Welty, and Tobias Wolff.
"It's thrilling to be able to add as accomplished an artist as John Edgar Wideman to the list of distinguished PEN/Malamud Award-winning writers," said PEN/Faulkner Executive Director Gwydion Suilebhan. "His presence enriches the legacy of this award."
About the art of the short story, Bernard Malamud said "I like packing a self or two into a few pages, predicting lifetimes. The drama is terse, happens faster, and is often outlandish. A short story is a way of indicating the complexity of life in a few pages, producing the surprise and effect of a profound knowledge in a short time."
Wideman will be honored at the PEN/Malamud Award ceremony on December 6. Ticket information for the ceremony, which will be open to the public, will be available later this summer.