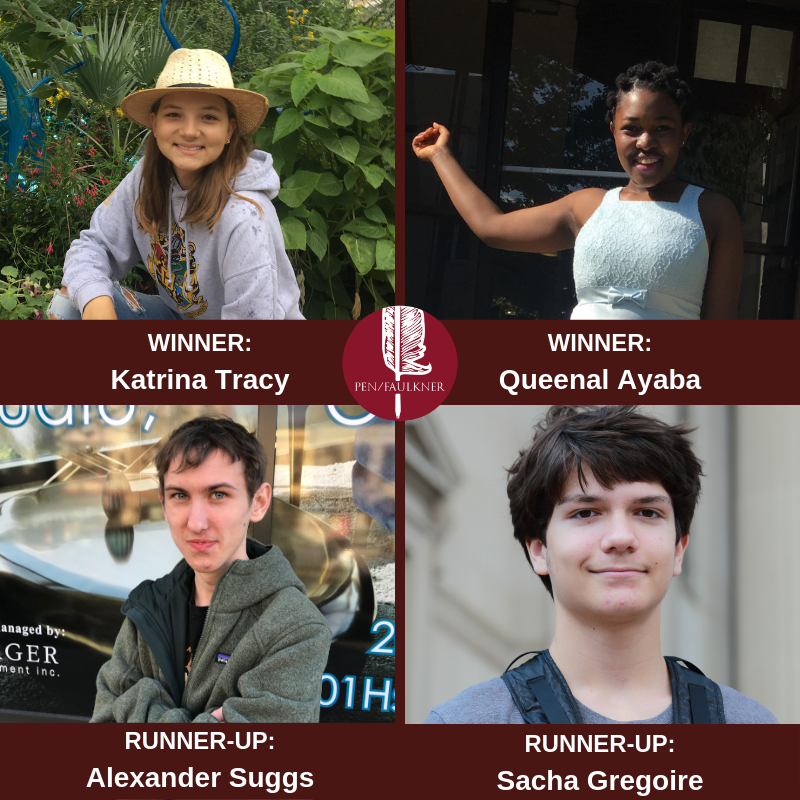 PEN/Faulkner is excited to announce the winners and runners-up for this year's Youth Essay Contest! Writers were asked to submit personal essays on the theme of "Rise Up." Each of the winners and runners-up will receive a monetary prize, and the two winners will read on stage alongside authors Alice McDermott, Francine Prose, Nafissa Thompson-Spires, and Rachel Louise Synder, among others, at our 31st Annual Gala held at the Katzen Center on Saturday, October 26.
We're proud of all the young writers who submitted to the contest. Find out more about the annual PEN/Faulkner Youth Essay Contest and annual Gala.
---
WINNER:
Queenal Ayaba, Capital City Public Charter School
"The Lion Anger Has Resurrected"
Excerpt:
Each day, my friends from Cameroon sent me video clips about people being killed like birds being hunted. You could see the veins and skeletons of people laying on the floor; some had deep holes in their heads to the point that you could see the eyes staring at you like they wanted revenge. The water that had been held deep in my eyes started pouring out and dripping on the ground like stormy rain.
"Make we na come oh."
"Ma house di burn."
" They don finish me oh. Ma pickin don die. They don burn my house."
"Watti I don do?" said a man in one of the videos sent to me by my friend.
Throughout the torture that I faced seeing the spirits of the innocent death weeping and crying, I knew deep in me that there was cheetah who wanted to rise up and make a change, but I did not know how. The ashes that held together firmly in the fire started flaking off.
"Where is the flame that is burning in me," I said. I could not bear to see more houses burning and people fleeing from their homes and villages.
---
WINNER:
Katrina Tracy, Hardy Middle School
"Sometimes Your Stick Out"
Excerpt:
It felt like I was walking around with a sign on my forehead that read, "American." Maybe I could lie and say I'm from Kyrgyzstan — technically true, my mother grew up there — but I didn't know any Kyrgyz, and what if they asked? So after a second of deliberation, I reluctantly said it.
"I'm from America." My brother liked the attention they gave us then, their faces had a look of almost-masked shock, changing into a calculating look. Like, "What questions do you think we can get away with?" I gritted my teeth, hoping my brother didn't say anything silly.
"What type of car do you have?" The boy started.
"A Honda." If I had met someone from a country I had never been to, I would ask more interesting questions, like the food, or what their favorite color was.
"Hmmm, well I guess that's a respectable car." He peered at me disapprovingly, as if saying, do better.
---
RUNNER-UP:
Sacha Gregoire, Hardy Middle School
"My Greatest Fear"
Excerpt:
We arrived at the swing. It looked even more monstrous up close. There were thin wires snaking up, with rusty brown chains around them leading up to the top. The top seemed hundreds of feet up, putting the people on it at the top of the world- and then the wires would let go of the swing, which left the victims on the swing swooping downwards, their lives being risked every second. Despite me insisting that I was not going on, the chaperone had made me put on the safety equipment, saying that I might change my mind at the last second. Group by group, people went on the swing, but I did not have the heart to look at them—I looked the opposite direction and closed my eyes for good measure. I could hear the screams of my classmates. I was sure an accident had happened, that someone had died. I turned around. The last group was going onto the swing. They were a group of two—Daniel and Morgan.
"Hey!" the park worker said. "The swing needs at least three people on it, we can't send two people up! Who hasn't gone?" Everyone started saying my name, some pointing at me.
---
RUNNER-UP:
Alexander Suggs, Capital City Public Charter School
"The Guardsmen"
Excerpt:
As my great grandfather told me once, the winter far east along the Volga was always cold, especially back when he was young, way before I was even born. That was at the same time when he told me of the communist revolution he fought against, and how brother turned on brother, father on son.
+
In the year 1917, as my great grandfather described it, the communist visionary Vladimir Lenin was released from exile, allowed back into Russia by the people, who were growing sick and tired of the Tsar's rule. Lenin turned the people against the Tsar who had long since abandoned the hope of his people,driving them into a war which was already costing the poor workers and soldiers more lives and money. Lenin and his supporters took up arms, forming a people's army to overtake the one already existing in defense of the Tsar. One of the first to join the so-called "White Guard," an anti-communist brigade, was my great grandfather, who had already completed service in the Ukraine against the Austrians.
Hastily, the White Guard set out. My grandfather and his friends marched to the edge of the Volga River to stop the revolutionary forces.
As they stood in wait, the snow fell upon them. "Like God himself had left us all to ourselves," my great grandfather said. "The winter froze everything over. Rifles, boots, skin. Everything."
---
FINALISTS:
Arianna Camacho-Mendez, Capital City Public Charter School
Sosina Gebremichael, Banneker High School
Arwen Gorham, McKinley Tech High School
Mikalah Scott, Cardozo Education Campus
Alexis Toro Juarez, McKinley Tech High School