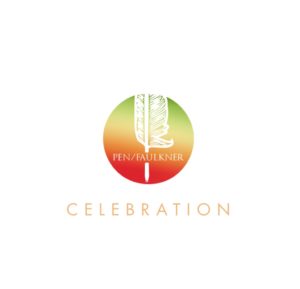 Monday, May 4 at The Willard Hotel
6:30 pm, Cocktails
7:30 pm, Dinner and Award Program
Join us on the 40th anniversary of the PEN/Faulkner Award for Fiction as we celebrate this year's distinguished books and authors. This exquisite literary evening—our sole fundraiser in 2020—will feature presentations by our PEN/Faulkner Award judges, original readings by our five PEN/Faulkner Award finalists, and a star-studded list of notable guest authors from throughout PEN/Faulkner's storied history.
The Board of Directors of the PEN/Faulkner Foundation invites your generous participation as a sponsor. Your support will advance our mission to celebrate literature and foster connections between readers and writers to enrich and inspire both individuals and communities. Proceeds from this year's Awards will provide critical resources for our initiatives, including:
Our Education Programs. We inspire the next generation of readers and writers by providing free books and author visits to thousands of public and public charter school students in schools throughout all eight wards of DC.
Our Literary Conversations. We bring dozens of writers to DC to inspire cross-cultural civic discourse about vital contemporary issues with members of the community.
Our Literary Awards. With the annual PEN/Faulkner Award for Fiction, the largest artist-selected prize of its kind, and the PEN/Malamud Award for Excellence in the Short Story, we recognize significant achievements by leading American writers.
THE PEN/FAULKNER AWARD CELEBRATION TEAM
Meena & Liaquat Ahamed
Beth & Shalom Baranes
Lisa Barry & James Gale
Katherine & David Bradley
The Honorable Ann Brown
Molly Elkin & Ivan Wasserman
Ann & Tom Friedman
Ginny Grenham
Kay Kendall & Jack Davies
Mary & Robert Haft
Willee & Finlay Lewis
Cathy Merrill, Washingtonian
Susan Richards Shreve
OUR HOST COMMITTEE
Amy & Bret Baier
Buffy Cafritz
Wm. Randall Cone
The Diana Davis Spencer Foundation
Entravision Communications
Esther Safran Foer & Bert Foer
Julie & Jon Garcia
Renée K. & Stephen Gardner
Jay & Robin Hammer
Andrea Hatfield & Buck O'Leary
Mirella & Dani Levinas
Tracy B. & Greg McGillivary
Carol Melton & Joseph Hassett
Louisa & Bill Newlin
Malcolm & Virginia O'Hagan
Politics & Prose Bookstore
Eileen Shields-West & Robin West
Emily & Antoine van Agtmael
THE PEN/FAULKNER FOUNDATION BOARD
H.G. Carrillo, Chair · Tracy McGillivary, President
Louis Bayard, Jackson R. Bryer, Conrad Cafritz, H.G. Carrillo, Susan Coll, Molly Elkin, · Renée K. Gardner, Ginny Grenham, Mary Haft, Joanne Leedom-Ackerman, Dale LeFebvre, Tony Lewis, Jr., Willee Lewis, Richard McCann, Malcolm O'Hagan, Frazier O'Leary, Lisa Page, Bethanne Patrick, Dolen Perkins-Valdez, Katherine Field Stephen, and Deborah Tannen
OUR FINALISTS
Chloe Arijdis
Yiyun Lin
Peter Rock
Maurice Carlos Ruffin
Ocean Vuong
GUEST AUTHORS
Patricia Engel, 2020 Judge
Ru Freeman, 2020 Judge
Porochista Khakpour, 2020 Judge
Elliot Ackerman
Marie Arana
David Baldacci
Lou Bayard
H.G. Carrillo
Susan Coll
Esther Safran Foer
Lauren Francis-Sharma
Paul Goldberg
James Hannaham
Angie Kim
Matthew Klam
Julie Langsdorf
David Maraniss
Jane Mayer
Imbolo Mbue
Richard McCann
Alice McDermott
Sabina Murray
Toby Olson
Lisa Page
Susan Richards Shreve
Deborah Tannen
and more to come!
MASTER OF CEREMONIES
Ron Charles, Washington Post Book World
DOWNLOAD OUR SPONSORSHIP REPLY FORM NOW
You can also sponsor the event online or contact us directly at [email protected] or (202) 898-9063. Thank you!