This fall, we were joined by wonderful interns who each wrote about an experience at an author visit that impacted them. We are delighted to present this essay by Isabel Callahan, one of our Literary Outreach/Education Programs interns.
Visit Story – Patrice Vecchione @ EL Haynes PCS Middle School, October 16, 2020
"Good morning everyone!" Despite the early hour, Patrice Vecchione—celebrated poet, nonfiction author, and teacher—radiates warmth, a welcome reprieve from the cold rain falling outside. The students reply good morning in return, their morning grogginess wearing off as they smile and wipe the sleep from their eyes. As Patrice begins a short introduction of who she is and what she does, the class of twenty-five middle schoolers settle in, their quietness making space for story.
Patrice begins her presentation by discussing the political and personal motivations behind her latest book, Ink Knows No Borders: Poems of the Immigrant and Refugee Experience. A collection of poems, the work features the experiences and reflections of first- and second-generation young adult refugees and immigrants. Patrice shares: "When I saw how my fellow Americans were treating people who were not born here [in the United States]…I got angry." She turned that anger into action, spotlighting the voices of refugees and immigrants through their own poetry. Students are moved by this opportunity to share one's story, some even relating to the feelings expressed in the book. "Maybe you know the feeling of saying goodbye to people you love," Patrice says. "Me," replies a student in the chat.
After sharing one of the book's poems titled "Immigrant," Patrice segues into a discussion of her own writing process: "I keep a journal and I write in it every day. It is the way I know myself and the world." She speaks of the muse that inspires us and the poetic license we all have to create. She speaks of the inner critic and the angel that live inside us all—the former inviting us to doubt ourselves and our work, and the latter inviting us to see the beauty in what we create.
Patrice then invites the students to write their own poems. "Have you ever left a place? What did it feel like to leave?" she asks. Patrice encourages the students to write what first comes to mind as they think about these questions, then gives the students time to write. Students grow silent, some thinking, some writing.
After ten minutes, students are asked to share their favorite words from their poems.
"Honduras," says one student. "Blossom," says another.
Students are then invited to share their poems. However, as students read their poems out loud, the inner critic comes sneaking in. After sharing their poem, one student becomes particularly shy, writing a few "lol's" in the chat. Patrice and Ms. Lattes, the educator, applaud the student though. Their poem is beautiful and heartfelt—all of the poems are—and I think back to the inner poet Patrice described as living within us all. How right she is.
As we near the end of the visit, students ask Patrice a few final questions, including more about the earlier poem. They ask what her life is like as an author. Patrice listens and responds with attentive energy, her tone growing reflective as one student asks: "What inspires you?"
"My students inspire me," she says. My own smile widens, along with the students.
There is time for one last question: "Can Ms. Patrice stay?"
---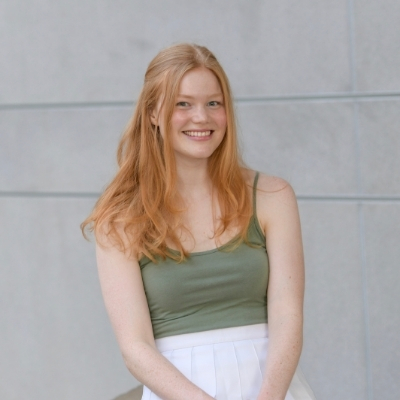 Isabel Callahan (she/her/hers or they/them) is a rising senior at Pomona College, pursuing a combined degree in Philosophy, Politics, & Economics. Originally from Silver Spring, MD, she has had the opportunity to collaborate with students from a variety of backgrounds. During a gap year, she taught elementary-aged students in both Ghana and Chicago, Illinois. During her time at the University of Notre Dame, she engaged with her peers as a philosophy teaching assistant, and later went on to join the first sustained dialogue group at Pomona College. Isabel has most recently participated in summer research exploring issues of progressive pedagogy within the context of COVID-19 and, when not reading or writing, can be found watching TEDTalks, exploring nature, and attempting to perfect her cookie dough recipe. Isabel is excited to join the PEN/Faulkner Foundation as their Literary Outreach/Education Programs intern this fall and brings with her a love of literature, engaged pedagogy, and people.