This fall, we were joined by wonderful interns who each wrote about an experience at an author visit that impacted them. We are delighted to present this essay by Melissa Young, one of our Literary Outreach/Education Programs interns.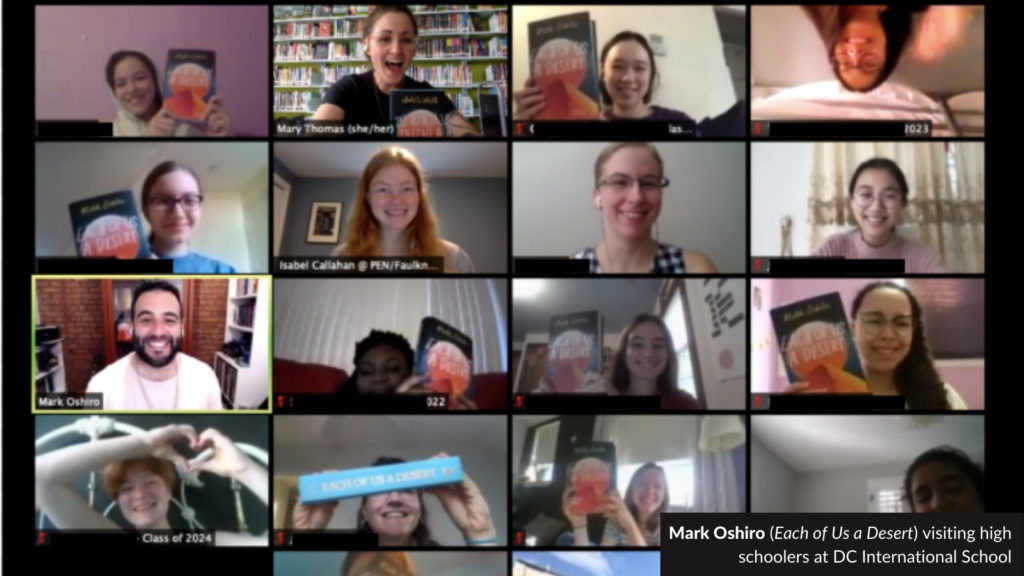 DC International School's Mary Thomas—librarian extraordinaire—lets everyone in on her plan: "When Mark gets here, I'm going to play the birthday song and we're all going to dance in our [Zoom] squares." We are going to make this birthday extra special for author Mark Oshiro. When Ms. Thomas sees that Mark is in the waiting room, she tells everyone to get their birthday wishes ready in the chat and start dancing. We all break out our best dance moves as Mark enters the meeting. I can't help but laugh at this silly fun. Mark loves our celebration and gives us their thanks, commenting with amazement on the fact that one student's screen is upside down.
With everyone feeling the love and excitement, Mark introduces themself as a queer, Latinx author. Their recent book, Each of Us a Desert, is a coming-of-age fantasy novel that follows Xochital on her danger-fraught journey across the desert in search of love and the woman she wants to be. Mark speaks about experiencing abuse, racism, and homophobia as a child. "What I needed most when I was sixteen was someone to tell me that what I was going through could be conquered," they share. So, they began writing books that portray young people who must navigate prejudice, grief, and adolescence, just as Mark did. "I think of kids like me. I couldn't close a book and not know about these things."
All the while, the students' attentions remain rapt on this author who speaks to them as equals. Each moment of the visit is conversational, like a group of friends getting together after so much time apart. When Mark says, "I didn't finish college and I'm teaching at a university for a week. Maybe I'm not qualified to do this!", a student jumps at the chance to offer them reassurance in the chat: "That's imposter syndrome! Anyone would be lucky to be taught by you!"
After sharing their story and talking about their writing process with the students, the visit opens to Q&A. My heart warms when a student shares her joy at reading a book that portrays having gay parents as normal. Another student mentions how, in other books, Spanish words are often italicized, while in Mark's book, they are integrated into the text. Curious, she asks why it was important to Mark to integrate the different languages and make the book more "Spanglishy." Mark commends the students for noticing these details and laughs. They explain how they came up with the idea, "What if Spanish was a fantasy language like Elvish in Lord of the Rings?" They admit to those students who know Spanish, "I gendered things very strangely." But that's what's so great about writing, they advise, because when you make your own world, you can make your own rules.
Nobody is ready for this time together to end. Ms. Thomas and Mark are prolonging the visit by sharing photos of themselves as teenagers, much to the students' amusement. It is a bittersweet goodbye, with Mark thanking each person and calling us by our names. One student begins to cry with joy upon hearing his name spoken by the author. As the visit ends, the chat is flooded with students saying things like, "I love you and your books—they're all so beautiful" and "My sister is sleeping, but pretend I'm screaming in gratitude."
Mark makes a promise to the students: As soon as it becomes safe, "I am coming to visit you."
---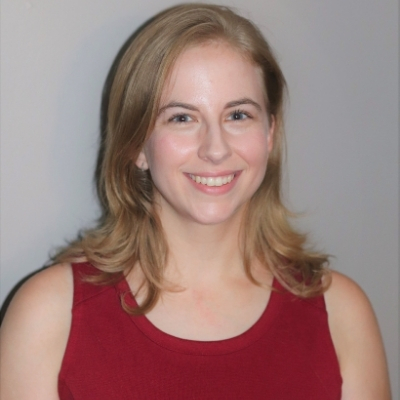 Melissa Young (she/her/hers) is a student working toward graduating with her Associate degree in Human Services this year. She has four years of experience working as an assistant in a library, where she specialized in helping readers find their next favorite books. This included leading several projects to organize and advertise books to make them easier to find. Melissa's passions include the written word and helping others. These led her to work with the national organization, Operation Paperback, to send thousands of books to United States military members deployed overseas. Throughout this year, she worked at a food pantry in her home state of Nebraska. In her leisure time, Melissa enjoys knitting, crocheting, and playing with her cat, Pepper.