Though the 2021 PEN/Faulkner Award Celebration is virtual this year, we are still incredibly excited to honor the year's best in fiction with you. Join our team in setting the mood by streaming our event playlist, mixing a custom drink, and putting your literary knowledge to the test with our trivia quiz below!

Deesha Philyaw chose her songs based on what the characters and their dilemmas brought to mind. They include "We Are Family" by Sister Sledge and "You Gots to Chill" by EPMD. You can listen to her playlist in full on largehearted boy.
Matthew Salesses' choices capture the mood of the book and the mood he was in while writing. They include "Crazy" by Han Dong Geun and "Nobody" by Mitski. You can listen to his playlist in full on largehearted boy.
Rufi Thorpe chose her songs because they feel thematically connected to the book. They include "Empty" by Kevin Abstract, "gec 2 Ü" by 100 gecs, Laura Les, and Dylan Brady, "Meet Again" by Maxo Kream, "Who You Are" by Sally Sossa, "Pills :-(" by Ravenna Golden, "Own It" by Rico Nasty, and "how to dress as human" by Laura Les (available on Bandcamp).
Robin Wasserman's choices relate to her childhood and the sympathy she holds for her characters. They include "Do You Love Me" by The Contours and "Wise Up" by Aimee Mann. You can listen to her playlist in full on largehearted boy.
Steve Wiegenstein chose his songs as he listened to them while writing. They include "Clyde Waters" by Anaïs Mitchell and Jefferson Hamer, and "Fair and Tender Ladies" by Marideth Sisco and Blackberry Winter.
---
Dressing up (or down) to tune in to the event? Snap a photo of your night and share it with us! You can tag us @penfaulkner #penfaulkneraward on Facebook, Twitter, or Instagram and use our virtual photo booth sticker by searching @penfaulkner on Giphy (available on Facebook and Instagram stories).
Can't find our sticker? Email your photo to us and our team will add a special Award Celebration frame to it!
---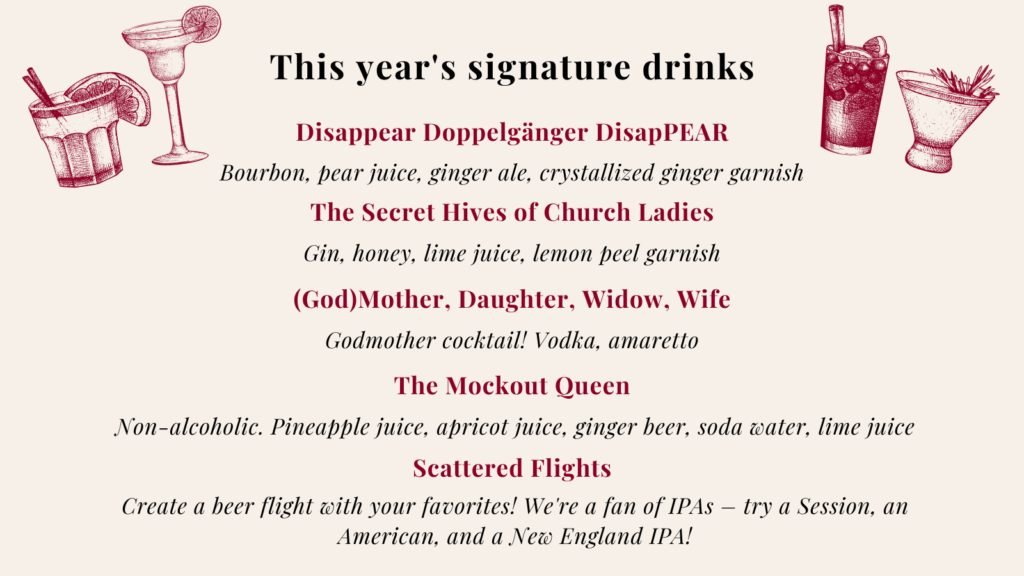 View these recipes in full: Disappear Doppelgänger DisapPEAR, The Secret Hives of Church Ladies, God(Mother), Daughter, Widow, Wife, and The Mockout Queen.
---
[streamquiz id="1″]