We are excited to announce that Yiyun Li's The Book of Goose (Farrar, Straus and Giroux) has been selected as the winner of the 2023 PEN/Faulkner Award for Fiction.
"In December, we were pleased to honor Yiyun Li with the PEN/Malamud Award for Excellence in the Short Story," said PEN/Faulkner Awards Committee Chair Louis Bayard. "This latest tribute from our judges affirms that she is equally accomplished in the long form. We look forward to celebrating Li and her gifted fellow finalists at our awards ceremony in May."
This year's judges—Christopher Bollen, R.O. Kwon, and Tiphanie Yanique—considered 512 eligible novels and short story collections by American authors published in the US during the 2022 calendar year. Submissions came from 205 publishing houses, including independent and academic presses.
"Yiyun Li's The Book of Goose is a dazzling, conventions-defying, nuanced novel," said this year's judges. "It's a tale of a complicated friendship, of two girls bending toward and away from each other. The prose is singular; the central characters, Agnès and Fabienne, haunted us with their radical ingenuity and bold, unruly ambitions. We kept finding that we wanted to press this book on others. It is an honor to give Yiyun Li the 2023 PEN/Faulkner Award for Fiction."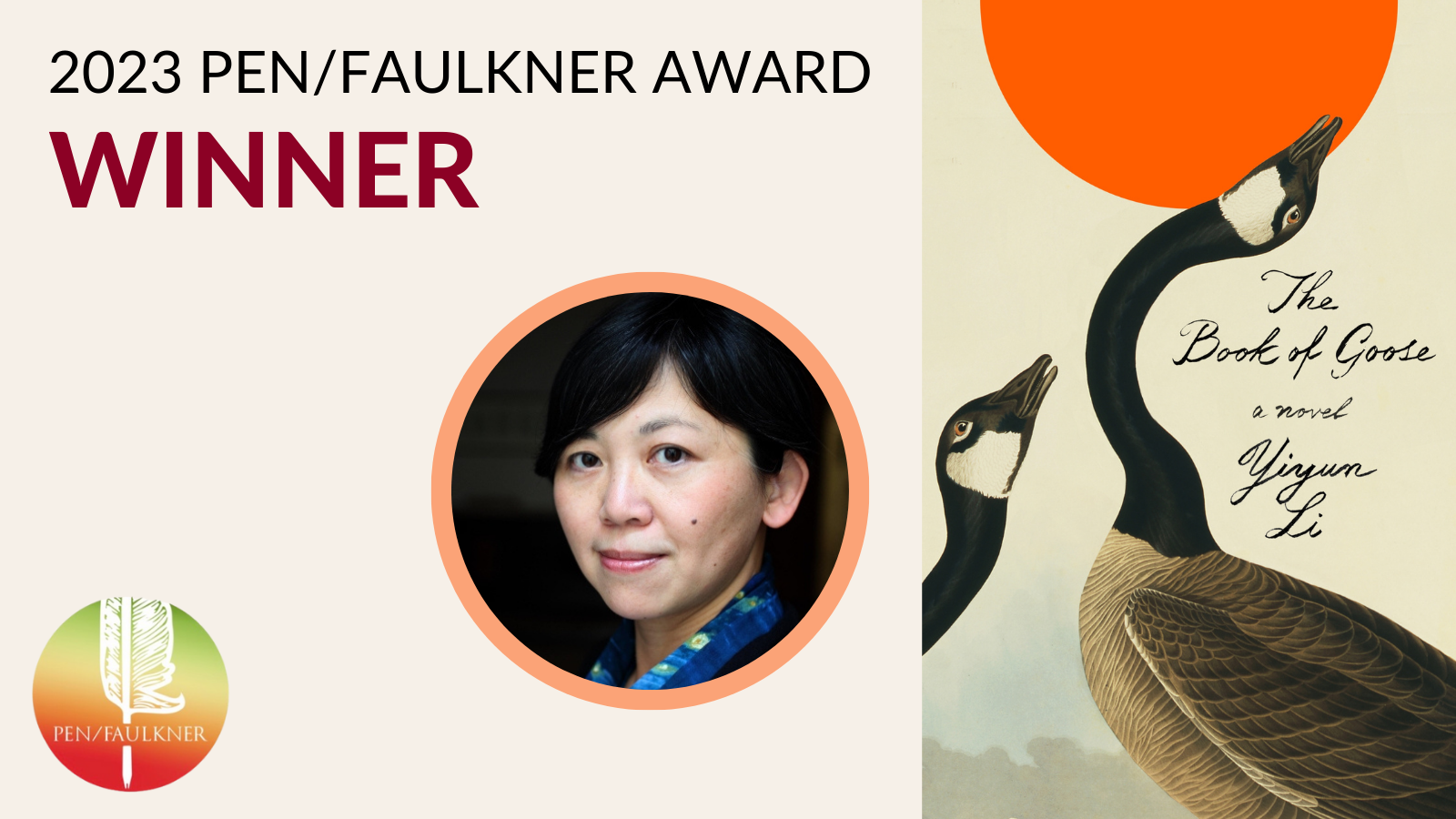 Yiyun Li is the author of several works of fiction—Must I Go, Where Reasons End, Kinder Than Solitude, A Thousand Years of Good Prayers, The Vagrants, and Gold Boy, Emerald Girl—and the memoir Dear Friend, from My Life I Write to You in Your Life. She is the recipient of many awards, including the PEN/Malamud Award, the PEN/Hemingway Award, the PEN/Jean Stein Book Award, a MacArthur Fellowship, and a Windham-Campbell Prize. Her work has also appeared in The New Yorker, A Public Space, The Best American Short Stories, and The PEN/O. Henry Prize Stories, among other publications. She teaches at Princeton University.
"I am deeply honored, thrilled, and grateful for this award," said Li. "Writing a novel is like sending a message in a bottle to the unknown. To receive this recognition is a heartwarming confirmation that someone has found the bottle and read the message. My deepest gratitude to the PEN/Faulkner Foundation, to the judges, and to my fellow finalists: it's always a good day when people read literature with care and thoughtfulness."
The PEN/Faulkner Award is America's most prestigious peer-juried literary prize. As the author of the winning book, Li will receive $15,000. The authors of each of the other finalists— Jonathan Escoffery, for If I Survive You; Kathryn Harlan, for Fruiting Bodies; Dionne Irving, for The Islands; and Laura Warrell, for Sweet, Soft, Plenty Rhythm—will receive $5,000. Recent winners include The Wrong End of the Telescope by Rabih Alameddine; The Secret Lives of Church Ladies by Deesha Philyaw; Sea Monsters by Chloe Aridjis; Call Me Zebra by Azareen Van der Vliet Oloomi; Improvement by Joan Silber; and Behold the Dreamers by Imbolo Mbue.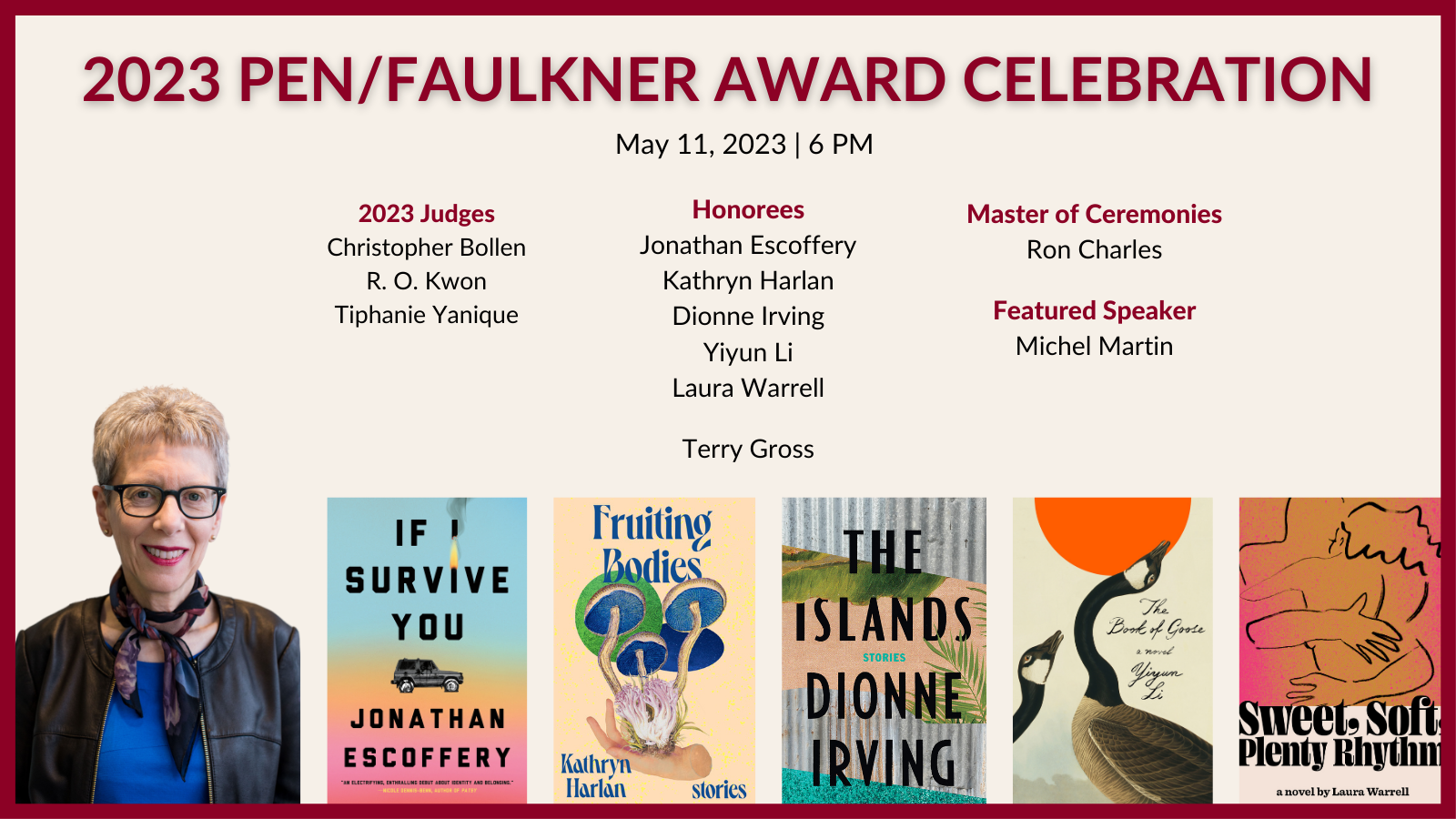 All five books and their authors will be honored at the annual PEN/Faulkner Award Celebration on Thursday, May 11, at 6 pm ET at the Dr. Martin Luther King, Jr. Memorial Library in DC. This in-person event will feature presentations by our judges; original readings by our five finalists; and an appearance by our 2023 PEN/Faulkner Literary Champion, Terry Gross, along with other special guests. Ticket information is available at www.penfaulkner.org.