Deep Dives is series of hour-long, in-depth discussions in which we'll gather to talk about books we love. Each intimate group (with a small number of participants) will be facilitated by a member of the PEN/Faulkner community, and everyone will get to join in the conversation.
Deep Dives will be held virtually over Zoom. Instructions to access each event will be sent upon registration and again 24 hours before. Please read the book we'll be discussing prior to the event and come ready to contribute to a thoughtful conversation!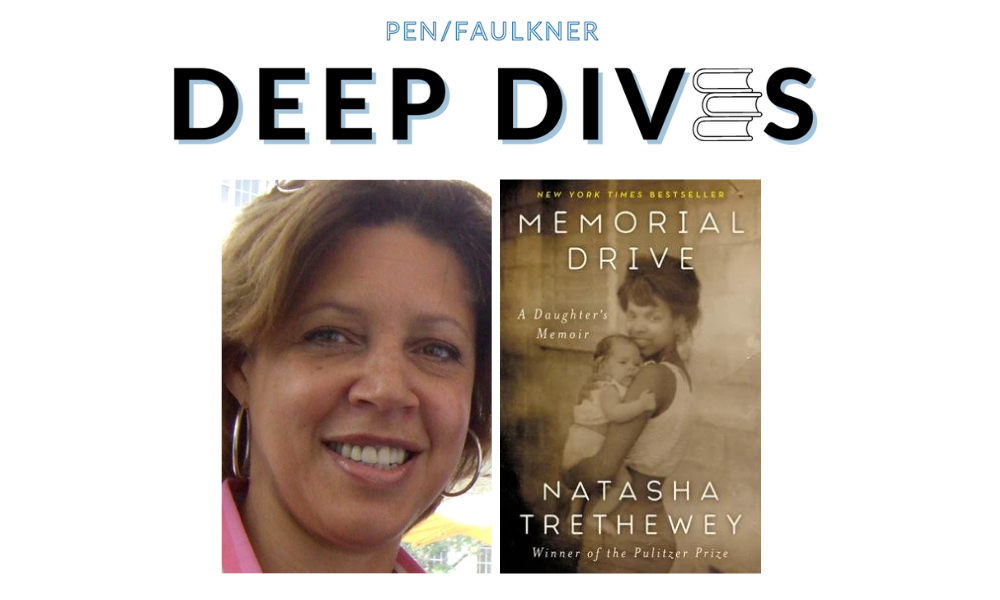 Natasha Trethewey, Memorial Drive
"Memorial Drive: A Daughter's Memoir is a tribute to a life snuffed out by a brutal man and an examination of the Old South colliding with the new. Natasha Trethewey excavates her murdered mother's life, transforming her from tragic victim to luminous human being. The memoir also illuminates Trethewey's experience, growing up biracial, in the south, and chronicles her beginning, as an artist, in the midst of a changing America."
—Lisa Page, author, former PEN/Faulkner Board member
This event was held on May 25th, 2022 @ 7 PM ET
Sandor Marai, Embers
"Hungarian writer Sandor Marai captures the twilight of the Austro-Hungarian Empire, as two old, estranged military school friends reunite for a once customary dinner in a secluded woodland castle. The dinner turns into a trial of sorts, as well as an examination of friendship, love, fidelity, and the fallout from the dissolution of old orders, as they exhume the memory of their friendship as well as the memory of a woman they both loved. Embers is, flat-out, one of the most achingly beautiful books that I've ever read. I've returned to it time and again.
—Elliot Ackerman, author, PEN/Faulkner Board member
This event was held on May 11th, 2022 @ 7 PM ET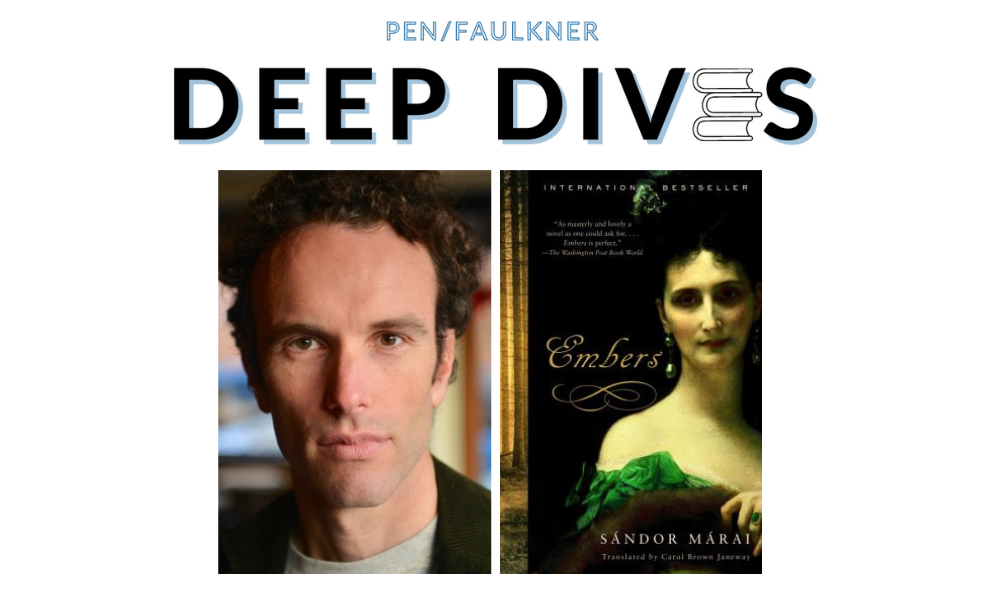 Jean Rhys, Wide Sargasso Sea
"In Wide Sargasso Sea, Jean Rhys upends the familiar story of Jane Eyre by Charlotte Brontë, putting the emphasis not on the governess but on the attic-bound Mrs. Rochester. Was she "mad," or was her imprisonment due to patriarchal expectations that conflicted with her own upbringing in the Caribbean? It's a classic not only due to its contemporary shock effects but because Rhys beautifully captures the stark differences between cultures and countries. You'll never look at Bertha Rochester the same way again."
—Bethanne Patrick, author and critic, PEN/Faulkner Board member and Literary Programs Committee Chair
This event was held on April 7, 2022 @ 7 PM ET.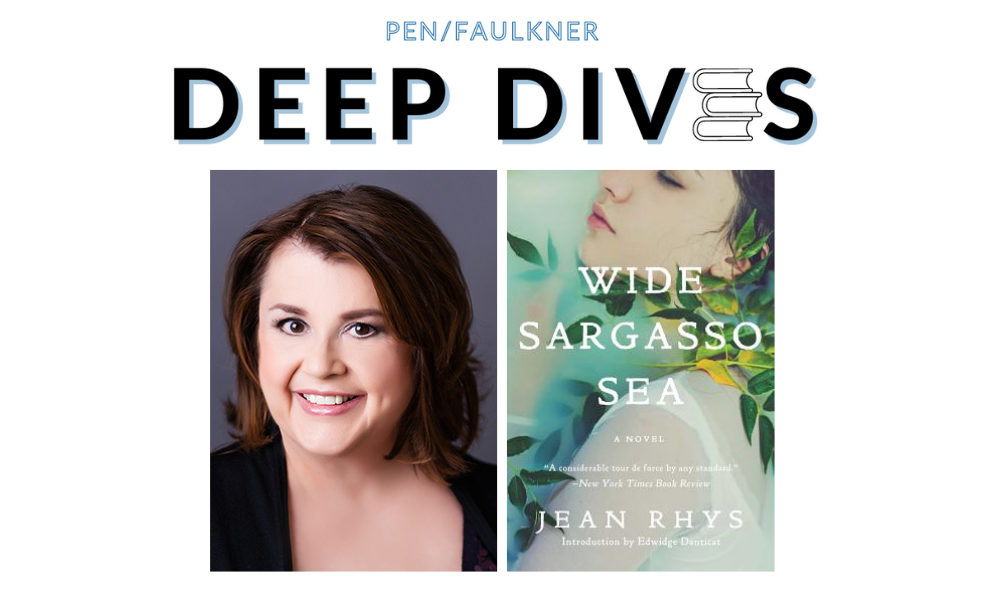 Kate Atkinson, Life After Life
"For nearly two decades, Kate Atkinson has been winning fans on both sides of the Atlantic for her smart and witty detective stories, but her novel, Life After Life, is another kind of mystery altogether… I love this sharply realized, endlessly inventive, and ultimately moving book, and I look forward to exploring what it tells us about the status of girls and women in the 20th century, with side forays into multiverses, the Mitford sisters, and roads not taken."—Louis Bayard, author and PEN/Faulkner Board member
This event was held on October 4, 2021.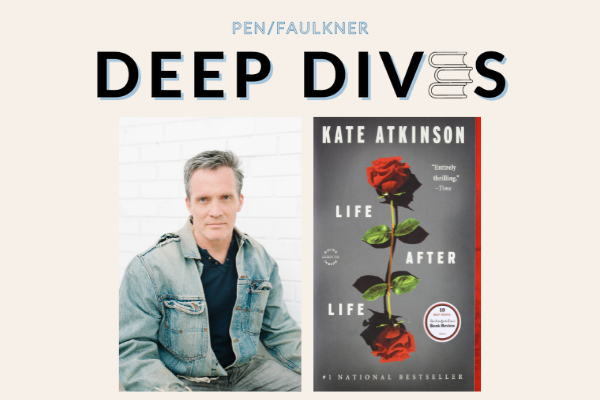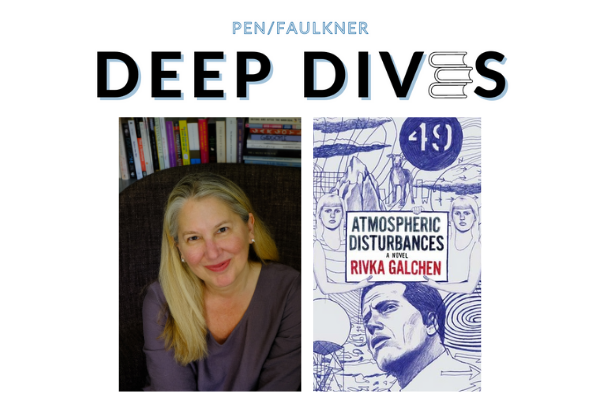 Rivka Galchen, Atmospheric Disturbances
"Although she is perhaps better known for her nonfiction work in the New Yorker, Rivka Galchen's debut novel, Atmospheric Disturbances, is a gem of mind-bending tragicomic fiction, an amalgam of the enviable left and right brain intelligence possessed by this medical doctor who is also a prolific writer… This brilliant, twisty, whimsical, and very strange book is one of my favorite contemporary novels, my copy heavily annotated and filled with post-it notes. Please join me in a discussion of this brainy and fiercely original novel."—Susan Coll, author and PEN/Faulkner Board President
This event was held on October 12, 2021.
Heidi Schreck and Lynn Nottage
"As Broadway is set to reopen, I wanted to look back at two recent successes from the last few seasons before the shut-down. Schreck's What the Constitution Means to Me is a thrilling, innovative exploration of the ways in which our country's founding ideas intersect with real lives… I also had the privilege of working on a recent DC-area production of Sweat, a deeply literary examination of the intersections between race, class, and gender in a down-and-out town. No one captures thorny, complex human relationships quite as genuinely as Nottage does."—Gwydion Suilebhan, playwright and PEN/Faulkner Executive Director
This event was held on October 18, 2021.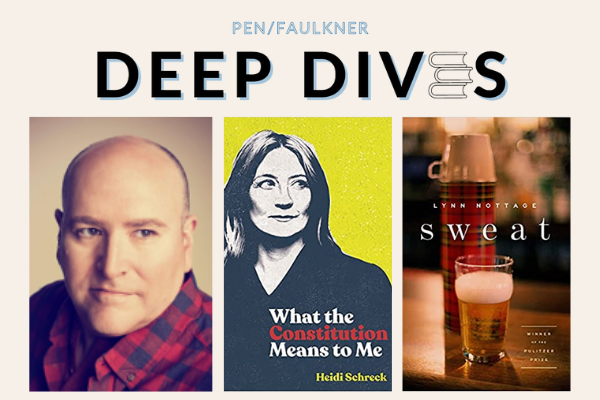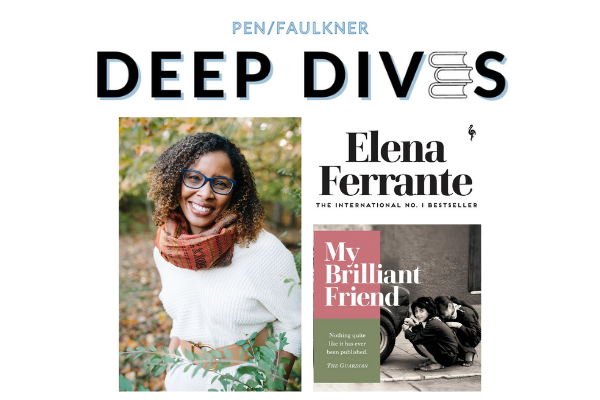 Elena Ferrante, My Brilliant Friend
"My Brilliant Friend is a rich, transportive, exploration of social class, gender, and an intense friendship between two women in post-war Naples. During our time together, we'll talk about how Ferrante centers these extremely bright young women in a working class community that would prefer them sidelined and how she conveys the complexities of their emotional life in all its terrifying, wondrous, and brazen fullness."—Lauren Francis-Sharma, author and PEN/Faulkner Board member
This event was held on November 7, 2021.
Your Support Matters
Your support makes our programs possible. Please consider a contribution. Thank you.
GIVE ONLINE
Make a secure, tax-deductible gift online
GIVE by Mail
PEN/Faulkner Foundation
6218 Georgia Avenue NW
Unit #1062
Washington, DC 20011
GIVE by Text
Text
PENFAULKNER
to 44321