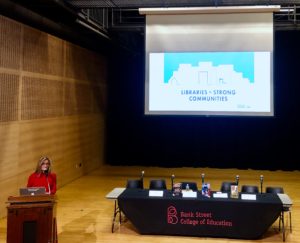 In early March I attended the "Diverse Voices in Latinx Children's Literature" Mini-Conference at the Bank Street College of Education in New York where I had the opportunity to listen to panels about graphic novels and pictures books and how these authors use their Latinx identity and Spanish language to influence their writing. Panelists such as Duncan Tonatiuh, Edgardo Miranda-Rodriguez, Anika Aldamuy Denise, Pablo Cartaya, and Aida Salazar spoke about the importance of Latinx representation throughout literature; coming from a mixed-race family and how that affects one's identity; and the need to have uncomfortable yet necessary conversations about race and borders.
One of the goals of PEN/Faulkner's Nuestra Voz programming is to spark these types of conversations about immigration, identities, and borders by providing students with opportunities to read books by and about authors who are immigrants or from immigrant families, who struggle with their identities, and who want to speak out about inequality in today's society.
As the Nuestra Voz Program Associate, I work closely with Latinx/Hispanic authors, texts, and students to make these conversations happen. In her introduction to the conference, the president of the American Library Association, Loida Garcia-Febo, highlighted the importance of books and having a personal library. "Libraries equal strong communities," she said. Similarly, Writers in Schools, the education arm of PEN/Faulkner which Nuestra Voz is part of, believes in building personal libraries, developing a joy of reading and writing, and in building community.
As a native Spanish speaker myself, listening to the panelists intertwine Spanish words into their conversation and express their concerns about the use of brackets, asterisks, and italics when using Spanish words in an English text was refreshing. Miranda-Rodriguez stated, "If you want to know what it means, pull out your smartphone and Google it."
At PEN/Faulkner, we value literature and representation and we strive to create a space for Latinx/Hispanic voices to be heard. "If you don't relate to it, learn from it," stated Hilda Burgos.
To read more and watch the conference in full, click here.
Nina Arroyo Santiago, Nuestra Voz Program Associate