PEN/Faulkner has spent the last four decades connecting with readers and writers. We know how transformative words can be in shaping who we are. If there's one thing our team has learned, it's that if we want to help people experience that power, we have to show up for them consistently and repeatedly. This is why we don't just make one trip to a school classroom or host only occasional literary events.
Instead, we visit students as many times as possible, bringing free books, writing instructors, and inspiring authors with us each time. Across our schools and programs, we delivered 1,644 hours of programming in the 2020-21 school year, which is the equivalent of 235 school days. And our Literary Conversations series gathers writers to enrich the literary lives of our audiences on a steady basis throughout the year.
Your recurring support makes us a dependable presence in DC schools and at our events. Your monthly donation of $5, $10, $15, $25, or more helps us show up regularly with purpose for students, writers, and readers.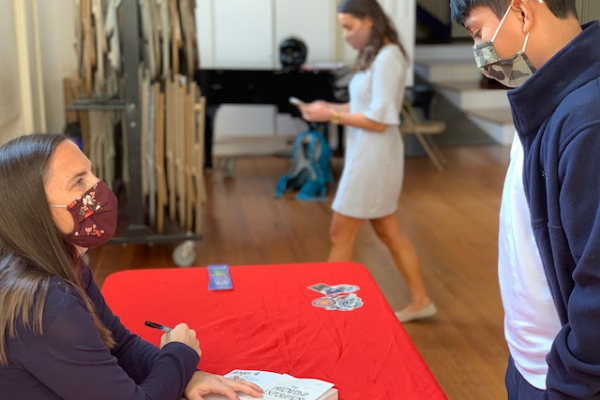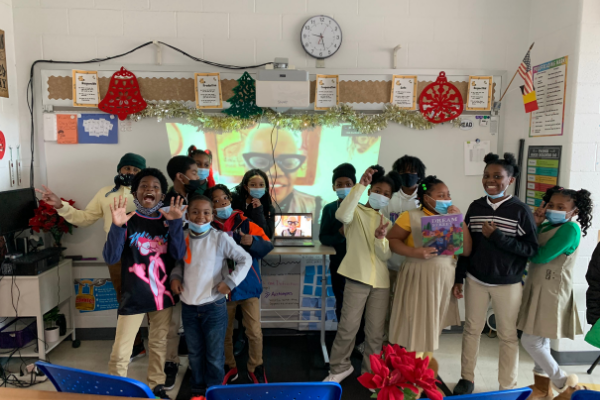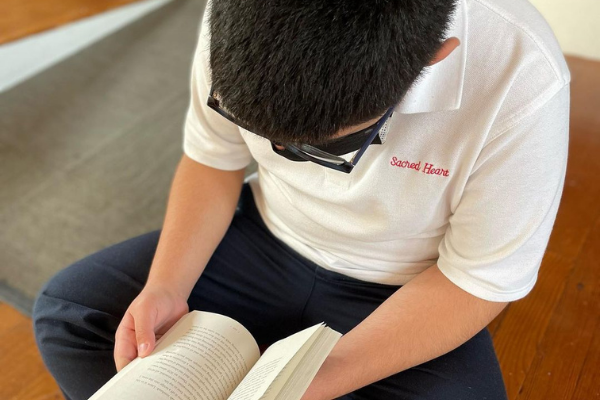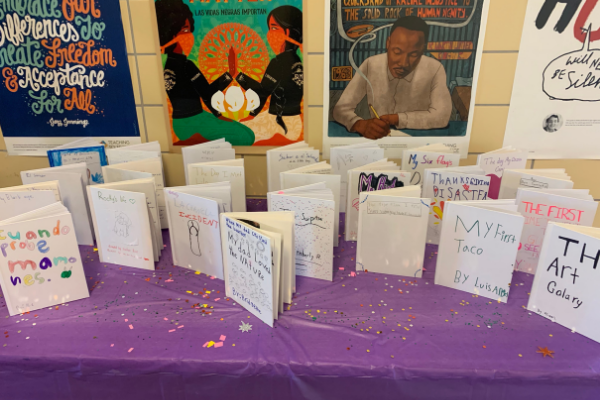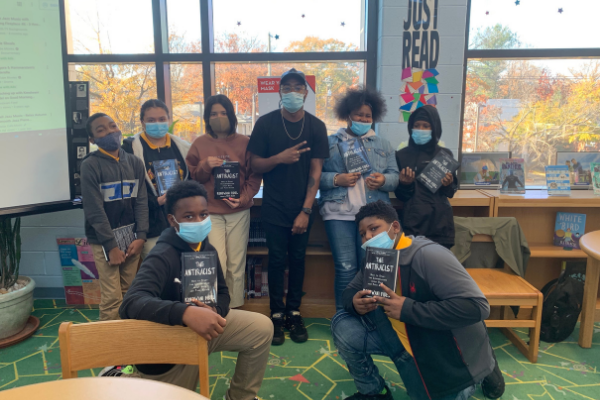 Our education programs team works closely with teachers and librarians to bring writers into DC classrooms to share their journeys with students, guide students through the writing process, and encourage students to learn and grow through literature.
"She told me to write a book and I am inspired!" – Student Claudia after a visit with author Mary Amato
"I liked learning more about Puerto Rico's history. I don't know how many chances I would get to do that." – Student Dominic after reading Edgardo Miranda-Rodriguez's La Borinqueña
"This author talk gave me faith in humanity." – Student Mirella after meeting author Jewell Parker Rhodes
"I like how the author was telling us about her past… and made us feel like we can be a writer or be a literary person." – Student Kim after a visit with author Patricia Elam Walker 
Our yearly series of Literary Conversations nurtures a collective approach to telling stories by inviting authors from all backgrounds to engage with each other and the public on important issues like neurodiversity and the prison industrial complex.
"The Literary Conversations are fantastic. I enjoy them for my own personal viewing/connecting pleasure as well as the opportunity they provide for me to convey what I learn to my students." – Audience member at Intersections
"Great discussion and wonderful fellow authors. I could have done this a hundred more times." – Abdi Nor Iftin, author at Refuge
Our three national awards celebrate the year's best fiction as selected by a jury of fellow writers; honor excellence in the art of the short story and the legacy of Bernard Malamud; and recognize the devotion and impact of literary advocates.
"I loved hearing directly from the writers. It was lovely the way you centered on all the finalists." – Audience member at the 2021 PEN/Faulkner Award Celebration
"The work you do through the PEN/Faulkner Award, and your committed investment in DC schools, has never been more important." – LeVar Burton, the inaugural PEN/Faulkner Literary Champion
Donate by Mail
6218 Georgia Avenue NW
Unit #1062
Washington, DC 20011
Stock Donation
We accept gifts of stock through the Catalogue for Philanthropy. To start this process, visit their website.
If you have further questions or want to donate using a different method, please email Amanda Liaw, our Media and Communications Associate.
"Our students really love the author visits. They are excited to read the book prior to the visit and work diligently as a class to formulate questions fitting of the "famous people" (their words) who come to spend some time with them…
[PEN/Faulkner has] provided our students with positive, memorable experiences during a really difficult time in their lives and [has] sparked an interest in literature we hope to keep stoked for years and years to come."
Your Support Matters
Your support makes our programs possible. Please consider a contribution. Thank you.
GIVE ONLINE
Make a secure, tax-deductible gift online
GIVE by Mail
PEN/Faulkner Foundation
6218 Georgia Avenue NW
Unit #1062
Washington, DC 20011
GIVE by Text
Text
PENFAULKNER
to 44321