My Name Sounds Like Poetry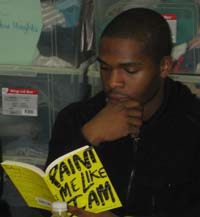 It's Ariel, fresh off of my first ever author visit with a Teen Parent Book Club! On Monday the Teen Parent Book Club at the New Heights Center in Anacostia High School hosted poet Kenneth Carroll for a discussion on writing, poetry, and the power of art. For the past several weeks, we have been reading poems from Paint Me Like I Am, a compilation of poems by teenagers involved in the WritersCorps Program in San Francisco, the Bronx, and Washington, DC. Kenneth Carroll was a facilitator for the WritersCorps program, selected the poems for the book and has devoted his life to writing and teaching poetry.
The session began with introductions. Students went around the room telling Mr. Carroll what they hoped to gain from the workshop and what kinds of books or poetry they liked to read. Mr. Carroll reciprocated by offering some information about himself, his experiences with WritersCorps, his journey as a poet and artist, and some advice to new and prospective parents.
"You have to read to your children. From the moment they are in utero until long after they are born," he urged the students. "It doesn't matter what you read, even you think they can't understand, it is important to read to them, to give them books, to let them hold books, even let them eat the book!"
"Eat the book?" one student repeated skeptically. But Mr. Carroll's point began to sink in as he went on to speak about the important connection that reading can create between a parent and child. To this day, Mr. Carroll and his daughter bond through a love of literature, though in childhood her literature of choice included nursery rhymes and fairy tales and now it includes the Twilight series.
We wrapped up the session with one of Mr. Carroll's favorite poetry exercises: the "My Name" poem. The point of the exercise, as Mr. Carroll explained, is to encourage abstract thinking as well as give students a chance to define themselves. The exercise consists of completing a sentence, ranging from the relatively straightforward, "My name sounds like ___" to the more involved, "If my name were an animal it would be a ____ doing _____."
As usual, students took the activity and ran with it. One student wrote that in ancient times, her name meant queen. Another wrote that here name had the power to inspire. Yet another wrote that her name was like a lion, reclining in the Tuscan sun. Again, there were congratulatory snaps all around and students got to take signed copies of Paint Me Like I Am home with them for further exploration.
The Teen Parent Book Club is a partnership between the PEN/Faulkner Foundation, the New Heights Teen Parents Center and DC Public Schools. The group meets bi-weekly to discuss books by local, contemporary authors. Read about previous sessions here and here.