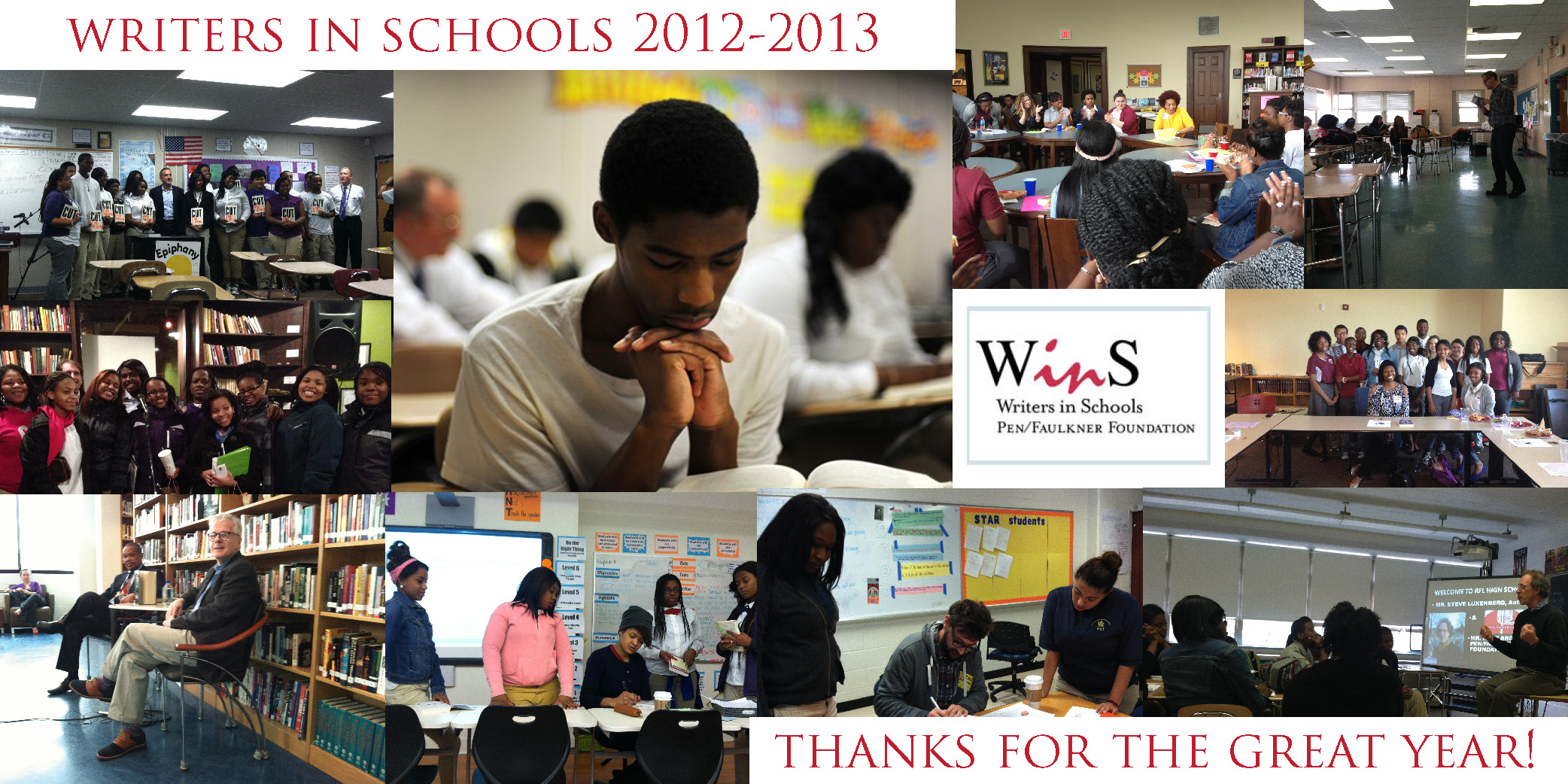 Today marks the end of the 2013-2013 school year in Washington, DC. You could sum up the past 40 weeks worth of Writers in Schools activities with a few numbers: 140 visits, 26 public and public charter schools, 42 instructors, 2,100 participating students, 3,300 books donated. But those numbers don't tell the whole story, and they don't account for all of the amazing things that happened through Writers in Schools this year.
The numbers don't tell you about the time when a crew of students at the SEED school met with Karen Russell over lunch to discuss her brand new collection Vampires in the Lemon Grove. It was the day the glowing New York Times review of the book had come out, a full week before the book was released to the public. Not only were the students among the first readers of the collection (they each received an advance copy), but they'd actually met Russell the previous school year when they met and discussed her novel Swamplandia! 
The numbers also won't tell you about the week when Derrick Weston Brown visited Paul Public Charter School after the entire 9th grade class had read and discussed his collection Wisdom Teeth. As he was walking down the hall the younger students pulled him aside, asking for his autograph. "I can't wait until next year, when I get to read your book," one girl said as Brown signed a piece of notebook paper for her. "I feel like a rapper, or a rockstar, or something," he whispered as we left the school. "These kids know I'm just a poet, right?"
Of course the year wasn't all rosy.
There were visits canceled by hurricanes and snowstorms, threatened by power outages, flat tires, a near pandemic of pneumonia, and the sort of day-to-day mishaps that are a part of building robust arts programming in a large, diverse, and multi-faceted school system.
But, as we do each year, we carried on.
It was a year of staying on our toes, of building our programs, of furthering our relationships with students, instructors, and institutions across the city. It was a year in which we brought Writers in Schools to Baltimore, a year in which author visits were featured in the Washington Post (twice!), a year in which our Teen Parent Book Clubs provided necessary resources and lessons to young parents. It was a year that we're proud of and thankful for. So, thank you to all of the teachers, writers, administrators, instructors, and students that we had the pleasure of working with. You made our year.
Happy summer!
P.S. If you're curious about what we're up to while school's out, check back next week for updates from our summer program: The Summer Supper & Book Club!
— Ariel Martino
(Central photo of student reading courtesy of Astrid Riecken for The Washington Post. All others by PEN/Faulkner staff)