This fall, we were joined by wonderful interns who each wrote about an experience at an author visit that impacted them. We are thrilled to present this essay by Isabel Callahan and Melissa Young, our Literary Outreach/Education Programs interns.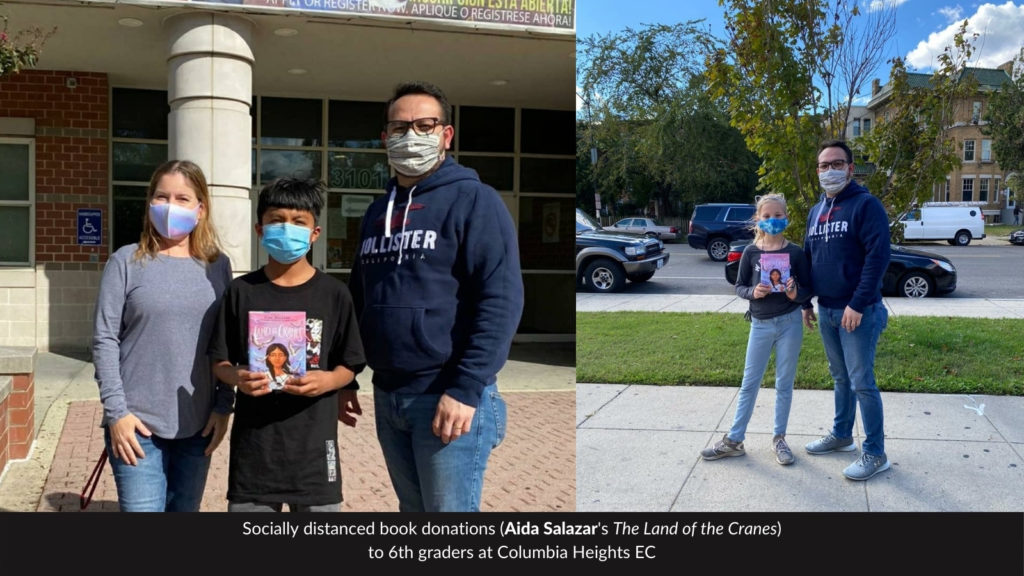 "So you basically like poetry because you can feel what it's saying?"
As the sixth grader spoke—one of thirteen students in the class—award-winning children's and young adult author Aida Salazar lit up. "Yes! Exactly!" she exclaimed.
Aida was this fall's featured author for Together We Read (TWR). A multi-school book club, TWR provides Washington, D.C. students with the opportunity to come together and celebrate their love of reading by engaging in writing activities and an author conversation. Though the program this fall was virtual, the concept was the same: invite students to read The Land of the Cranes by Aida Salazar; ask them to participate in related writing workshops; and then engage them in intimate dialogue with Aida herself.
A poignant novel-in-verse, The Land of the Cranes tells the story of Betita Quintero, a young Latina girl who is separated from her father and placed in an immigration detention center with her pregnant mother. While fictional in detail, the book is inspired by Aida's own experiences as a young, undocumented immigrant, living in constant fear of la migra (immigration police). The book also pulls inspiration from current immigration injustices in the United States, with families being detained at the border and children being separated from their parents. The novel uses sensory language to convey the range of emotions Betita experiences while living in the detention center.
Inspired by Aida's use of sensory language, this year's TWR writing workshops focused on the five senses. Students first immersed themselves in a specific memory. "What sounds do you hear? What do you smell?" Then, students wrote a poem based on the sensory details of the memory and hand-picked favorite lines from their poems to share with the class.
"It tastes and smells like victory," one student shared. "I hear the crunch of dried leaves," said another. Each class worked together to create a class poem featuring their individually chosen line, which was later combined into a single, multi-school, collaborative poem, featured below.
A few days later, the students gathered again virtually to meet Aida. She began each of the sessions by showing a book trailer for The Land of the Cranes, reinforcing the themes and characters of the novel. This also helped students understand some of the more difficult subjects covered in her book, such as families being separated from one another in the process of immigration.
Aida then answered a variety of student questions. Students were curious about her life, asking if she was from Mexico and in which part of California she lives. Others asked about the process of writing and publishing The Land of the Cranes: "Why did you write your book in English and Spanish?," "Was Betita related to you in some kind of way?," and "Did you draw [the front cover]?" Students did not shy away from posing deeper questions as well, probing into whether she put any of herself in the book and how she felt while writing it. As the sessions went on, one thing became clear: the magic of poetry speaks to us all.
Listening to Aida speak about her life, the purposes writing serves are evident: Writing can help us work through our grief, as it did for Aida after her sister died. Writing can amplify the stories of those who might not feel seen in literature, as it did for Aida's children. She began writing children's books so that her children could "see themselves as the main characters." Writing can also serve a broader purpose, bringing attention to issues that desperately need it. "Even though it's hard, you have the power as a writer and a person in the world to write down how you feel," Aida says. "Keep writing, because we need your stories."
Reading and writing are shared experiences because they are means of connecting people. While togetherness can be thought of as sharing in a physical space, it can also be thought of as joining together in any kind of space—in mutual interest and feeling. While this fall's Together We Read might not have been in-person, its name still rings true: across bi-coastal time zones and geographic space, we were still together, a thread of words connecting us all.
The Seasons
A Collaborative Poem by Students from West Education Campus, CHEC/Lincoln Middle School, and Cardozo Education Campus
It's cold outside and I see people with coats and scarves.
I reach for the falling snowflakes. The snow feels light like a feather.
It tastes bland and watery.
It tastes like winter.
I reach for my hot chocolate. It feels hot and warms my hands.
It tastes like winter, too.
Winter. I hear the snow dropping from the sky.
I see a white plate with three cookies and it reminds me of Christmas.
Quiet. I hear footsteps.
Quiet. I hear the kids laughing as they play in the snow.
It's night. I can hear no noise. Everybody's sleeping.
**
It's quiet and I hear the wind breezing by.
I see a pink plate with pancakes and bacon,
Watching as my plate breaks and my pancakes fly.
I eat a burnt piece of bacon.
Spring. It tastes and smells like victory.
**
I was wearing a summer dress and my party was in the yard.
I looked up and saw how beautiful all the stars were.
I hear laughter and smiling friends.
"Let's go eat some caviar," they say.
I reach for a piece of cake. It is fluffy and warm.
Summer. It smells like lavender,
Like books and a hint of lemon.
It tastes cold and refreshing.
I see shooting stars.
**
It's two AM and I hear a noise.
Quiet. I hear my brother snoring.
"Let's go break the law," I think.
Fall. It's rough and smooth at the same time.
I hear the crunch of dried leaves.
Dogs weeping.
I reach for—