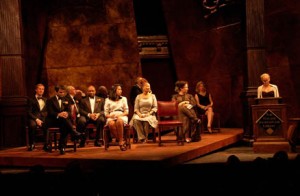 The PEN/Faulkner Foundation offers unique literary programming at a time when reading for pleasure and personal growth is diminishing as a pastime. In addition to sponsoring the national Award for Fiction, we offer valuable literary programming to DC residents and students alike. PEN/Faulkner partners with organizations city-wide to bring writers to Washington readers, local audiences to our reading programs, and public high school students to new cultural venues.
PEN/Faulkner is an independent non-profit organization and must raise 100% of its annual operating budget. Please support this essential organization.
Donate Securely Online
Your contribution will support the PEN/Faulkner Award for Fiction, our Literary Conversations, and Writers in Schools, which brings writers and books to the classrooms of DC public and charter school students. Click here to donate.
Donate by Mail or Phone
We gladly accept donations of all kinds via phone or mail. To donate by phone, call  202.898.9063. To donate by mail, please address your contribution to the following address:
PEN/Faulkner Foundation
6218 Georgia Avenue NW
Unit #1062
Washington, DC 20011
Thank you so much for your generous support.