For Chris Adrian, On His Birthday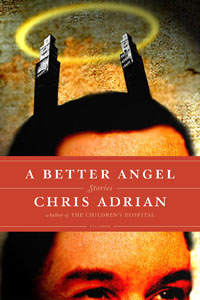 On November 7th we took Reading Series author (and New Yorker "20 Under 40" notable) Chris Adrian into Bell Multicultural High School librarian Sarah Elwell's book club to talk about his story collection, A Better Angel.
What we didn't realize was that (a) it was Mr. Adrian's birthday, and that (b) Ms. Elwell's students would have that covered and much, much more. The visit included a vigorous discussion about not just Adrian's stories, but his influences as a writer and a thinker, and ended up with Ms. Elwell's students presenting Adrian with their own work–inspired by his, of course–followed by celebratory birthday cake for the author.
As part of our ongoing "How to Prepare for a WinS Visit" series, We asked Ms. Elwell to guest-blog how she got her students ready for Chris Adrian. Enjoy.

In preparation for our visit from Chris Adrian to discuss his short story collection, A Better Angel, we started by reading the back of the book, examining the provocative cover art and making predictions based on only that preliminary information. We then divided the text into three chunks. Each week students were assigned 3 short stories to read from the collection. When we gathered to discuss the assigned stories, students selected and read segments that they found especially powerful, moving, troubling and/or confusing.
We then engaged in a free-flowing discussion about whatever segment was identified. Usually we returned at the end of that discussion to the person who first spoke about the piece of text to ask why they picked out the part they did.
A week prior to the visit, students were asked whether they wanted to write a reflection or poem or create a piece of art inspired by the book. At this final meeting before the writer visit, we also brainstormed questions that we had for the writer which I typed up then put on table tents so that students could refer to them during the Q & A (and in case there was a lull in the discussion).
We also constructed a program for our visiting writer to give students more experience with public speaking, to empower the book club members as facilitators of their own learning and to formalize the overall event.
The basic program format was: a welcome followed by an introduction of Mr. Adrian, a reading by Mr. Adrian, a Q & A, presentation of reflections, poetry and art, a closing thank you, and ending with a book signing. Since the book club is a voluntary activity during lunch, we had light refreshments as well so that the students weren't thinking of growling stomachs during the writer visit.
If you're a DC educator who'd like to schedule a Writers in Schools visit, contact us at [email protected]. If you'd like to read more from our "How to Prepare for a WinS Visit" series, click here.