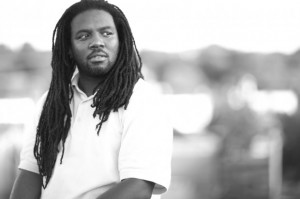 Derrick Weston Brown writes the kind of poetry that generates conversations that are at once discomfiting, engaging, and necessary. So when PEN/Faulkner's Summer Supper and Book club gathered on an unusually mild Tuesday evening to discuss Wisdom Teeth, the poet's 2011 collection of poems, the voices rose, perspectives varied, and confessionals were the backdrop of a candid conversation about family, the Metro, hip-hop, cartoons, race, class, and colorism.
Brown was the Supper and Book club's lone poet guest this summer. Brown is a keen observer of the city, whose collection was described by poet Tony Medina as, "Full of wit and whimsy. Wisdom Teeth postulates a poetics of heart-whole appreciation and honesty—for love and life, for family and friends, for literature and history, for pop culture and the poet's ever-cognizant powers of observation."
Brown's DC is one animated by the sights of U Street, the sounds of Adams Morgan, and the Metro's discordant smells; but Wisdom Teeth is also about a son's attempt to understand a seemingly distant father and the foibles of childhood. It is an homage to the city in which the poet found his voice, a place he has called home for the last thirteen years.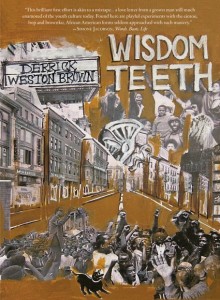 The evening began with the poet requesting the Supper and Book club members to indicate their love of poetry with a show of hands, and the results were mixed. He recounted how as a child he not particularly inclined to poetry until his social worker mother handed him a copy of Shel Silverstein's A Light in the Attic.
Addressing Brown's line in Hourglass Flow, in which the poet writes; Blame the voice that wants to sound like a poet, but not sound like a poet wanting to sound like a poet. Blame distractions…, the Supper and Book club members wondered if the poet ever caught himself trying too hard to sound like a poet; they wondered what parts of DC inspired him to write the most about and why; and they also wondered if a figure in Forgiveness Poem was real or a creation.
Like an open book, and at times as animated as the graphic characters that have inspired some of his poems, Brown told the group his passion for poetry was rooted in the poet's ability to take on multiple personas and voices.
Stay tuned for more updates on PEN/Faulkner's Writers in School Program and Summer Supper and Book Club.
— Kangsen Feka Wakai
Writers in Schools Intern