Hill Center & PEN/Faulkner Present:
Erika DeSimone and Fidel Louis in conversation with Lisa Page
Wednesday, Feb. 25th, 2014 at 7 p.m.
Free (Please register for your free tickets here)
The next installment of the Hill Center & PEN/Faulkner Literary Reading Series features Erika DeSimone and Fidel Louis, editors of Voices Beyond Bondage: An Anthology of Verse by African Americans of the 19th Century, in conversation with Lisa Page, Acting Director of Creative Writing, The George Washington University. 
Voices Beyond Bondage is the first anthology of African American writings from nineteenth-century black-owned presses. Poetry universally is and always has been a source of inspiration, a means of education, and a conduit for culture and history. But for many 19th-century African Americans, poetry embodied something even more. In a society riddled by racial inequity, poetry became a safe haven through which they preserved and shared their ideas, cultural knowledge, and heritage.
Voices Beyond Bondage is a collection of 150 poems culled from burgeoning black-owned newspapers of the era, and offers a fresh perspective on African American life and identity. These poems are not the work of a few elite literary masters but poems penned mostly by everyday people, people who were thoughtful, insightful, and compelled to verse—despite being born into a world of fundamental inequity. Whether these authors were formally schooled or self-taught, whether they were slaves, free peoples, or the descendants of slaves, African Americans put ink to paper and declared their passions in verse.
Black-owned newspapers provided a primary outlet through which African Americans could empower their voice. Almost every African American periodical reserved a column for poetry; droves of readers submitted original poems. Until now, these poems—and an entire literary movement—were lost to modern readers.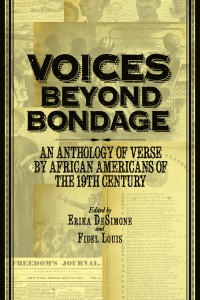 Erika DeSimone earned her undergraduate degree from Westfield State University. She is currently an editorial assistant at the Modern Language Association, where she has worked for more than a decade.
Fidel Louis earned bachelor's and master's degrees from New York University. He is currently a business consultant for both private-sector and government projects.
Lisa Page is the Acting Director of the Creative Writing department at George Washington University and a longtime board member of the PEN/Faulkner Foundation.