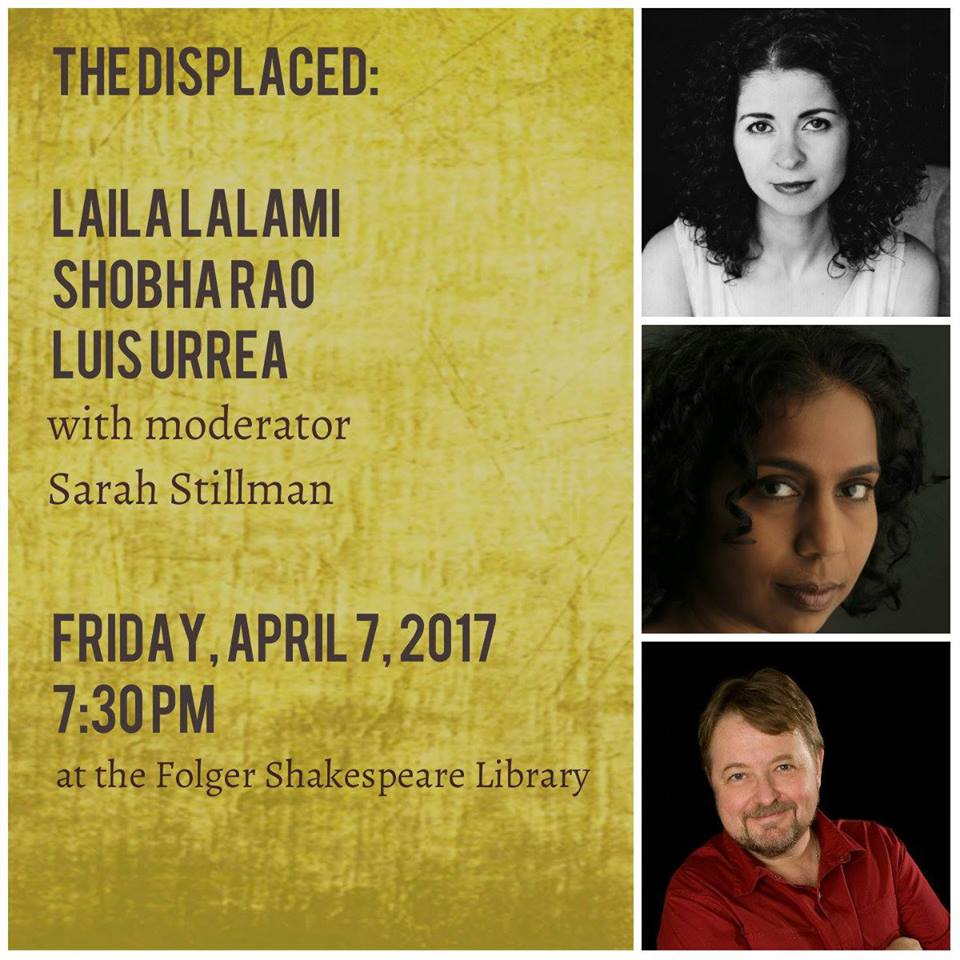 The Displaced: An Evening with Laila Lalami, Shobha Rao, and Luis Urrea
Moderator: Sarah Stillman
Friday, April 7th, 2017  |  7:30 PM
Purchase a single ticket for $15
Folger Shakespeare Library
201 East Capitol St., SE
Washington, DC 20003 (map)

Four Moroccans cross the Strait of Gibraltar in an inflatable boat bound for Spain. A Mexican village is left empty of men who have fled to the United States in search of economic opportunity. A new mother is trapped on the wrong side of the India-Pakistan border. Laila Lalami in Hope and Other Dangerous Pursuits, Shobha Rao in An Unrestored Woman, and Luis Urrea in Into the Beautiful North speak to lives that are never stationary and to communities that have been uprooted. They'll come together on-stage to read from their work, and discuss what it means to be a citizen in our volatile world.
Join us on at the Folger Shakespeare Library on Friday, April 7th, for this complex and necessary discussion.
---
Laila Lalami was born in Rabat and educated in Morocco, Great Britain, and the United States.  She the the author of Hope and Other Dangerous Pursuits, which was a finalist for the Oregon Book Award; Secret Son, which appeared on the Orange Prize longlist; and The Moor's Account, which won the American Book Award, the Arab American Book Award, and the Hurston/Wright Legacy Award.  Her essays and opinion pieces have appeared in the Los Angeles Times, the Washington Post, The Nation, the Guardian, the New York Times, and in many anthologies.  In 2016, she was named a columnist for The Nation magazine and a critic-at-large for the Los Angeles Times. She is the recipient of a British Council Fellowship, a Fulbright Fellowship, and a Guggenheim Fellowship and is currently a professor of creative writing at the University of California at Riverside.
"The Moor's Account is more than a good story, it's a great one: rich, vivid and gripping; a thoughtful investigation into how we frame the narratives of our own lives. "
– Sarah Crown, The Guardian
---
Shobha Rao moved to the US from India at the age of seven.  She is the winner of the 2014 Katherine Anne Porter Prize in Fiction, awarded by Nimrod International Journal. She has been a resident at Hedgebrook and is the recipient of the Elizabeth George Foundation fellowship. Her story "Kavitha and Mustafa" was chosen by TC Boyle for inclusion in the Best American Short Stories 2015.  An Unrestored Woman is her debut.
"Rao demonstrates her enormous power, summing up the complexities of an entire life in diamond-cut sharp scenes and dialogue."
– Siobhan Fallon, New York Journal of Books
---
Luis Urrea, Tijuana-born, is a prolific writer who uses his dual-culture life experiences to explore greater themes of love, loss and triumph. Urrea is the critically acclaimed and best-selling author of 16 books, winning numerous awards for his poetry, fiction and essays. Into the Beautiful North has been selected by more than 30 different cities and colleges as a community read.  A Pulitzer Prize finalist in 2005 (nonfiction), he's won the Kiriyama Prize (2006), the Lannan Award (2002), an American Book Award (1999) and was named to the Latino Literary Hall of Fame.  He is a creative writing professor at the University of Illinois-Chicago
"Reading The Water Museum is like listening to a great album on a long drive through what the band Modest Mouse called "the lonesome crowded west."
–Michael Schaud, NPR