Not surprisingly, we're a staff of book lovers and voracious readers. We asked around our office for the best book our staff and interns read this year. While this list doesn't always include books published in 2018, we hope you'll find something new to pick up, or to re-read, as we dive headfirst into the new year.
The Perfect Nanny by Leila Slimani, translated by Sam Taylor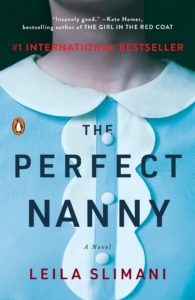 This was a year of reading nonfiction and re-reading beloved novels. However, Leila Slimani's brilliant, fast-paced The Perfect Nanny is a standout of tight narrative writing, controlled point-of-view shifts, and an emotional undercurrent that veers from horrified to empathetic and back again. The novel, which won France's Prix Goncourt, is set in contemporary Paris, where the dynamics of class, feminism, and immigration come together around the character of Louise, a thin, doll-like nanny notable for her racial identity (she's a white, French citizen) and her uncanny devotion to the family for whom she works. Louise's maniacal perfection in all things domestic and childrearing comes under increasing strain as her financial desperation and decades of subservience to many masters—her late husband, landlord, and the creditors among them—escalate to a devastating climax. Slimani successfully weaves together expectations of womanhood and motherhood with dynamics of class, all set against whispers of terrorism, immigration, and a changing society in this forceful novel that I consumed in one sitting. – Lacey N. Dunham, Writers in Schools  
My Year of Meats by Ruth L. Ozeki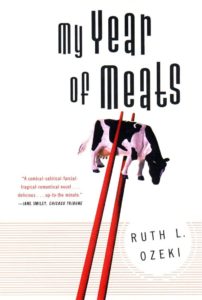 Ozeki's novel is the captivating tale of Jane Takagi-Little, a Japanese-American trying to make it in the TV industry as a producer of a new show, My American Wife!. The catch? The show she is directing is centered around "perfect" American families and the meat industry. As Jane maneuvers her way around her misogynist bosses, she is constantly finding herself making difficult decisions involving the meat industry and the not-so-perfect families. Jane's commitment to transforming the show makes an impact on someone she would never have suspected, ultimately leaving her to decide between her career and her heart.
The voice of the protagonist is witty, sarcastic, yet lovable. Readers will be completely invested in what is going to happen not only to Jane, but to all of the people that she inspires along the way. It's the first book I've read that manages to combine both American and Japanese voices and to expose the meat industry, combined with a deeper narrative about love, betrayal, brutality, and inspiration. – Caroline Evashavik, Media and Development
Her Body and Other Parties by Carmen Maria Machado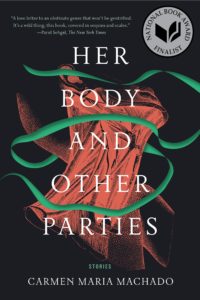 As a creative writing student, I read a lot of books over the course of the school year. While many of these book are written by revered authors, it's contemporary writer Carmen Maria Machado who wrote the best book I read in 2018, Her Body and Other Parties. This collection of short stories tells of the woes, hardships, and celebrations that women (and their bodies) face in their daily lives.
What makes Her Body and Other Parties different from any other short story collection? First, they aren't set in one genre. Machado flawlessly flips from fantasy to sci-fi to comedy to horror. You truly don't know what you'll get with each turn of the page, which makes you want to read on if only to find out what else is in store. These stories aren't of the typical "women's" genre of fiction. That's to say: they aren't stuck in the heteronormative cycle so many women's stories seem to be in. There's a raw sexual quality to how Machado writes about women—no demure sugarcoating here. It's a book that I believe all lovers of fiction—or writing in general—should read for craft's sake, and one that everyone should read for their own good. –  Elizabeth Phan, Literary Events
The Unbearable Lightness of Being by Milan Kundera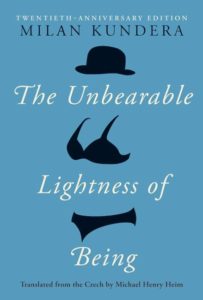 Originally published in 1984, The Unbearable Lightness of Being is one of the greatest novels ever written. A bit dramatic of claim, but I can't say this of any other novel that I've read. Written in Czech and translated into English, the novel moves between characters and geographical locations with ease, highlighting the intricacies of human relationships. Centered on the Soviet invasion of Czechoslovakia in 1968, Kundera portrays the impact of war within Czech society.

Kundera's prose skillfully incorporates dialogue and character interactions with philosophical reflections. He begins with a discussion of Nietzsche's idea of "eternal return," which prepares the reader for the later events of the novel. He details the opposing sides of the argument: whether everything we experience happens an infinite number of times, or, if our lives happen only once, our experiences are deemed insignificant, carrying no weight. The narrator ponders which perspective is better, raising the question of lightness or weight. As you might have guessed from the title, each of the characters reach a decision on this argument by the time the story concludes.

While some writers might become bogged down by such a heavy topic, Kundera's eloquent prose makes for an easy read. Give The Unbearable Lightness of Being a try on your next lazy Sunday, and it might just become one of your all-time favorite novels too. – Mary Berset, Literary Events
Crazy Rich Asians by Kevin Kwan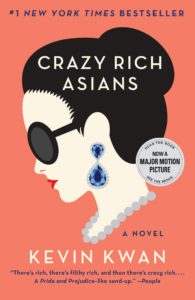 Crazy Rich Asians is more than just a typical romantic comedy. It's a captivating love story that also provides an intriguing insight into the world of "crazy rich" Asians.  Nicholas Young was born into a world of wealth, secrecy, and deep familial values; Rachel Chu is the daughter of a single mother who immigrated from China years ago. The two fall in love, but when Rachel is thrown into the world of rampant gossip and guarded secrets—all with the trappings of truly opulent wealth—she begins to feel brutally rejected by Nick's friends and family. Kevin Kwan uses more sarcasm and wit than expected from a traditional romantic comedy to portray both what it's like to fall in love with someone from a different class and the personal lives of the super rich.  –Yevette Smith, Writers in Schools
Game of Thrones by George R. R. Martin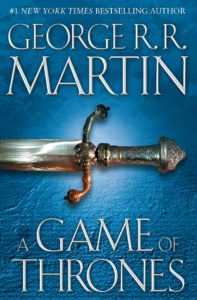 I started reading this book after I binge-watched the TV series and learned that there's a lot more to story than is shown in the HBO series. After putting it off for close to a year, I picked up the books back in June and have been hooked ever since. For the first time since reading the Harry Potter series I fell into the excitement of a new mythical world. Reading the books has developed my understanding of each character on a deeper level, and I appreciate even my least favorite characters a little bit more. Martin provides captivating details that are easy to look past in the show. I found myself unable to put it down! – Laura Sincage, Writers in Schools
Never Let Me Go by Kazuo Ishiguro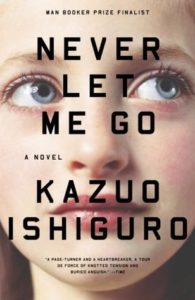 After reading Ishiguro's Remains of the Day, I was interested to explore his other works. A thought-provoking dystopian novel, Never Let Me Go appeals to a broad range of age groups. I have always been interested in dystopian fiction, but this novel explored the dystopian in a new way. The novel's melancholy tone builds the slow reveal of this dystopian universe in a way that feels eerie. The absurdity of this universe is buffered by its supposed focus on humanity, innocence, and mortality, and allows the story to transcend the boundaries of genre to create a timeless coming-of-age novel with a moral imperative.
Given our current state of social and political chaos, this not-so-distant world offers readers a mental exercise in perspective and a reminder of the most basic principles of humanity. Never Let Me Go's foundation in the dignity of life makes it relatable and a necessary read, and adolescent love and passion is considered seriously as a basis of human connection. – Emily Herman, Development and Media
Happy Holiday Reading!