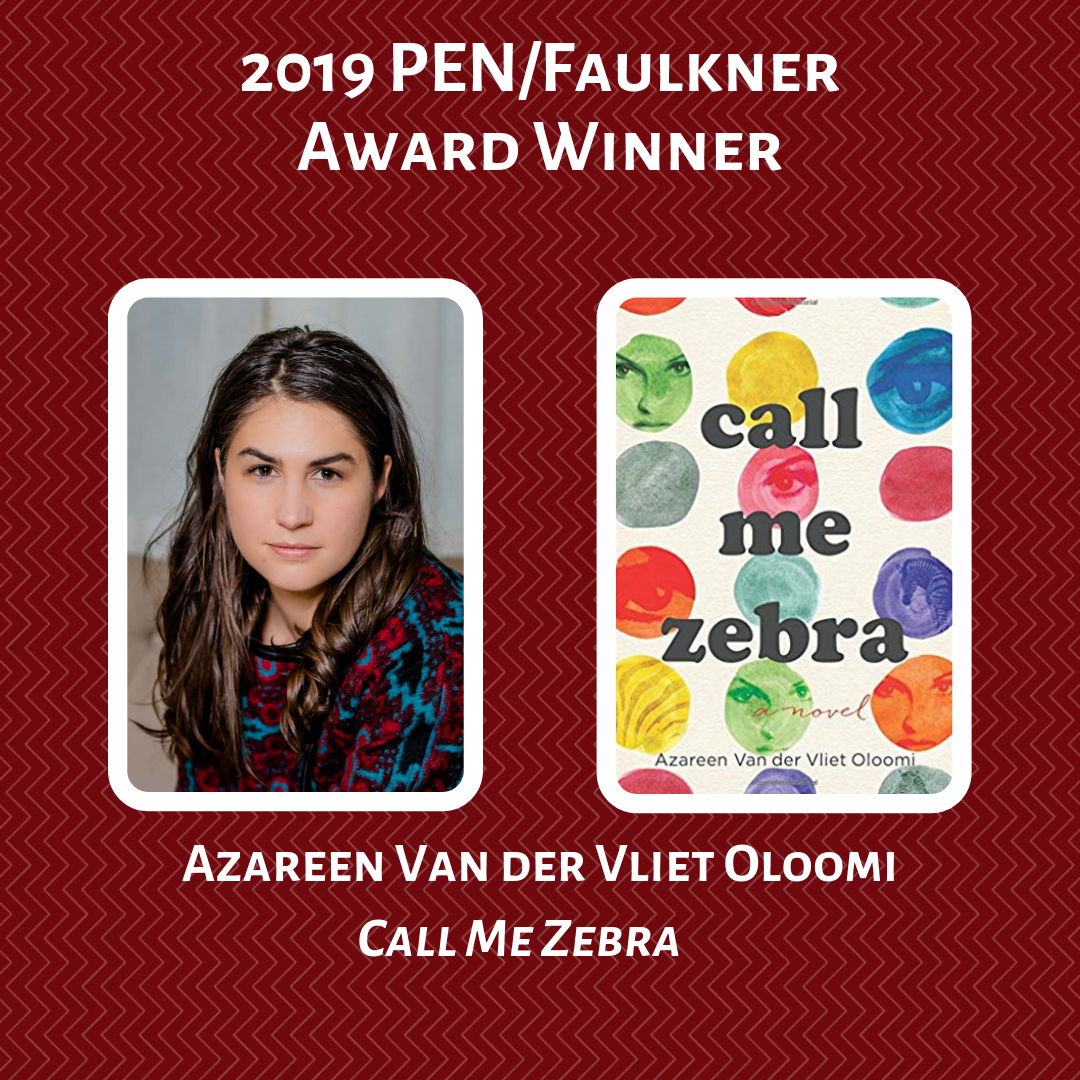 WASHINGTON, DC—Azareen Van der Vliet Oloomi's Call Me Zebra (Houghton Mifflin Harcourt) has been selected as the winner of the 2019 PEN/Faulkner Award for Fiction.
"We are truly delighted to be able to honor such a rare and remarkable work of art," said PEN/Faulkner Executive Director Gwydion Suilebhan. "Along with our other four finalists, Call Me Zebra makes absolutely clear what a towering moment this is for American fiction."
This year's judges—Percival Everett, Ernesto Quiñonez, and Joy Williams—considered more than 400 novels and short story collections by American authors published in the US during the 2018 calendar year. Submissions came from more than 180 publishing houses, including small and academic presses.
"History is the ultimate judge," wrote Everett, Quiñonez, and Williams, "And it will certainly treat all five finalists with kindness. However, once in a while a singular, adventurous, and intellectually humorous voice appears that takes us on an inescapable journey. Azareen Van der Vliet Oloomi's Call Me Zebra is a library within a library, a Borges-esque labyrinth of references from all cultures and all walks of life. In today's visual Netflix world, Ms. Van der Vliet Oloomi's novel performs at the highest of levels in accomplishing only what the written novel can show us."
Azareen Van der Vliet Oloomi is the author of the critically acclaimed novels Call Me Zebra, which was longlisted for the PEN Open Book Award, and Fra Keeler, which received a Whiting Writers' Award and was a National Book Foundation "5 Under 35" selection. She is the recipient of a Fulbright Fellowship and a Fellowship from the Institució de les Lletres Catalanes in Barcelona. Van der Vliet Oloomi is an Assistant Professor in the English Department's MFA Program in Creative Writing at the University of Notre Dame.
"I discovered William Faulkner's The Sound and The Fury alongside Toni Morrison's Beloved almost two decades ago in my senior year of high school," said Van der Vliet Oloomi. "These two books have remained an integral part of the evolution of my literary consciousness; I consider them material proof that the vital energy of life can be transmitted to readers across time and space and that literature has the potential to heal both the individual and the social body. Call Me Zebra represents an homage to the great writers of the past and present who have had the courage and intellectual stamina to think with their hearts about what it means to be human in a world where justice and equality remain scarce for so many. Winning the PEN/Faulkner Award at such a delicate and trying juncture in our nation's troubled history is an honor I am infinitely grateful to carry. It is, for me, a reminder from our mysterious universe that honest writing can allow us to speak humbly with one another, an intimation to love and to listen deeply each time I set pen to paper."
The PEN/Faulkner Award is America's largest peer-juried prize for fiction. As winner, Van der Vliet Oloomi will receive a $15,000 prize. Each of the four finalists—Blanche McCrary Boyd, for Tomb of the Unknown Racist; Richard Powers, for The Overstory; Ivelisse Rodriguez, for Love War Stories; and Willy Vlautin, for Don't Skip Out on Me—will receive $5,000. Recent winners include Joan Silber, for Improvement; Imbolo Mbue, for Behold the Dreamers; James Hannaham, for Delicious Foods; Atticus Lish, for Preparation for the Next Life; and Karen Joy Fowler, for We Are All Completely Beside Ourselves, among many others.
All five authors will be honored at the 39th Annual PEN/Faulkner Awards, which celebrates the winner as "first among equals." The ceremony will be held at Arena Stage's Mead Center for American Theater, which is located at 1101 6th Street NW in Washington, DC, on Saturday, May 4 at 7 pm. Washington Post book critic Ron Charles will serve as master of ceremonies for an evening that will include presentations of new writing by all five finalists. Tickets are $95 for the reading ceremony and formal reception, which will feature specialty cocktails and an hors d'oeuvres buffet. Tickets can be purchased online at https://pfaward19.eventbrite.com.